With more than 21,000 full-time students and 22,000 part-time registrations annually, Fanshawe is Ontario's sixth largest college. Today, the College offers more than 200 programs and more than 174,000 alumni are making a difference in their community world-wide.
Fanshawe and its students add $1.6 billion to the Fanshawe service area economy, with graduates' income accounting for nearly $1.4 billion. For every dollar students invest in their Fanshawe education, they will receive a cumulative $3.80 in higher net future earnings over the course of their working careers.
The College continues to look toward the future by investing in new buildings and opportunities.
In March 2016, Fanshawe officially opened a new site in downtown Goderich. The location provides the College with the opportunity to offer a selection of post-secondary programming such as the Business - Entrepreneurship and Management diploma program to students in the region. The new site is located at 33 St. David Street.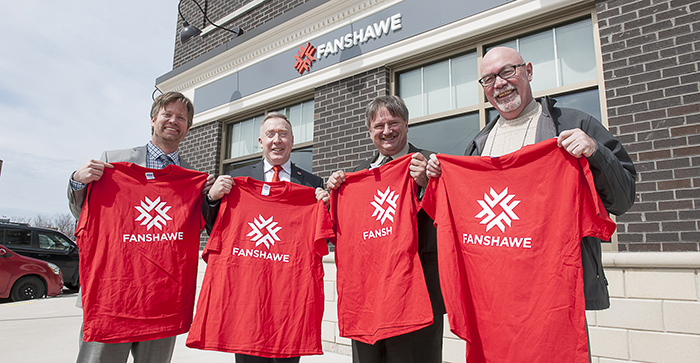 Outside Fanshawe's new location in Goderich, left to right: Andrew Gunn; Peter Devlin; John Grace, former Deputy Mayor, Town of Goderich and Myles Murdock, Member of Council for the Town of Goderich.
On July 22, 2016, President Peter Devlin signed a partnership agreement between Fanshawe College and the Armed Forces Public Technological Institute of Peru. The four-year framework agreement recognizes the two institutions' mutual intent to work together. Fanshawe will provide an intensive leadership program in Canada to the institute's leaders and academics, who will then take the module back to Peru and train 55 additional faculty members. Graduates of the institute will also receive a diploma from Fanshawe and credentials from the College for each year they successfully complete their program.
The Canadian Centre for Product Validation (CCPV) celebrated its grand opening in September 2016. Designed by architects Tillmann Ruth Robinson and built by D. Grant Construction Ltd., the 25,000-square-foot centre, housing leading-edge validation technologies and equipment, is located at the Advanced Manufacturing Park where a 10-acre parcel of land was generously donated by the City of London to Fanshawe College.
In addition to product validation activities, CCPV provides services not typically offered by existing test labs, such as marketing and benchmarking studies; the creation of proprietary test protocols based on actual field usage and analysis of critical interfaces within a product; as well as commercialization activities. The total project is valued at $16.2 million.

Left to right: Deputy Premier Deb Matthews; City of London Councillor Michael van Holst; Peter Fragiskatos, MP for London North Centre; Kate Young, MP for London West; Ben Cecil, chief business officer for CCPV; John Makaran, director for CCPV; John Leitch, Fanshawe College Board of Governors chair; Peter Devlin, President of Fanshawe College.
Fanshawe established its new English Language Institute (ELI) in September 2016 to bring together Fanshawe's English as a Second Language initiatives, and to launch a new flagship program, English for Academic Purposes. This full-time, intensive program, which is recognized at Fanshawe as well as at Western University and its affiliated colleges, will help international and domestic students to prepare for further academic study. Through the the ELI's full-time and part-time courses, including online options, Fanshawe will continue to offer enhanced English language training and support that empowers International students, newcomers to Canada, and non-English fluent students to succeed in post-secondary studies.
In October 2016, Peter Fragiskatos, Member of Parliament for London North Centre, and the Honourable Deb Matthews, Deputy Premier of Ontario announced a $6.2 million investment in Fanshawe College. The funding will support the establishment of the Centre for Advanced Research and Innovation in Biotechnology (CARIB), which will provide labs and expertise to promote commercialization. The CARIB will advance biotechnology, chemistry, and environmental technology programs through research and innovation with industry collaborations and partnerships.
Fanshawe's new Wellness Centre will open in the spring of 2017. The new facility will significantly increase the space available for the delivery of health services, designated wellness programming and flexible fitness space for cardio and strength training and group exercise rooms. It will also house a massage therapy clinic, Fowler Kennedy Sports Medicine Clinic, a pharmacy and juice bar.

Fanshawe's new Wellness Centre will open in the spring of 2017.
The second phase of Fanshawe's downtown campus is on track to open in September 2018. When complete, the building will feature modern labs, bright and open classrooms and collaborative learning spaces for 1,600 students, bringing the total number of students studying in the heart of London to 2,000.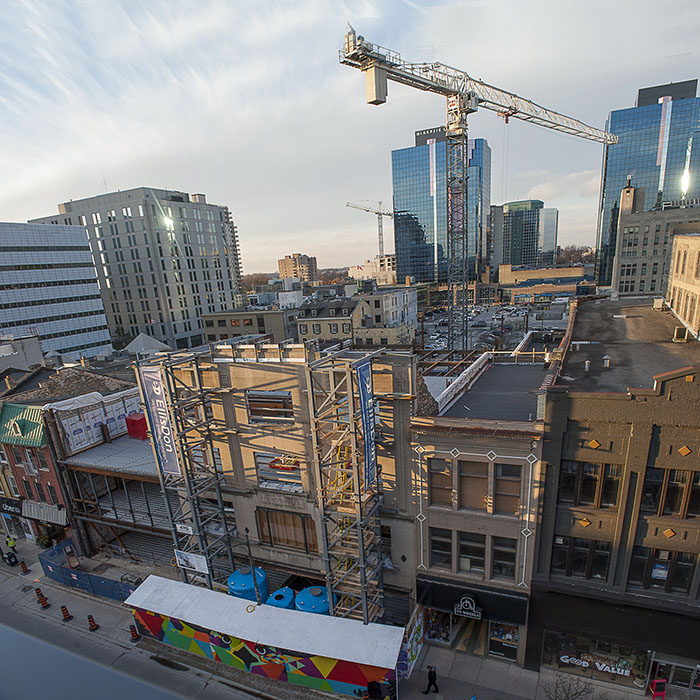 Construction of Fanshawe's downtown phase II is proceeding on schedule.