Fanshawe College: The beginning
Fanshawe College of Applied Arts and Technology opened on September 5, 1967 with 720 students. Previously known as the Ontario Vocational Institute, the College became one of 19 community colleges that were established by the Ontario government.

Above, aerial view of Fanshawe College, 1970s.
View more aerial photos of Fanshawe College.
Dr. James A. Colvin was selected as Fanshawe's first president. A native of Thunder Bay, Colvin served as a fighter pilot in the Second World War. He was a firm believer in the role of new community colleges and saw Fanshawe as providing broad-based education and training to all ages and interest groups in the community.
The Fanshawe Board of Governors, headed by 3M executive John G. Laurie, approved an initial budget of $2.5 million. The school colours of red and white were chosen and the entire staff of the Ontario Vocational Institute were transferred over to Fanshawe.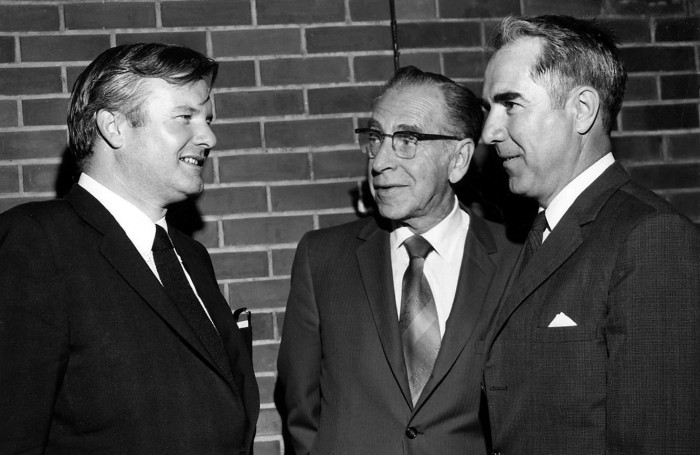 Minister of Education Bill Davis (left) with Dr. C.M. Finlay (member, Fanshawe Board of Governors) and Fanshawe's first president, Dr. James Colvin (right).
It didn't take long for the campus to expand. In August 1968, the Board of Governors increased the original 15-acre campus by acquiring an additional 78 acres from the Ministry of Education. Fanshawe's property now stretched all the way back to Cheapside Street and no one at the time imagined Fanshawe would ever run out of land. This started a growth pattern of adding new buildings and additions every few years to accommodate growing enrolment and new programs and services.
"May this College radiate inspiration and knowledge for all persons working and living within the challenging areas of human endeavor that touch upon its doors."
Fanshawe's first program calendar
In 1968, Fanshawe opened its first campus outside London with the purchase of a former seniors' home from Oxford County for $7,500. The Woodstock campus offered a program in Farm Business Management, providing basic agriculture and financial education to farm families, ensuring students could study close to home.
Fanshawe opened a campus in Simcoe the following year and offered a similar program geared toward the needs of tobacco farmers.