In 1970, Fanshawe became a permanent presence in Elgin County when it took over employment retraining programs from the Board of Education. The campus was initially located on Ontario Road in St. Thomas. Many of the programs offered at the St. Thomas Campus were industrial and trades-related, reflecting the industrial base of the city.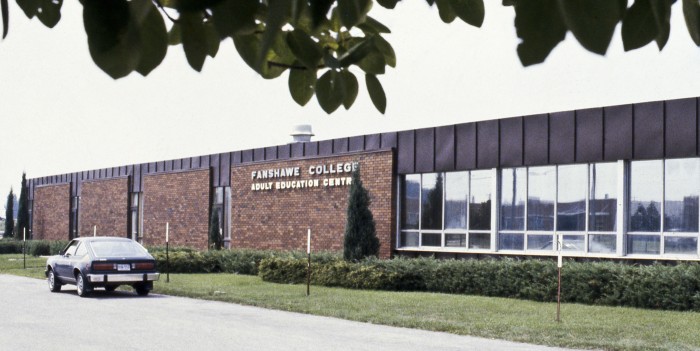 Above, St. Thomas Campus, 1970s.
Fanshawe's first co-op program started in 1970 in Civil Engineering Technology. Within eight years, over 30 Fanshawe programs had a co-op component, more than any other college in Canada.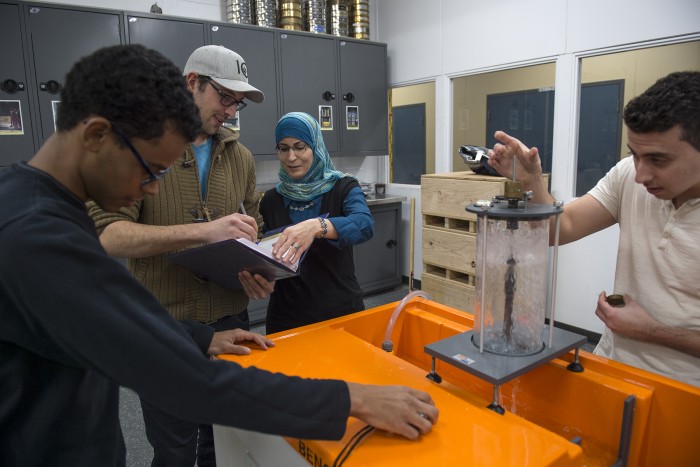 Above, fluid mechanics lab, 2016, part of the Civil Engineering Technology co-op program.
By 1972, enrolment had climbed to 3,300 full-time students and Fanshawe needed to rent space in a number of locations, including one on First Street, which housed the Design program and the Finance and Administration Office. Fanshawe opened a three-storey building now known as D building.
In the early years, Fanshawe was already working with local hospitals in areas such as medical technology. In 1973 Fanshawe moved into training nurses by taking on the administration of programs that had been delivered by the hospitals in London, Woodstock and St. Thomas.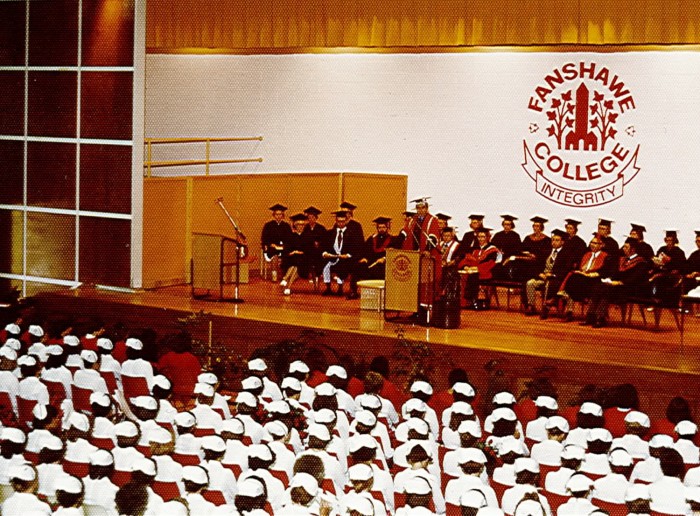 Above, early Nursing graduation ceremony.
Dr. Colvin was a firm believer in the social role of the new community colleges, proclaiming in an interview that they were the "biggest thing to hit education in this century." The College broadened its curriculum to include more arts and social science-based programs with courses geared toward jobs in areas such as child care and municipal government.
One of Fanshawe's most well-known programs, Music Industry Arts, launched as the Creative Electronics program in 1973. The program blossomed as students built their own recording studios and experimented using the most current technology. Jack Richardson, a famed producer of acts such as the Guess Who, Pink Floyd and Peter Gabriel, joined the program's advisory board and later became a professor. The new program provided a steady stream of producers, managers, technicians and performers for the Canadian music scene.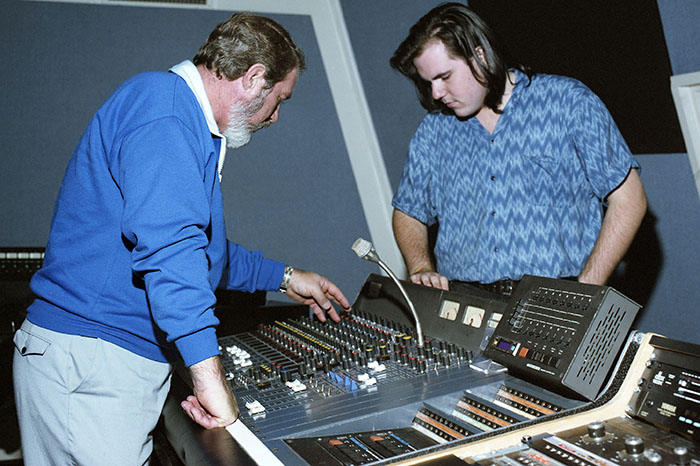 Above, the Creative Electronics program (the predecessor of Music Industry Arts) was launched in 1973.
Fanshawe also broke into new areas such as the Radio and Television Arts program which eventually led to the creation of 6XFM, Canada's only CRTC-licensed, course-run campus radio station. The station went on air in 1978 to serve the London market.

Above, 6XFM, Fanshawe's campus radio station.
Fanshawe's Culinary Arts and Hospitality programs led to the establishment of The Heliotrope, a fine-dining restaurant located on the campus in A building. It was subsequently relocated and expanded to become Saffron's.
By 1975, College enrolment had grown to 4,800 students.
The Fanshawe Alumni Association was founded in 1976 as a volunteer group. Bob Clark, the first Student Council President also served as the first Alumni Association President. At that time the College had 9,000 alumni.
By 1977, full-time enrolment had grown to 9,120 and the College finished construction of E building.
Harry Rawson became Fanshawe's second president in 1979. With his quiet manner and extensive experience, Rawson was seen as a president who could lead the College into the future.