Dr. Barry Moore's term saw more physical growth on the campus with the opening of K building in 1990 which housed the Child Care program and H building for the Nursing Assistant and Design programs. The School of Continuing Education moved from its old location at 520 First Street to the Oxford Street Campus and an $800,000 state-of-the-art recording studio opened for use of the Music Industry Arts program.
Dr. Moore faced a number of financial challenges. The faculty at Fanshawe participated in their second province-wide strike in 1989 and soon after, the province plunged into a recession in the 1990s. The provincial government forced a number of program cutbacks and made it difficult to launch any new initiatives - but enrolment continued to grow.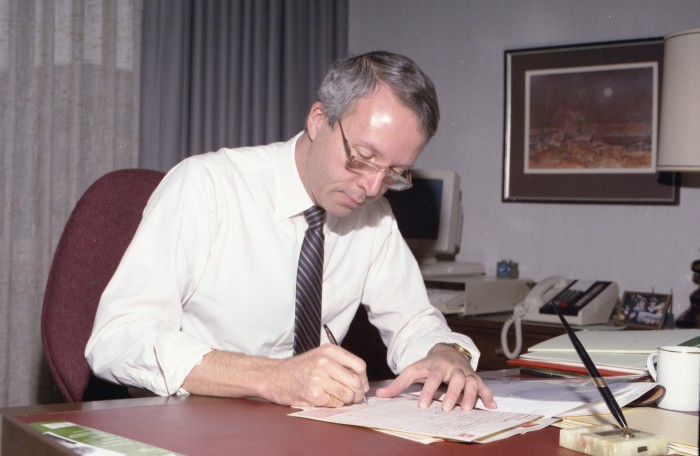 Above, Dr. Barry Moore, President of Fanshawe College from 1987 to 1996.
Moore focused on making Fanshawe a more integral part of the London community. In 1991 Fanshawe launched its first community fundraising drive, something that was not allowed under the original community college mandate. Moore enlisted the help of Don Smith, co-founder of Ellis-Don, a London company that had grown to become a global leader in major construction projects such as Toronto's Skydome. Always a major supporter of Fanshawe, Smith had hired many graduates of the College and worked his community connections to make the fundraising campaign a major success.
In 1992, 25 years after opening, Fanshawe had approximately 38,000 alumni.
The College began celebrating its distinguished alumni in 1992. Ross Fair, Brad Nelson and Rudi Engle were the first to receive this honour. Maria Mendes (Legal Secretary '73) was a 1993 recipient. The same year, Maria (in photo at right) was presented with a Premier's Award in the business category. This was the first Premier's Award for a Fanshawe graduate. Maria went on to establish a successful law firm and served as chair of Fanshawe's Board of Governors from 1999 to 2000.
Moore also worked to break down barriers with The University of Western Ontario by proposing better co-operation and the relaxation of rules that prevented the transfer of credits.
In 1996, Fanshawe's culinary students participated in the International Culinary Olympics in Berlin, Germany. Competing against 30 teams from around the world, the students finished second, bringing home silver. This tremendous achievement brought great pride to Fanshawe and the City of London.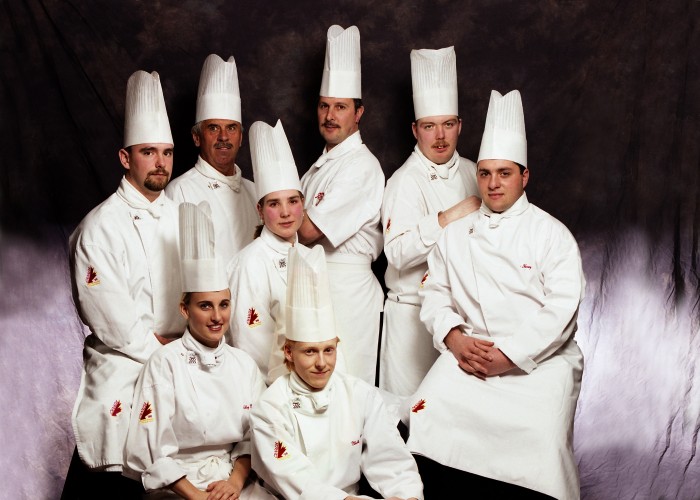 Above, Fanshawe's silver medal winning Culinary Olympics team, 1996.
Moore retired in 1996 and was replaced by Dr. Howard Rundle. Like Rawson, Rundle had extensive experience at Fanshawe dating back to 1972 when he was hired as Director of Planning and Development. A native of Bowmanville, Rundle received his Ph.D. in Chemistry from the University of Toronto and served on the faculty of the University of Pittsburgh and York University.
Fanshawe celebrated the opening of the new St. Thomas/Elgin Campus in 1997. The 28,000 sq. ft. campus represented the culmination of seven years of planning. The campus shared their site with St. Joseph's High School.
In 1999, Fanshawe marked another milestone with the construction of the first student residence. The $15-million building held 400 students in comfortable quad-style living arrangements and gave the campus the kind of lively new atmosphere that comes with full-time residents.
Fanshawe had over 69,000 alumni at this time.