In 2000, the College embarked on a massive five-year, $77-million building program in expectation of another enrolment surge as the children of baby boomers entered the post-secondary system. The "double cohort" brought a surge in student enrolment as two high school classes graduated in the same year with the elimination of the fifth year of high school. SuperBuild was the start of the largest expansion in Fanshawe history. This initiative resulted in the creation of 1,080 new student spaces with 26 new or renovated classrooms, shops and labs.
Construction of Phase II of the St. Thomas/Elgin Campus began the same year and added 14,000 sq. ft. to the campus. The extra room provided much-needed space for labs, shop areas, classrooms, student lounge and a studio/theatre to accommodate the Theatre Arts program.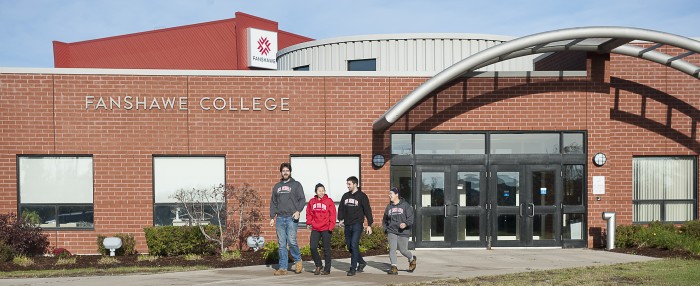 Above, St. Thomas/Elgin Regional Campus, 2016.
In January 2001, Fanshawe distinguished alumna Betty Bedard-Bidwell of Goderich was recognized with a Premier's Award in the Applied Arts: Community Service category. Betty, who graduated from Recreation Leadership in 1972 and Child Care Worker in 1982, was a well- known practitioner and trainer of art and play therapy working primarily with children and youth who had been victims of abuse.
Fanshawe staff and students have always given generously of their time to their community and this was even more evident in early 2001 when students and faculty in the construction programs participated in a rebuild of the training and camp facility for Scouts Canada at Spencer Camp in London after the facility was burned to the ground by vandals. By the time the project was completed, 80 students and staff contributed over 6,000 hours to the $340,000 project.
Fashion Design ('01) graduate, Paula Chin, was awarded top place among Canadian entries and fourth in the world at the International Young Fashion Designers competition in Paris, France in December 2001. Paula's winning entry, a black coat appliquéd in black, red and tan suede (below) was inspired by Indigenous designs from the northwest coast of British Columbia.

Above, Paula Chin's award-winning coat, inspired by Indigenous designs from northwest British Columbia.
In 2002 the number of first-year students at Fanshawe surpassed Western's for the first time. The two institutions also made substantial progress in breaking down the old bureaucratic barriers with agreements to offer joint degree/diploma programs in areas such as Media, Communications and Electronics. Colleges were also granted permission to offer applied degree programs and Fanshawe announced two: Integrated Land Planning Technology and Bachelor of Applied Technology - Biotechnology.
The same year saw the opening of M building, a 90,000 sq. ft. building that housed the Communications and Design programs, and the Spriet Family Greenhouse complex known as N building. In 2003 a three-story addition to F building was completed and the College opened a second student residence that became home to 400 students. The following year a new Student Centre, again owned and funded by the FSU, was built between the two residences. Fanshawe also opened its new Centre for Innovation, a partnership between Curriculum Development, Staff Development and Learning Systems.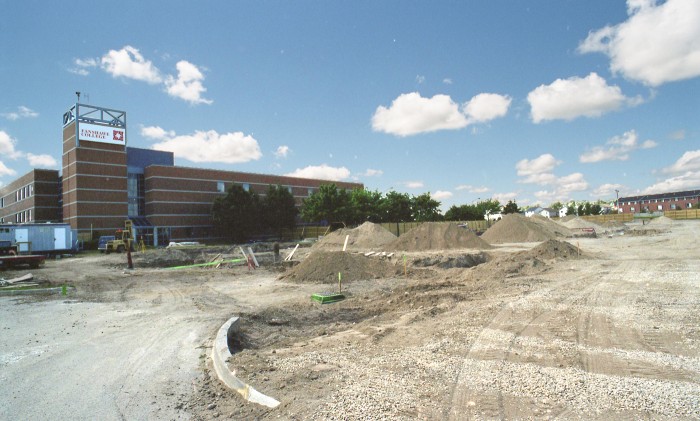 Above, M Building under construction.
In 2005, the College went back to its roots with construction of a new $14-million Centre for Construction Trades and Technology. The new facility, known as T building, revamped the technical facilities that had once been the core of the College and allowed Fanshawe to address the shortage of trades and technology graduates. Not only did the building provide state-of-the-art learning facilities, it was visually impressive and provided a more modern presence for the College along Oxford Street.
Phase II was designed to continue the look and feel of Phase I. The old B Building was given a visual overhaul and a new, more welcoming and accessible entrance was created.
As part of the overall construction boom, Fanshawe's London Campus was reoriented toward the east with a gateway leading to a courtyard area. It gave Fanshawe the "front door" that it had long lacked.
Fanshawe completed the purchase of the James N. Allan Campus in Simcoe. The building had been leased since its opening in 1978.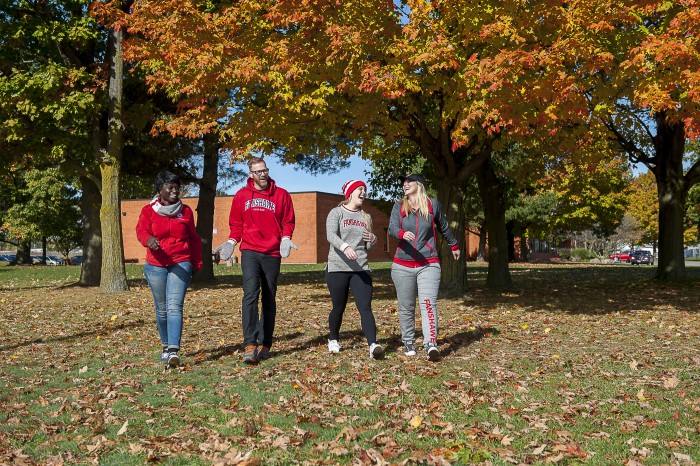 Above, Simcoe/Norfolk Regional Campus (formerly James. N. Allan Campus), 2016.
By now the growth of Fanshawe had reached a point that would have been considered unimaginable in 1967. The 17 buildings at the London Campus, along with some much-needed green space, now occupied almost the entire hundred-acre site. Fanshawe's enrolment hit an all-time high with approximately 15,000 full-time students and 40,000 part-time registrations, making it one of the top five colleges in Ontario. Graduates had an almost 92 per cent graduate employment rate and over 90,000 alumni.
In 2006, the College purchased the former Small Business Centre a short distance from the campus, with an eye to further expansion of industrial and trades programs.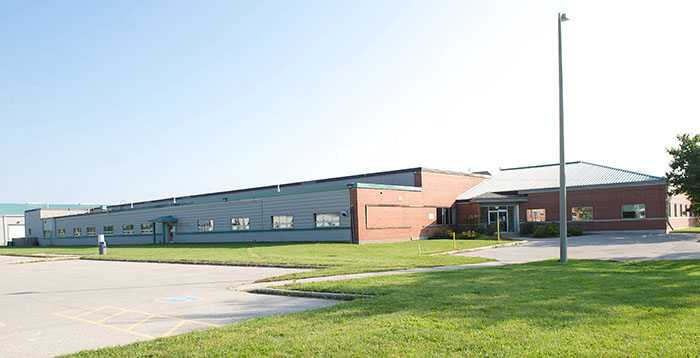 Above, Small Business Centre at 1764 Oxford Street East, London, ON, prior to construction.
In 2007, Fanshawe launched its 40th anniversary year with a number of community celebrations. London Mayor and Fanshawe graduate Anne Marie DeCicco-Best proclaimed that a portion of Second Street in front of the new entrance would be renamed Fanshawe College Boulevard.

Above, London Mayor Anne Marie DeCicco-Best (right) officially opens Fanshawe College Boulevard in 2007.
Drawing on the generosity of the community through its fundraising campaign. Fanshawe capped its 40th anniversary with the successful completion of a $15-million fundraising campaign. Campaign chair Bob Siskind said the campaign allowed for new and innovative programming, and new facilities such as an acute care paramedic lab and a manufacturing automation lab. Don and Joan Smith, who led Fanshawe's first fundraising effort, agreed to serve as Honorary Co-Chairs for this campaign.

Above, Don and Joan Smith were Honorary Co-Chairs for the 2007 fundraising campaign.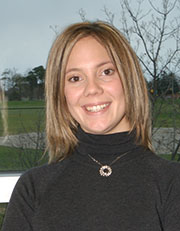 Fanshawe was now the fifth largest community college in Ontario, with 120 program offerings and approximately 15,000 full-time students. In 2007, Danielle Campo (right), a student who overcame muscular dystrophy to win seven medals at the Paralympic Games, became Fanshawe's 100,000th graduate.
Also in 2007 Patricia VanOmen Cuddy, widow of the late A.M. (Mac) Cuddy, donated the property known for decades as Cuddy Gardens to Fanshawe College. This living legacy is comprised of a lush and unique garden stretching over more than five acres that thrives under the constant attention of the horticulture students and specialists at Fanshawe. The donation also included the century-old residence where Mac Cuddy and his family lived for more than 56 years.
In May 2008, Fanshawe broke ground for its third residence, bringing on-campus housing capacity to 1,200.
Also in May 2008, Fanshawe Nursing student Laura Mallory became the youngest Canadian to successfully summit Mount Everest (8,848 metres). She had previously climbed Russia's Mount Elbrus (5,642 metres) and Mount Kilimanjaro (5,885 metres).
The same year, the College launched the Fanshawe College Foundation. The Foundation dedicated itself to supporting the College, its students and stakeholders, while developing a platform for ongoing and reliable community contributions for future Fanshawe initiatives. Larry Kinlin pledged $1 million to Fanshawe's School of Business and Management and the School was renamed the Lawrence Kinlin School of Business (below) in the fall of 2008.
With the economic downturn in 2008 and layoffs hitting southwestern Ontario, Fanshawe assisted affected workers by retraining them for rewarding careers. In September 2008, Fanshawe welcomed the first group of students who were training for new jobs as part of the Second Career program.
Fanshawe made its largest-ever donation to the United Way on January 22, 2009 when President Rundle presented a cheque for $72,620 to Bob Adams, CEO of the United Way of London & Middlesex. This surpassed the initial target of $65,000. This brought the College's total contribution to more than half a million dollars since 1992.
Khalil Raml, MPP London Fanshawe, announced a provincial investment of $800,000 for apprenticeship training for agricultural equipment, truck and coach and heavy equipment technicians, as well as electricians and industrial millwrights. The funding was part of the $2 billion Skills to Jobs Action Plan, designed to prepare workers for a greener economy.
In March, President Rundle was proud to welcome Prime Minister Stephen Harper to Fanshawe for his first visit to Fanshawe. The Prime Minister was at the College to announce budget initiatives to support Canadian workers.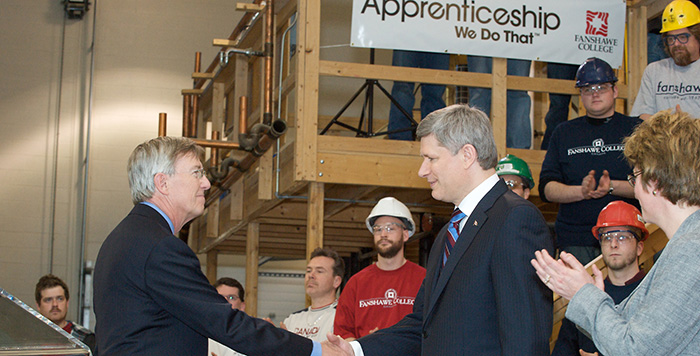 Above, Fanshawe President Howard Rundle welcomes Prime Minister Stephen Harper in March 2009.
Fanshawe was saddened to learn of the passing of Dr. James Colvin, who served as the College's first president from 1967 to 1979. Dr. Colvin had a clear vision of the role Fanshawe should play in the lives of students and the community. The James A. Colvin Atrium, located in B Building at the London Campus is named after Dr. Colvin. Dr. Colvin's son, Crispin was a member of Fanshawe's Board of Governors from September 2007 to August 2013, serving the last year as Chair. His granddaughter, Ashley Older, graduated from the Autism and Behavioural Science program in 2009.
In 2009, Fanshawe had over 110,000 alumni and 16,000 full-time students. Enrolment of international students had increased from 264 in 2008 to 326 in 2009 and the College had over 960 full-time staff members.
Kevin Doyle, professor in the Music Industry Arts program, won a Premier's Award for Creative Arts and Design in 2009. Throughout Kevin's illustrious career he worked with some of music's biggest names, including Van Morrison, Celine Dion, KISS, Alannah Myles and others. He was the College's third Premier's Award recipient.
In May, Fanshawe learned that, as part of the Knowledge Infrastructure Plan, it would receive $31.8 million in funding from the federal and provincial governments. The funding would allow Fanshawe to expand the recently purchased Small Business Centre at 1764 Oxford Street.
When fall classes began, Fanshawe welcomed 7,600 first year students - a 7.5 per cent increase over 2008 - and 5,400 returning students. The College also had nearly 1,000 students over the age of 35 - a 95 per cent increase over the previous year.
In November 2009, Fanshawe broke ground on the new 148,000 sq. ft. Centre for Applied Transportation Technologies. Formerly home to the Small Business Centre, the new Centre would go on to accommodate 1,500 full-time students and feature a range of environmentally-friendly construction innovations, including a green roof system and solar heating. Construction was made possible by investments of approximately $16 million each from the federal and provincial governments through the Knowledge Infrastructure Program. Prime Minister Harper announced the Plan when he visited Fanshawe in early 2009.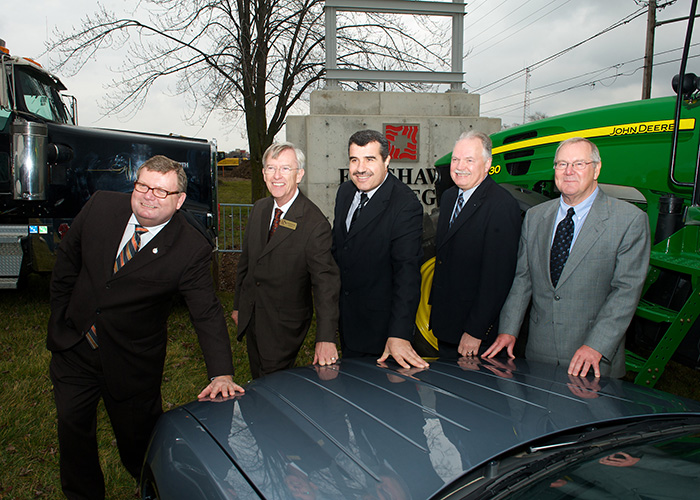 Above, Ed Holder, Howard Rundle, Khalil Ralmal, Rod Cameron and Frank Highley at CATT ground-breaking ceremony, November 2009.
Fanshawe students have traditionally been very involved in their community and from November 21 to 22 the Police Foundations, Paramedic and Law and Security students went the extra distance. During the two-day period, the students collected more than 9,000 pounds of food - enough to fill two ambulances - for the London Food Bank. Students in those programs donated more than 11,000 hours over a two-year period.
In December 2009, London-Fanshawe MPP, Khalil Ramal visited Fanshawe to announce an investment of more than $2.5 million for new equipment at Fanshawe. The College was able to purchase an X-ray unit, cardiac monitor, FM broadcast transmitter, welding machines and other upgraded equipment to ensure Fanshawe students learn in leading-edge classrooms.
Fanshawe athletes continued to excel on the national stage. In 2009, the women's cross-country team won the national championship, men's cross-country brought home bronze, women's indoor soccer won provincial silver and the women's basketball team won provincial bronze.