Vancouver, British Columbia, hosted the 2010 Winter Olympic Games and two Fanshawe students were able to experience it up close and personal when Ashley Rowe and Nick Wynja reported from the Games with an innovative experiment in mobile journalism technology. VeriCorder, a Canadian company, equipped the students with its newly-released multi-media application, Poddio. The software allowed reporters to record, edit and send studio-quality stories from the field into the newsroom using only their iPhones. Rowe and Wynja (below) also produced and presented a daily report from the Olympics World Media Centre in Vancouver.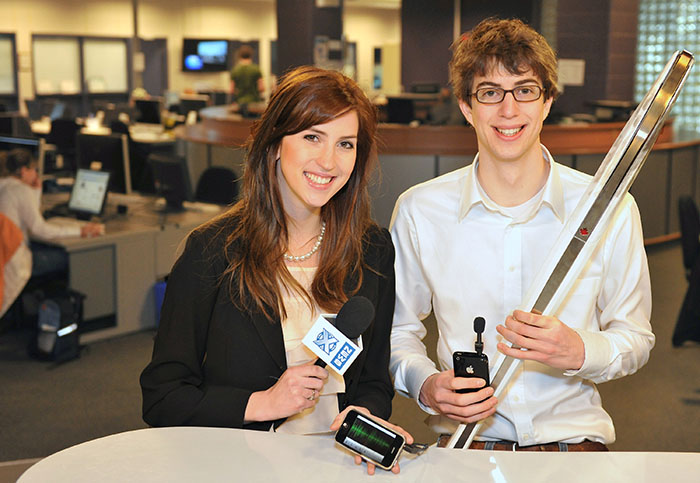 In April 2010, Fanshawe's Board of Governors approved the 2010/11 Strategic Plan. With a budget of $172.9 million, there was significant spending allotted for new programs, new and expanded services and equipment acquisition and renewal. As well, the College continued to have excellent employment and employer satisfaction rates. According to Key Performance Indicator surveys, 86.5 per cent of graduates found jobs within six months of graduation and 92.3 per cent of employers were satisfied with the preparation and performance of Fanshawe graduates.
Four second-year Horticulture Technician students, accompanied by instructor Patrick Callon and program coordinator Michael Pascoe, worked their magic at Canada Blooms, Canada's largest garden show, in Toronto in April 2010. Fanshawe captured both the gold and silver medals, with gold medal winners Melissa Sparling and Allan Campbell going on to represent Ontario at the National Skills Competition.
During the same month, students from the Fine Art program unveiled their latest metal masterpieces, created from thousands of pounds of tin, copper, aluminum and steel, donated by John Zubick Scrap Metals. The winning work, a 10 foot-tall seahorse, was created by Christine Flemming and Jessy Donn-Barkley; their sculpture joined the growing display of Fanshawe creations at Zubick's in London.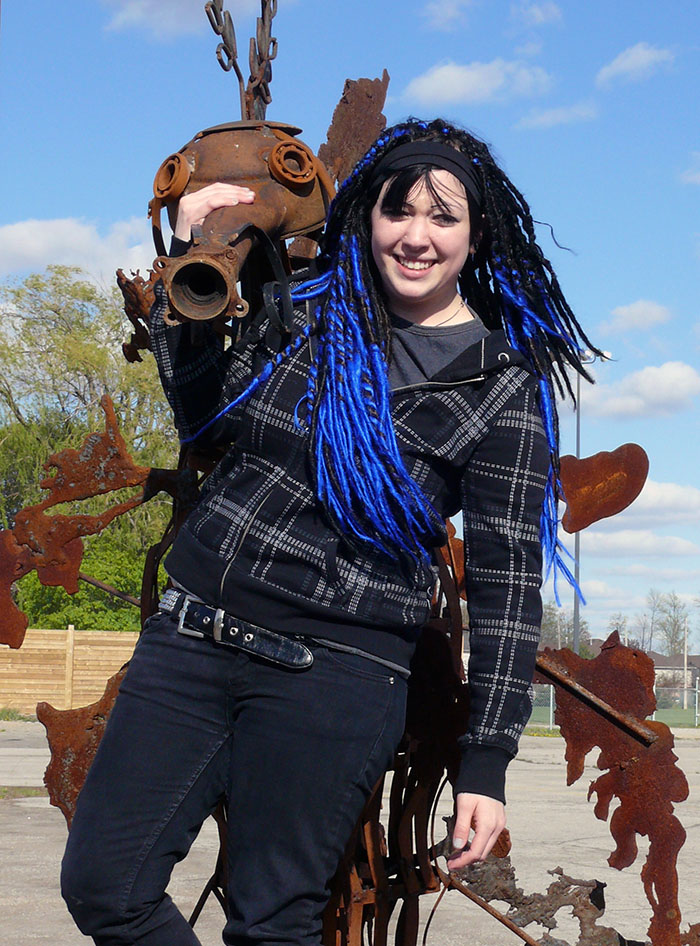 Above, a 10 foot tall seahorse won top prize at John Zubick Scrap Metals in April 2010.

In August 2010, Fanshawe became the first college to offer a mental health website for students with the launch of iCopeU. The 24-hour access site offered fingertip access to online resources for students who struggled with stress and anxiety or just feeling overwhelmed.
In September, London Police Service Chief Brad Duncan presented Fanshawe College with the keys to the Service's former Incident Command Vehicle. The vehicle would be used to support the learning of students in the Emergency Management, Paramedic, Police Foundations and Emergency Telecommunications programs.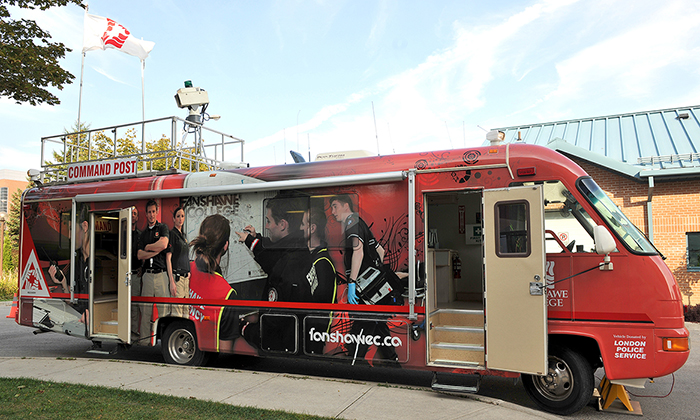 Above, London Police Service donated their incident command vehicle to Fanshawe College.
In November 2010, Fanshawe proudly announced that Law and Security graduate, Debra Bodkin, was named one of the recipients of the 2010 Premiers Awards for Ontario College Graduates. Ms. Bodkin has been recognized internationally for her work on investigations of crimes against humanity in Kosovo, Darfur and Rwanda and was presented with the NATO Medal of Service in Kosovo in recognition of her contributions to an extremely difficult and intense investigation.
Also in November, Business graduate Belinda Sayeau (right) was presented with the 2010 Colleges Ontario Award for student achievement for her work helping Indigenous students attain a post-secondary education. Recognizing the challenges facing Indigenous students from small communities when they move to a large college, she has helped mentor and tutor other Indigenous students.
Fanshawe staff, students and retirees contributed a record-breaking gift to the United Way with a $106,338 donation. It represented an 11 per cent increase from the previous year and marked the first time the College set a six-digit goal of $100,000.


Above, Fanshawe made its largest-ever contribution to the United Way in January 2011.
Fanshawe's Culinary team won eight gold and silver medals at the Canadian Culinary Federation's (CCFCC) cold food salon in Toronto on March 7. With three silver medals, four golds, plus one grand gold (best in category), the Fanshawe team not only took home more medals than any other college in Canada, they also won highest standings.
Fanshawe scored big on the international stage when it was announced in June that the College finished second world-wide in international student satisfaction. Fanshawe finished first among the six Ontario community colleges that participated in the survey. The students were particularly satisfied with the facilities, quality of learning experience and the comprehensive student services. At the time, Fanshawe enrolled more than 800 international students each year.
In September, Fanshawe President Howard Rundle announced the purchase of the former Royal Trust building at 137 Dundas Street in downtown London. At an event held at the Covent Garden Market, Dr. Rundle spoke about the great benefits of having a downtown presence for both Fanshawe students and the community. Funding for the new building came from grants of up to $20 million from the City of London for heritage building renovations and $6 million from the Government of Ontario. When complete, 400 students would call Fanshawe's downtown campus home.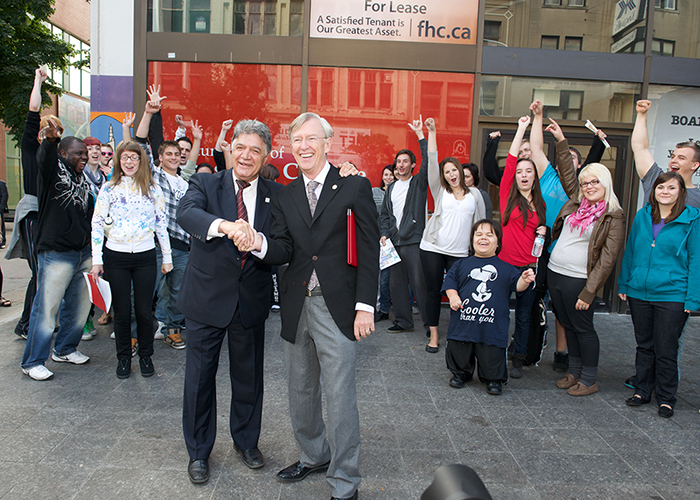 Above, London Mayor Joe Fontana and President Howard Rundle celebrate the purchase of 137 Dundas Street in downtown London.
The St. Thomas/Elgin Campus announced private donations totaling $500,000 in support of the new Renewable Energies Technician program in October. The donations came from two sources: a contribution of $405,000 from the Estate of Dorothy Palmer and a $95,000 gift from the Alma College Foundation. The money would be used to provide equipment and facilities for the program.
According to a report released by Economic Modeling Specialists in November 2011, Fanshawe is considered a sound investment from multiple perspectives - regional economic benefits; higher earnings; social benefits and return on investment for taxpayer money. The report stated that labour income in the area was $572.1 million greater due to the past and present operations of the College. It also made the connection that with higher education comes improved health, reduced crime rates and lower welfare costs. Dr. Rundle announced the details of the report at the College's first President's Breakfast at the London Convention Centre.
On Tuesday, November 29, the Rick Hansen 25th Anniversary Relay team stopped at Fanshawe. Student Union President Veronica Barahona carried the Rick Hansen medal from London Lane to 'H' cafeteria where a reception took place. The Relay retraced the Canadian segment of the original Man In Motion World Tour.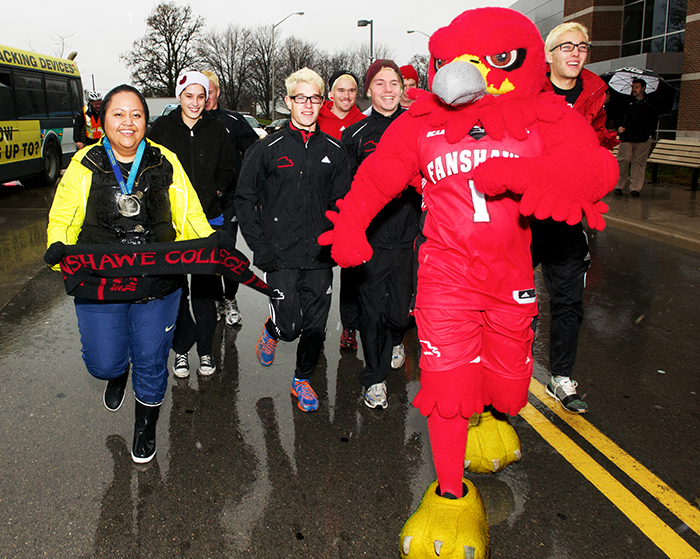 Above, wearing the Rick Hansen medal, Fanshawe Student Union President Veronica Barahona and her executive team run with Freddie the Falcon when Rick Hansen's 25th anniversary team stopped in London.
The James N. Allan Campus received a cheque for $20,000 from the Rotary Club of Simcoe in December for the campus's Capital Campaign. In thanking the Rotary Club for their donation, Catherine Finlayson, Executive Director of the Fanshawe College Foundation said, "It underscores the importance of community support to this campaign." The Rotary Club has contributed $25,000 to support renovations and expansions at the campus.
For the third year in a row, students at Fanshawe's Oxford Campus collected ALL of the unclaimed names from the Angel Tree and filled the Christmas wish lists of the children. More than $3,000 in gifts, ranging from snowboards to skateboards to Wii games, movie passes and books were purchased. Each child also received a new pair of pajamas on Christmas morning.

Above, Oxford County campus student Nicole O'Keefe with some of the gifts purchased for the Woodstock Angel Tree.
In January, Community Employment Services (CES) celebrated a special contribution from TD Canada Trust at the College's Nelson Park Plaza location. TD Canada Trust generously offered to donate a two-year lease on the branch. CES helps residents of London and Middlesex region find sustainable employment.
George Seara (below), Music Industry Arts graduate (1997) won a 2012 Juno for Recording Engineer of the Year for "A Little Bit of Love".

Left to right: Steve Malison, professor, Music Industry Arts, with Juno award winner George Seara.
A small group of students in Fanshawe's Police Foundations program received some real-world experience in policing in April. Two CSIs (Crime Scene Investigators) from the North Miami Police and the Deputy Chief of the Miami Dade Police Academy gave the students an in-depth look into the world of crime scene investigation, the importance of being the first officer on the scene of a crime and the role of a crime scene investigator. During this hands-on, real-life program, students learned about DNA and blood spatter analysis, fingerprinting, evidence collection and many other aspects of homicide/death investigation.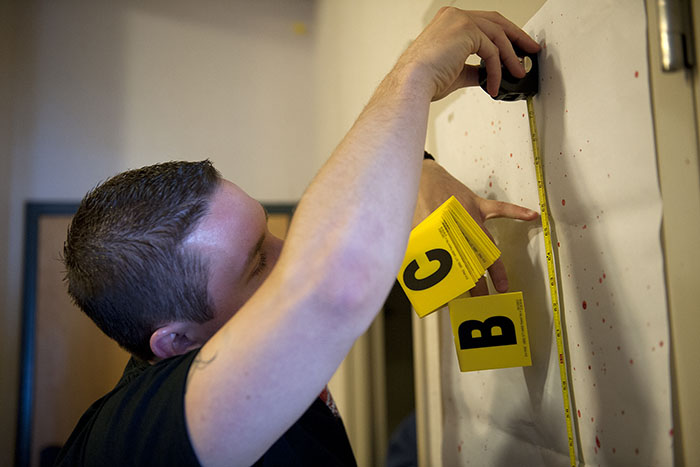 Above, analyzing a mock crime scene during 'CSI Miami' at Fanshawe College.
Fanshawe students brought home three medals from the 2012 Ontario Technological Skills Competition in May. More than 1,900 students from across the province competed in more than 60 contests related to technology and skilled trades. Becky DeKlyn won gold and Lyndon Murray won silver in the Architectural Design and Technology competition, while first-year cook apprentice Brad Masciotra won silver in the Culinary Arts competition.

Above, Becky DeKlyn with her gold medal from the Ontario Skills Competition.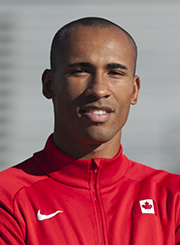 Fanshawe College congratulated Olympic decathlon athlete Damian Warner (right) for his fifth place finish at the 2012 Olympics in London. A business graduate from the College, Damian proved that hard work and dedication paid off with his performance in one of the most difficult Olympic sports. Damian set six personal bests during the competition and moved up 13 places from the world championships. His Olympic decathlon point total of 8,442 was the second highest in Canadian history.
In November the Fanshawe men's hockey team hosted the London Police Select tournament team at Stronach Arena. Honorary head coaches, Howard Rundle and London Police Chief Brad Duncan, each tried to lead their team to victory in the inaugural Fanshawe Community Cup. At the end of the day, the London Police team won the game; however, the real winners were the United Way of London and Middlesex.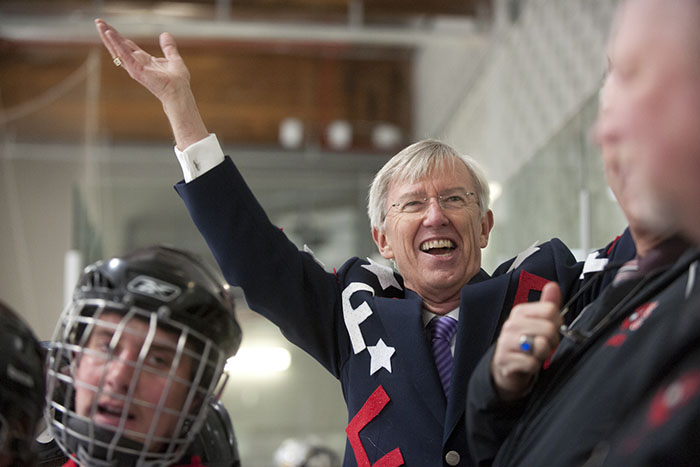 Above, Howard Rundle cheers on the Fanshawe men's hockey team during the first Community Cup hockey game.


Above, players and coaches from Fanshawe College and London Police Service after the Community Cup hockey game.
Hino Motors Canada donated a 2012 Hino truck to the College's Centre for Applied Transportation Technologies in January 2013. Thanks to this generous donation, students in the Truck and Coach Apprenticeship and Motive Power Technician-Diesel programs will train on a vehicle that incorporates the very latest diesel technology and engine emissions systems.
On Monday, January 21, the Fanshawe Student Union (FSU), in partnership with the College Student Alliance (CSA) and Fanshawe College, launched a new mental health awareness event in support of Blue Monday 2013. Blue Monday falls on the Monday of the last full week of January. Many events in support of mental health took place during the week.
In late January, Fanshawe President Howard Rundle announced his retirement after a career that spanned more than 40 years. Dr. Rundle was appointed Fanshawe's fourth president in 1995. Prior to accepting this position, he held various roles, including Vice-President Academic. His retirement would take effect August 31.
The College received the 2013 Bill Hutton Award of Excellence from RTDNA Canada - The Association of Canadian Journalists. The award is given to organizations or individuals who have shown a true commitment to the betterment of broadcast journalism in Canada. The award was presented at the RTDNA President's Gala on June 14.
Architectural Technology student, Becky DeKlyn, won a gold medal and 'Best in Region' in the Architectural Technology and Design category at the Skills Canada competition, held in British Columbia in June. Competitors were tasked with creating a complete set of working drawings for a real-life Vancouver fire hall, working from just photographs and a basic floor plan as source material. They had a total of 12 hours over two days to complete this task.
On August 6, Fanshawe's Board of Governors announced that Peter Devlin, former Commander of the Canadian Army would become the College's fifth president, effective September 3. Crispin Colvin, Chair, Fanshawe College Board of Governors stated, "We are excited to have Peter Devlin as the next President of Fanshawe College. The Board of Governors was struck by Peter's unquestionable leadership abilities, his integrity, and his experience in managing with difficult budgetary constraints. Peter has made a career of leading and motivating people, and preparing them for the future - areas in which Fanshawe also excels."

Above, Peter Devlin, Howard Rundle, Scott Player and Margaret Nish with Fanshawe staff at the announcement of the College's fifth President on August 6, 2013.
In August, the College undertook a Strategic Brand Project. When complete, Fanshawe would develop a stronger, clearer, more consistent identity that would build on its strengths and communicate its unique character to differentiate it from its competitors. Completion date would be spring 2014.
Fanshawe announced plans to establish the new School of Public Safety. The School opened in September 2013 bringing together six of the College's established public safety programs with plans to launch new programming by September 2015. Combining programs under one school brought an inter-professional approach to public safety training.
On August 28, 2013, Board of Governors Chair, Crispin Colvin announced that the new Centre for Digital and Performance Arts would be named the Howard W. Rundle Building, after Fanshawe's longest-serving President. About the announcement, Mr. Colvin stated, "Howard's legacy for Fanshawe is one of tremendous growth, a strong financial position and impeccable leadership. All of this is a testament to Howard and his dedication to making this College one of the biggest and best in Ontario."
Justin Trudeau, leader of the Liberal Party of Canada, toured the College's Centre for Applied Transportation Technologies on September 19. During the visit, Mr. Trudeau met with students and faculty, while learning about the state-of-the-art facility.
In late October, Intergraph Canada announced a major donation to the School of Public Safety. Intergraph, a global leader in public safety software development, partnered with Fanshawe to donate computer-aid dispatch (CAD) software to provide students enrolled in the Emergency Telecommunications program with real-life experience in a simulated dispatch centre.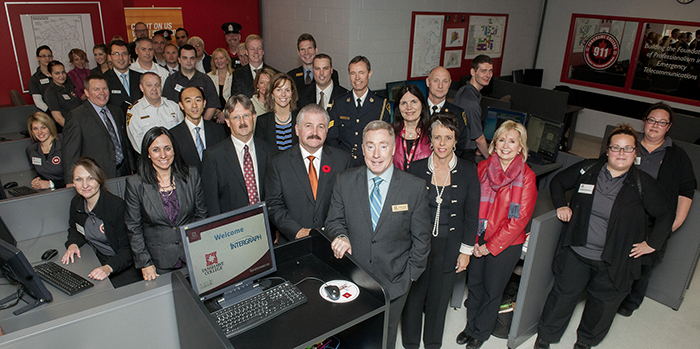 Above, Intergraph donated software to assist in the training of Fanshawe's Emergency Telecommunications students.
Peter Devlin was officially installed as Fanshawe's fifth president at convocation on November 7, 2013. The installation portion of the ceremony featured two Canadian Armed Forces flag bearers who were also Fanshawe students as well as a guest piper from the Royal Highland Fusiliers of Canada.

Vertha Coligan, Dean, Faculty of Technology, introduces the platform party at President Devlin's installation during convocation at the London Campus.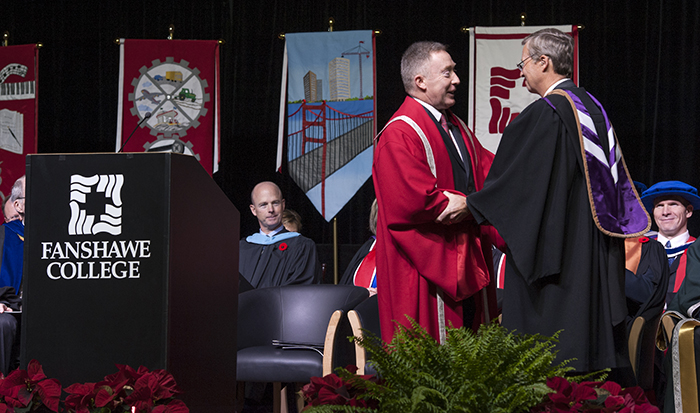 Scott Player, Chair, Fanshawe College Board of Governors (at right) congratulates Peter Devlin upon his official installation as President.
Together with members of Culinary Team Canada, Fanshawe College professor Scott Baechler won gold and silver at the internationally renowned Salon Culinaire Mondial in Basel, Switzerland. The team took gold in the Cold Food category on November 23 and silver in the Hot Food category on November 24.
In November 2013, Fanshawe published its 2013 Report to the Community. Among the faculty, alumni and student success stories were key facts and figures about Fanshawe, including:
Fanshawe's 70% graduation rate (provincial average is 65%);
Fanshawe students who find work within six months of graduation (86%);
Student satisfaction rate with Fanshawe (80%);
International students (increased to 1,025 from 336 four years ago).
Fanshawe College brought a little bit of Times Square to downtown London when it unveiled its new, state-of-the-art outdoor digital sign at the Centre for Digital and Performance Arts.
Fanshawe professor Stephanie Brewster edged out her competition and won a $10,000 prize on the January 20 premiere episode of Chopped Canada on Food Network Canada. Chef Brewster faced stiff competition from her fellow contestants, including Matt Binkley, a private chef who has cooked for celebrities and royalty around the world; Jonathan O'Callaghan, chef de partie at Museum Tavern in Toronto; and Tim Schorno, executive chef at The Granite Restaurant in Bancroft, Ontario.

Above, Fanshawe professor Stephanie Brewster won the premiere episode of Chopped Canada on January 20, 2014.
In August 2013, Fanshawe purchased the former Jazz hangar (below) located at the London International Airport. The 52,000 sq. ft. hangar housed the Avionics Maintenance and Aircraft Maintenance programs.
In January 2014, Fanshawe opened its new Centre for Digital and Performance Arts (below) in downtown London. The 50,000 sq. ft. building was equipped with high-tech labs, classrooms and learning spaces for 400 students. The Centre became home to a number of Fanshawe's creative programs, such as 3D Animation and Character Design, Interactive Media Design and Production, Technical Costume Design and Theatre Arts.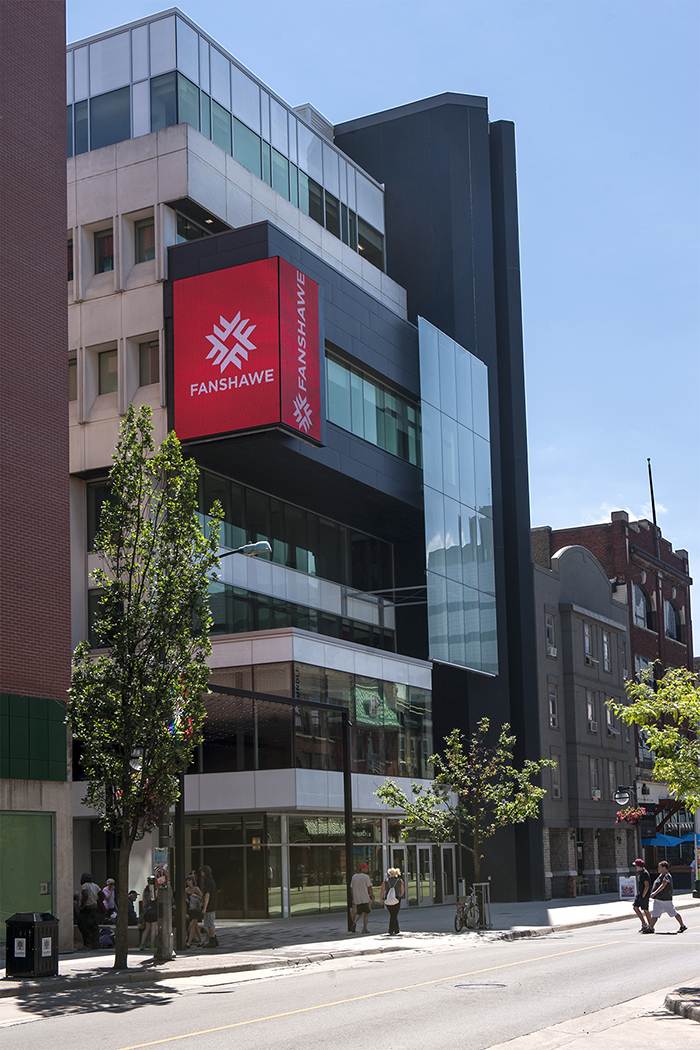 After months of work and practice, seven students from the School of Tourism and Hospitality successfully competed at the Culinary Salon Competition at the Toronto Food Show in March 2014. Their efforts paid off with seven medals (two silver and five bronze), including winner of Overall Best Show entry in wedding cakes by Rachelle Goulet.
At a staff celebration on April 2, President Peter Devlin unveiled the College's new brand and visual identity (two photos below). The brand promise - to educate, engage, empower and excite - reflects Fanshawe's desire to help people reach their full potential. Fanshawe's new logo, dubbed NorthStar, was also introduced to staff during the celebration.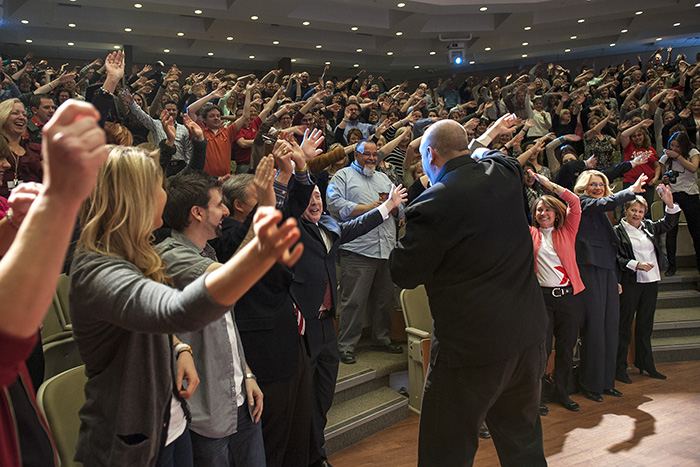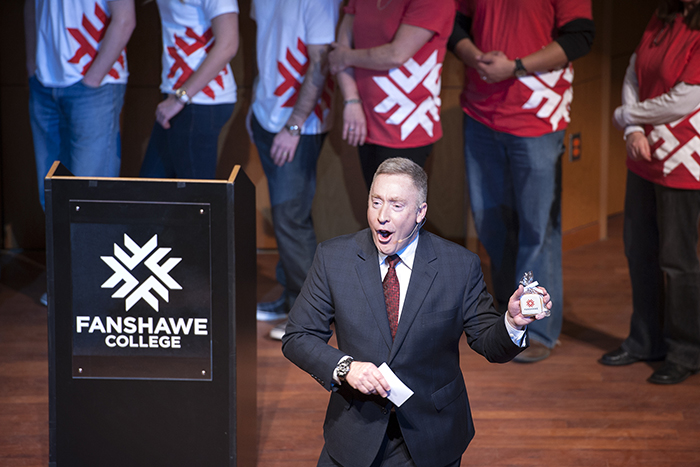 On Wednesday, April 2, President Devlin officially raised the new College flag.
Fanshawe's Board of Governors approved the College's 2014/15 Strategic Plan in April 2014. The Plan included a $212 million operating budget and $138.6 million capital budget and included the launch of new programs, building renewal, including Phase II of the College's downtown campus and expansion and service enhancements.
On Friday, May 2, Fanshawe's St. Thomas/Elgin Campus celebrated the opening of its new Dorothy Fay Palmer Renewable Energies Lab and John W.F. Palmer Welding Lab. The new labs were made possible through private donations totaling more than $1 million from the Estate of Dorothy Fay Palmer.
The College launched its historic $100 million 'Remarkable' campaign in May 2014. Students, staff and supporters of Fanshawe attended an event to kick off the campaign that was led by Campaign Chair Larry Kinlin. During the event, Matt Steward, President of the Fanshawe Student Union, announced the students would be contributing $24 million toward the fundraising goal (below). This student donation would be used to fund the building of a new Fitness/Wellness Centre at the London Campus.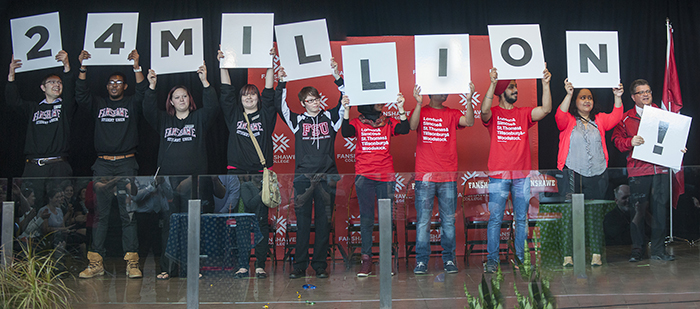 A study released in May 2014 showed Fanshawe's economic contribution to the communities it serves at approximately $1.6 billion annually. With the biggest influence coming from the impact of graduates' incomes, which added close to $1.4 billion to the region. The economic impact report also showed that graduates receive a return of $3.30 in higher future wages for every one dollar they invested at Fanshawe.
A team of recent graduates from the College's Lawrence Kinlin School of Business was on top of the world in September 2014 after winning the 2014 Google Online Marketing Challenge's (GOMC) Social Impact Award. The award came with a $15,000 USD donation from Google for Museum London, the students' partner organization.
In September 2014, the School of Health Sciences celebrated the opening of 'mend,' the first on-campus massage therapy clinic. The clinic provides opportunities for Fanshawe's massage therapy students to get practical experience in many types of therapies including sport, clinical and pregnancy massage.
Fanshawe had been looking for opportunities for expansion in the downtown and in November 2014, President Devlin (below) announced the College had finalized the purchase of the Kingsmill building.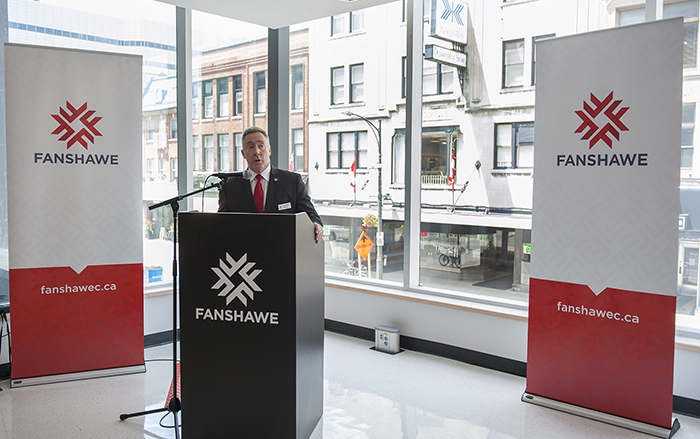 When complete, the new facility (architect's rendering below) will bring an additional 1,600 students to the downtown, bringing the total to 2,000 students studying in downtown London.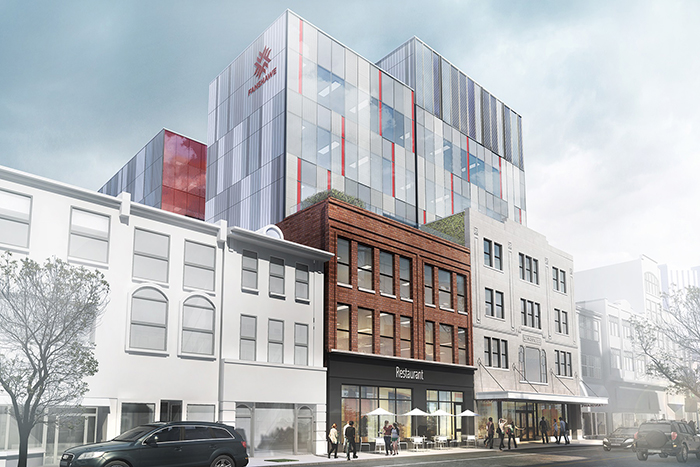 In November 2014, Fanshawe launched its first-ever College reputation campaign, the largest and most ambitious in its 50-year history. 'Your Story' is a multi-platform, multi-year campaign with the tagline "Your story is our story," aimed at building awareness and attracting prospective students by telling Fanshawe's story through the stories of the 43,000 students, 2,500 employees and 160,000 alumni who have experienced the College first-hand.
The James N. Allan Campus in Simcoe celebrated the grand re-opening of its campus on November 21. The renovations were made possible in part through the generous support of community members during a capital campaign. The Campus also celebrated the convocation of its graduates and presented an honorary diploma to Mr. Les Anderson.
Fanshawe was proud to announce that its longest-serving President, Dr. Howard Rundle, was presented with the Minister's Lifetime Achievement Award from the Honorable Reza Moridi, Minister of Training, Colleges and Universities. The Lifetime Achievement Award recognizes success in advancing the college, the community and the Ontario college system. The announcement was made in November 2014.
On January 15, 2015, Fanshawe celebrated Indigenous education and signed Colleges and Institutes Canada's (CICan) Indigenous Education Protocol (IEP). The IEP was developed by Colleges and Institutes Canada as an aspirational guide to support their members' commitment to Indigenous education. The protocol was signed by Fanshawe President Peter Devlin and Fanshawe's Aboriginal Education Council co-chairs Candace Lickers and Robyn van Oirschot.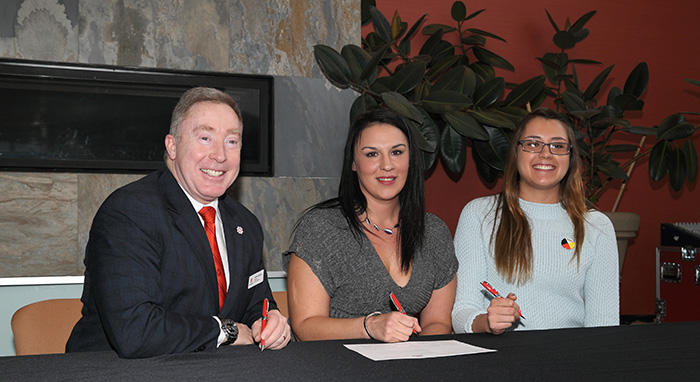 Above, Peter Devlin, Robyn van Oirschot and Candace Lickers sign the Indigenous Education Protocol.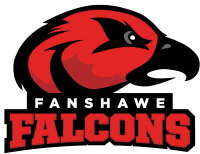 On Sunday, January 18, Fanshawe Athletics unveiled its new Falcons logo. They celebrated the history of Fanshawe Varsity Athletics and unveiled the new logo at the London Lightning game. The new logo was designed by Andrew Campbell, graphic designer in the College's Reputation and Brand Management office.
The Fanshawe Student Union and Fanshawe College announced an expansion of the current recreation and fitness facilities at the College's London Campus in late January 2015. The proposed three floor facility significantly increases the space available for the delivery of health services, designated wellness programming, Fowler Kennedy Sports Medicine Clinic, pharmacy, flexible fitness space and other services. The Wellness Centre (below) was supported by the Student Union with a $24 million contribution to the Remarkable Campaign.
In February 2015, Fanshawe's respected Lawrence Kinlin School of Business announced the expansion of its already extensive portfolio of programs by introducing three new Bachelor of Commerce degrees. The four-year programs included Bachelor of Commerce (Accounting), Bachelor of Commerce (Digital Marketing) and Bachelor of Commerce (Human Resources Management).
Fanshawe College signed its first formalized international research agreement with the Institute of Technology Sligo, Ireland in February 2015. This agreement established a formal partnership and created the framework for conducting simultaneous research, collaborative research, and research exchanges between the two institutions.
Fanshawe President Peter Devlin was invested into France's National Order of the Legion of Honor in recognition of his efforts to promote strong relations between the Canadian and French Armies while he was Commander of the Canadian Army. President Devlin was presented with his award by General Gratien Maire, French Vice Chief of Defence Staff on February 19 at the French Embassy at 42 Sussex Drive, Ottawa at an event hosted by His Excellency Nicolas Chapuis, the new French Ambassador to Canada.
In March 2015, Fanshawe announced the establishment of the Canadian Centre for Product Validation (CCPV). The project, valued at $16.2 million was made possible due to FedDev Ontario funding of $8.11 million. When complete, the CCPV (below) would support research and innovation at Fanshawe and support active collaboration between the college and industry. The 20,000 sq. ft. one-of-a-kind facility will be located at the Advanced Manufacturing Park where a 10-acre parcel of land was generously donated to the College by the City of London.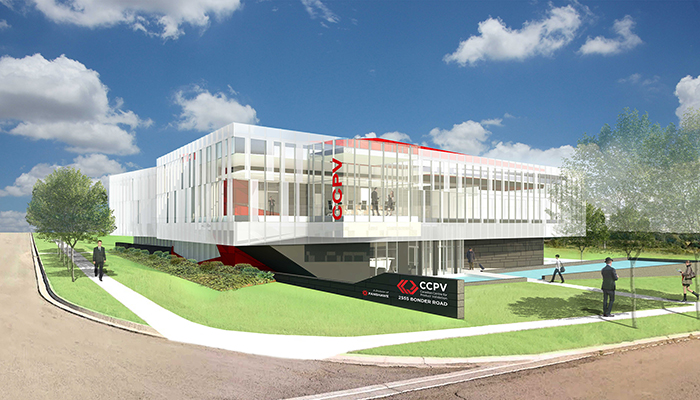 Dustin Schumann, a 2014 graduate from the Hair Stylist program at the Woodstock/Oxford Regional Campus, won 'Newcomer of the Year' from the Canadian Hairdresser Mirror Awards in April 2015. He was one of five Canadian finalists for the international award that showcased the creative talent within the Canadian beauty industry.
In late April 2015, Fanshawe announced Board of Governors approval of its 2015/16 Strategic Plan and $230 million operating budget. Emphasis was placed on student success, enrolment growth, facilities expansion and new program development. Capital planning projects included Phase II of the downtown campus, Wellness/Fitness Centre, Canadian Centre for Product Validation and on-campus renovation for the new School of Public Safety.
At a celebration on April 27, the family of the late Don Smith pledged their support of Fanshawe College by announcing the naming of the School of Building Technology to the Donald J. Smith School of Building Technology (below). As a founding partner of EllisDon, Don Smith established an amazing company and legacy. His family ties with Fanshawe ran deep. Don served as chair of Fanshawe's first capital campaign and was the first recipient of a Fanshawe College honorary diploma in 1992. He also hired graduates from the building technology programs and encouraged volunteer involvement with the College. Fanshawe College presented Joan Smith with an honorary diploma in 2008.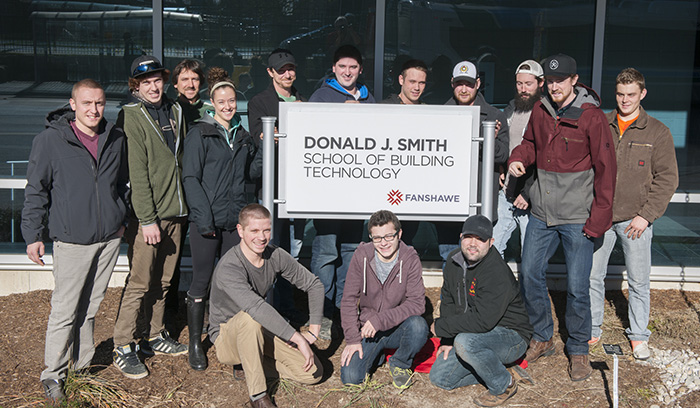 On May 8, the College recognized a $50,000 contribution by the Norfolk Community Foundation to the Simcoe/Norfolk Regional Campus. The donation toward the campus revitalization fund enabled the College to substantially update a student computer lab. Last fall, Fanshawe re-opened the Campus after an ambitious $4-million renovation project that was made possible through the generous support of area businesses, community members and the Norfolk County council during a recent capital campaign. The extensive renovations included flexible classroom and lab spaces with state-of-the-art equipment and learning tools, such as the newly-refurbished Norfolk Community Foundation Computer Lab.
On May 29, 2015, Fanshawe College's School of Aviation Technology added a Boeing 727 to its growing fleet of aircraft. At an event that celebrated the airplane's last flight with a water cannon salute (below), KF Aerospace (formerly Kelowna Flightcraft) and Fanshawe representatives spoke about the importance of training future aviation employees on large-scale, heavy aircraft. The addition of the Boeing 727 aircraft to the School of Aviation Technology provides Fanshawe students with advanced commercial aircraft training that is an invaluable teaching resource.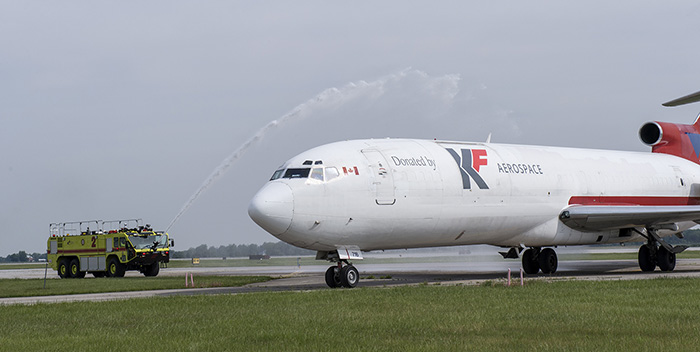 In late May, Fanshawe broke ground at the site of the Canadian Centre for Product Validation (CCPV) (below.) Opened in 2016, the CCPV is a one-of-a-kind facility in Canada offering a comprehensive prototyping and testing facility in one central location.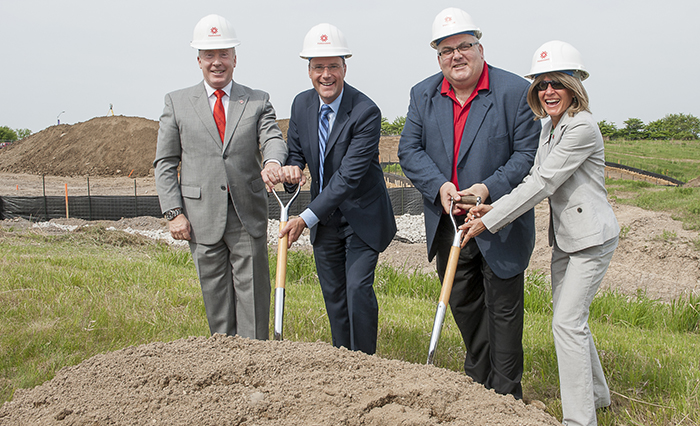 Long Point Eco-Adventures, a leader in Norfolk County's tourism industry, announced the establishment of a new award to recognize outstanding students in the Adventure Expeditions and Interpretive Leadership program at the Simcoe Campus. The award, which was announced in July, was designed to encourage students who demonstrate a passion for environmental stewardship and a strong ability to design and deliver memorable expeditions for individuals or groups.
In September 2015, Titan Trailers Inc., based in Delhi, Ontario, made a generous donation to support the welding program at the Simcoe/Norfolk Regional Campus. The contribution, totaling over $40,000, allowed Fanshawe to add equipment, introduce a new aluminum welding course, and offer awards to outstanding students annually for the next five years.
In the same month, paramedic students showed their support for Canadian paramedics who have died in the line of duty when they participated in the third annual Paramedic Ride from Toronto to Ottawa. Four Fanshawe students rode their bicycles approximately 500 km from Toronto to Ottawa over a four-day period. Six paramedic students supported them along the way in the Fanshawe ambulance leading the riders with lights flashing. The College's incident command RV was also used as a checkpoint support vehicle along the route.
Fanshawe's increased fall enrolment was tops in the province in the fall of 2015. Full-time enrolment grew by almost 7 per cent compared to 2014, topping the provincial average of 2.4 per cent. International registrations were more than 40 per cent over the previous year and first-year confirmations increased by 8 per cent. In fall 2015, Fanshawe welcomed 9,000 first-year students, the College's largest incoming class ever.
The Fanshawe Alumni Association presented Songs and Stories, an event that featured retired Canadian astronaut Col. Chris Hadfield and folk trio Trent Severn at the Grand Theatre on October 7, 2015 (below). Joining Col. Hadfield on stage was long-time friend, Fanshawe alumna and Juno-nominated Canadian singer-songwriter Emm Gryner.
At the end of 2015, Fanshawe announced the establishment of a new site in downtown Goderich (below). Scheduled to open in February 2016, the location at 33 St. David Street in the 'Kingston Block' provides Fanshawe the opportunity to offer a selection of post-secondary courses in a prominent setting. During the celebration, President Devlin announced that a new two-year Business - Entrepreneurship and Management diploma would begin at the site in September 2016.
At an open house event at the Centre for Digital and Performance Arts in January 2016, President Devlin spoke about Fanshawe's continued investment in downtown London. The former Kingsmill's department store, now called Downtown Phase II, would become a dynamic learning centre for tourism, hospitality and IT students. The project would be the single largest capital investment the College has ever made. The project was also strongly supported by the City of London with a $19 million grant and MainStreet London and the London Downtown Business Association Board with a $1 million grant. At the event, President Devlin also announced that Andy and Helen Spriet had donated $500,000 to Fanshawe's Remarkable Campaign for the new building (below).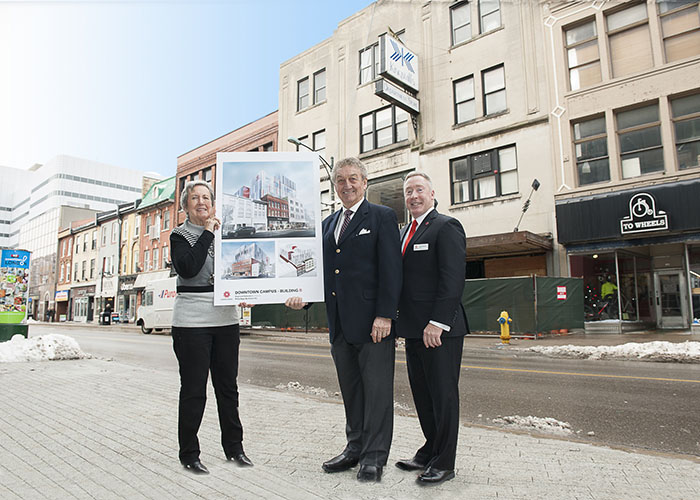 In late May, the family of the late Norton Wolf pledged their support to Fanshawe by announcing the renaming of the School of Aviation Technology to the Norton Wolf School of Aviation Technology (below). Mr. Wolf was an avid pilot with a tremendous love of flying. He was also an outstanding business and community leader throughout his lifetime.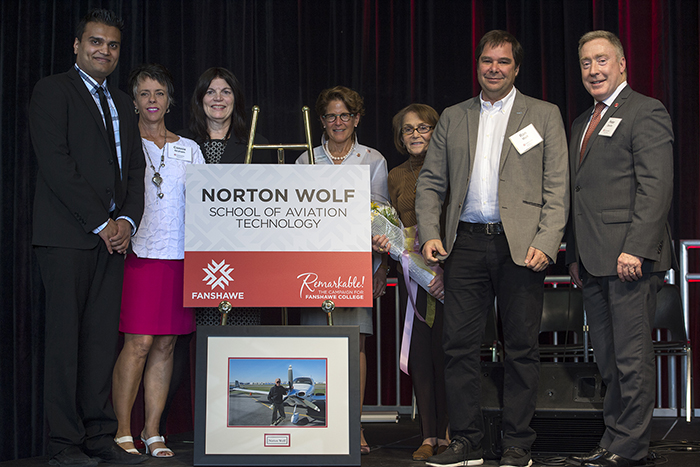 On July 22 in Lima, Peru at the Government Palace, President Devlin signed a partnership agreement between the College and the Armed Forces Public Technological Institute of Peru. The newly signed four-year framework agreement recognizes the two institutions mutual intent to work together. Fanshawe will provide an intensive leadership program in Canada to the institute's leaders and academics, who will then take the module back to Peru and train 55 additional faculty members.
In September 2016, Fanshawe became the first college in Ontario to offer a program in doula studies. Doulas provide non-medical care and support to families during and after childbirth.
Fanshawe's London Campus welcomed record numbers of international students in September - a 16 per cent increase compared to the previous year year. More than 2,400 students from 70 countries chose Fanshawe, with more than 1,000 students in first-year.
Fanshawe celebrated the grand opening of the Canadian Centre for Product Validation, one of Canada's most unique product development facilities, on September 16. The 25,000-square-foot centre, housing leading-edge validation technologies and equipment, is located at the Advanced Manufacturing Park where a 10-acre parcel of land was generously donated by the City of London to Fanshawe College. In addition to product validation activities, CCPV (below) offers services not typically offered by existing test labs, such as marketing and benchmarking studies; the creation of proprietary test protocols based on actual field usage and analysis of critical interfaces within a product; as well as commercialization activities.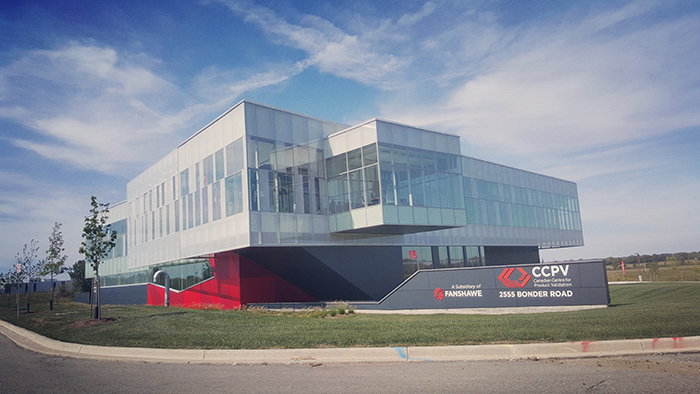 Fanshawe College announced the establishment of its new English Language Institute (ELI). The ELI opened in September 2016 in order to bring together Fanshawe's English as a Second Language initiatives and to launch a new flagship program, English for Academic Purposes. This full-time, intensive program, which is recognized at Fanshawe as well as at Western University and its affiliated colleges, will help international and domestic students to prepare for further academic study.
In October, Peter Fragiskatos, MP London North Centre, announced a joint federal-provincial investment in Fanshawe. The $6.2 million investment was made to support the establishment of the Centre for Advanced Research and innovation in Biotechnology (CARIB). The CARIB will advance biotechnology, chemistry, and environmental technology programs through research and innovation with industry collaborations and partnerships. As a result of these investments, students, professors and researchers will work in state-of-the-art facilities that advance the country's best research. They will collaborate in specially designed spaces that support lifelong learning and skills training and work in close proximity with partners to turn discoveries into products or services. In the process, they will train for - and invent - the high-value jobs of the future.
In November Fanshawe rose to 32 on RE$EARCH Infosource Incorporated's list of Canada's top 50 research colleges, moving up from 49th place in 2015. The 2016 result also saw an impressive 200 per cent growth in research income. Research project and partnership growth continues to be a highlight for the College, with Fanshawe ranking 11th overall in the number of research partnerships amongst large colleges.
At a ribbon-cutting ceremony in November 2016, Chippewa of the Thames First Nation (COTT) and Fanshawe College celebrated the forging of a new and growing relationship bringing post-secondary education to the people of Chippewa of the Thames First Nation. After community consultations identified post-secondary education as a priority within the First Nation community, COTT and Fanshawe collaborated to begin offering the Personal Support Worker (PSW) program on-reserve. In 2017, the College will begin offering entrepreneurial and small business programs and is developing a college preparatory program to assist future students in the transition to college.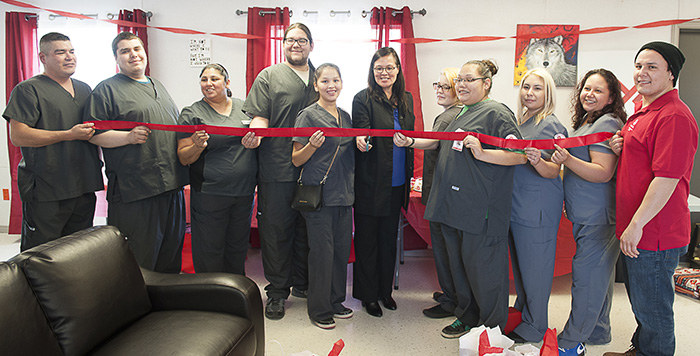 Above, Chief Leslee White-eye (centre) cuts the ribbon flanked by Fanshawe/COTT Personal Support Worker students.
Fanshawe College proudly announced that alumnus Chris Gower (below) was named recipient of the 2016 Premier's Award in the technology field. Chris received his award at a gala on November 21 that celebrated Ontario's outstanding college graduates. The Premier's Awards are presented annually and honour the important social and economic contribution college graduates make to Ontario and the world. He was one of 107 outstanding graduates nominated from Ontario's 24 colleges.