Fanshawe students work with Habitat for Humanity
Jim Leslie and Steve Laing from the Donald J. Smith School of Building Technology and their general carpenter apprenticeship students first became involved with Habitat for Humanity in the fall of 2010. Their first build was a duplex on Egerton Street in London. Since then, approximately 250 construction apprenticeship students have participated in 12 builds.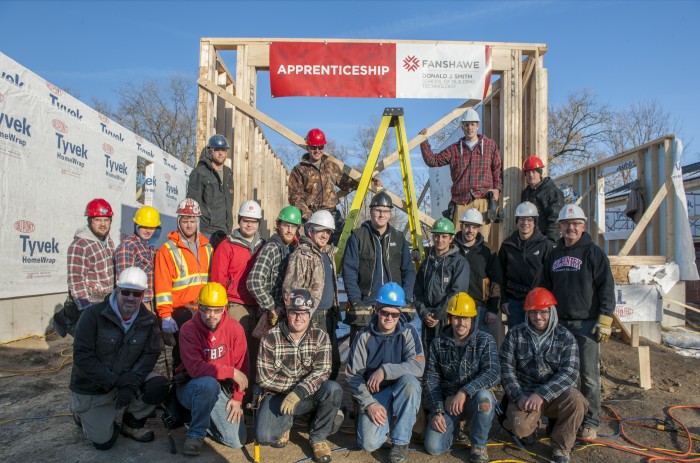 According to Jim and Steve, the relationship is a win-win for everyone involved with the project. Jim says, "Our apprentices get real building experience while helping a community cause. Habitat for Humanity can schedule the work knowing the structure is being taken care of and they will get quality workmanship."
The Donald J. Smith School of Building Technology has also been very supportive by supplying equipment, tools and accommodating schedules.
Typically Fanshawe students complete the structure for Habitat. The intermediate general carpenter apprenticeship students have worked on many aspects of the builds, including floor framing, walls, roof, window and door installations, inside trim, siding installation and build porches. The advanced apprentices have completed one foundation and built interior stairs.
For more information about Habitat for Humanity, visit habitat4home.ca.