Building our communities
The relationship between Fanshawe College and the London Home Builders' Association (LHBA) goes back at least 25 years. It is strengthened by a desire to ensure graduates from the Donald J. Smith School of Building Technology are well-prepared for careers in the construction industry.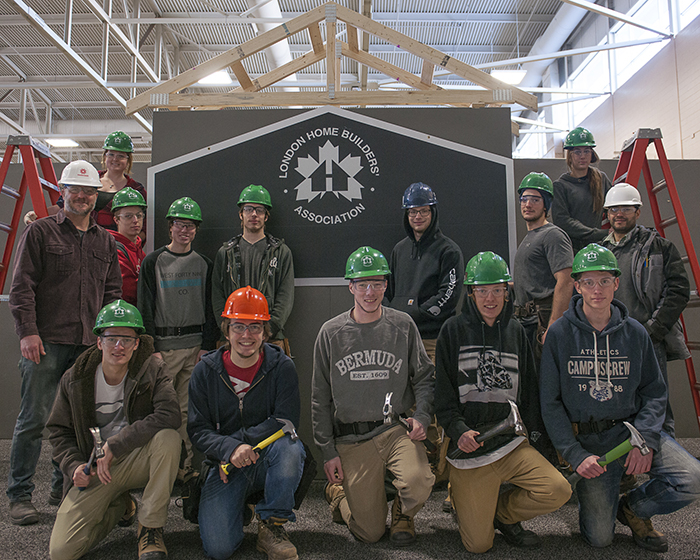 Fanshawe's Construction Carpentry Techniques students working with the LHBA.
As a member of the London Home Builders' Association and faculty member in the Donald J. Smith School of Building Technology, Steve Gedies has his finger on the pulse of things going on in the building sector in London and is a valued member of the LHBA Careers in Construction committee. Steve has been teaching at Fanshawe for 10 years and is a past recipient of the LHBA President's Award. He previously taught building construction within the Thames Valley District School Board.
Below are a few examples of the ways Fanshawe and London Home Builders' Association work together to ensure the success of Fanshawe students.
LHBA Careers in Construction – Student Ambassador program
Each year the Careers in Construction Committee selects four students from the Building Technology and Design programs at Fanshawe College to act as Student Ambassadors. Students are required to apply for these positions and must go through an interview process before they are selected.
The student ambassadors attend monthly membership meetings, receive industry news and updates, and participate in a variety of LHBA events aimed at providing an inside look into the industry while making connections to professionals who will help guide their transition into employment within the industry.
Student ambassadors are often employed with LHBA member companies following graduation.
Annual renovation design contest with Fanshawe College
The LHBA Renovators' Council, in partnership with Fanshawe, gives students real-life job experience with this contest that requires them to design a renovation for an existing home by using the profile of a family, their 'wish list' and their budget. This contest has a prize of $1,000.
In 2017, Fanshawe students will participate in the Lifestyle Home Show, volunteer at LHBA golf tournaments and other events that ensure great social and networking opportunities.