The Distinguished Alumni Awards program honours individuals who have graduated from a Fanshawe College program and who have used their skills to improve themselves, their career field, their community, and their world.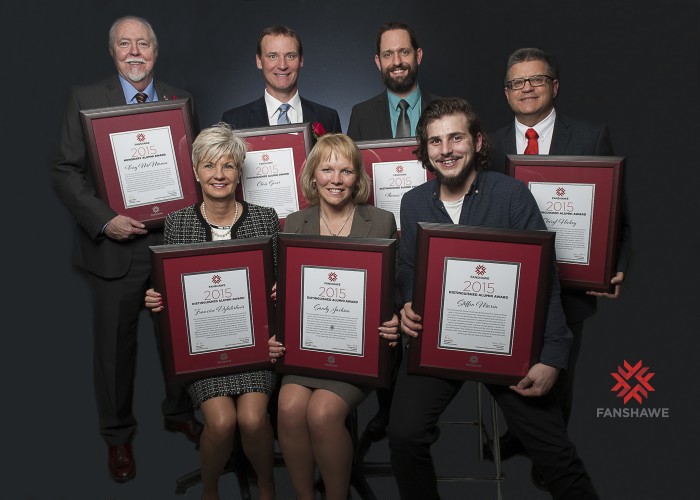 Distinguished Alumni Award winners, 2015
They are passionate about their interests and innovative in their actions, earning a high level of respect from their peer group of co-workers, industry associates and clients.
Distinguished Alumni often have an entrepreneurial spirit, acting as change agents, mentors or pioneers within the organizations they work for, or in the ventures that they start themselves. They exhibit a high level of personal and professional integrity within their career field and in their support of community and social issues that are close to their hearts.
Six Distinguished Alumni Awards are available - five of these are specific to program designations with the sixth award for a recent graduate.
Recipients
2016
Doug Wastell: Business Marketing, 1996
Malcolm Bromley: Recreation Leadership, 1979
Kevin Forestell: Landscape Design, 2003
Dr. Louise Giles: Nursing, 1980
Mike Papoff: Auto Body & Collision Damage Repairer Apprentice, 2012
John Edward McArthur: Environmental Planning, 1971
Larry Kinlin: Honorary Alumni Award recipient
2015
Francine Dyksterhuis: Hotel and Restaurant Management, 1981
Chris Gower: Construction Engineering Technology (Management), 1992
Cheryl Hickey: Broadcast Journalism, 1996
Sandy Jackson: Recreation Leadership, 1985; General Business, 1994
Steffen Marin: Culinary Skills Chef Training, 2011; Culinary Management, 2012
Terry McManus: Retired Coordinator/Faculty, Music Industry Arts Program
Thomas Piraino: Pre Health Sciences, 2001; Respiratory Therapy, 2003
2014
Tony Boyle: Digital Imaging and Animation 2002, Web Page Design 2002
Karen Keyes: Developmental Services Worker 1991
Larry Lau: Marketing Management 2010
Trevor Morris: Music Industry Arts 1999
Paul Noakes: Motor Vehicle Mechanic 1987
Henrietta Van hulle: Registered Nurse, Nursing 1984, Occupational Health Nursing 2005
2013
Kathryn Burrill: Recreation Leadership 1979
Caroline Cameron: Broadcast Journalism (collaborative program) 2012
Mahmud Dhanani: Hotel Management 1982
Emm Gryner: Music Industry Arts 1995
Joe Liberatore: Construction Technician 1972
Michelle Palmer: Developmental Service Worker 1983
2012
Randy Denning: Ambulance and Emergency Care 1979
Nancy Maltby: Nursing 1979
Don Mumford: Broadcasting Television 1979
John Rasenberg: Electrical Engineering Technician 1975
Damien Warner: Business Foundations 2010
Jennifer Wells: Fashion Design 1993
2011
Tim Berthiaume: Law and Security 1995
Theresa Carriere: Physical Fitness Instructor 1986
Vito Frijia: Construction Engineering Technology 1982
John Kobarda: Human Resource Management 1994
Les Stroud: Music Industry Arts 1983
Adrianna St. George: Police Foundations 2008
2010
Danielle Aziz: Child and Youth Worker 1991
Bruce Bonner: Civil Engineering Technology 1987
Ian Campbell: Design (Industrial) 1982
Lucky Heeley: Respiratory Therapy 1992
Randy Zupanski: Hotel and Restaurant Management 1982
2009
Jeff Malpass: Municipal Management 1989
Sheri Knott: Human Resources Management 1991
Debbi Bodkin (Received Premier's Award): Law and Security Administration 1982
David Moore: Design (Landscape) 1994
John Davies: Broadcasting Television 2005
Steve Done: Architectural Technology 1979
2008
Paul D'Hollander: Recreation Leadership 1979
Kevin Doyle (Received Premier's Award): Music Industry Arts 1979
Shireen Fard: Primary Care Paramedic 2008
Anita Giagnocavo: Nursing 1977
John Harbarenko: Business Information Systems 1993
Wilf Riecker: Tool Making Technician 1968
2007
Danielle Campo: Child and Youth Worker 2006
Scott Clark: Broadcast Radio 1988
Colleen Breen: Nursing 1980
Barb Desjardins: Child Care Worker 1974
Mike Foster: Tourism and Travel Counsellor 1980
David Wyatt: Motive Power Diesel Technician 1980
2006
Terry Graff: Fine Art 1976
Joe Jackman: Industrial Design 1984
Michael Bessegato: Law and Security Administration 1985
Jesse Davidson: Hotel Management 2002
Nicholas Perpick: Hotel and Restaurant Management 1972
Midge Silberman: Nursing 1977
2005
Sheila Arges: Child and Youth Worker 1975
Janet Brady: Legal Office Administration 1979
Bill Butler: Respiratory Technology 1972
Melissa Schyff: Paramedic 2002
Todd Sleeper: Industrial Millwright Mechanic 1996
John b. Young: Music Industry Arts 1976
2004
Dick Rastin: Social Service Worker 1997
John White: Music Industry Arts 1981
Brenda Done: Nursing 1978
Geoff Scheerin: Industrial Design 1986
Katie Storz & Abe Giesbrecht: Early Childhood Education 2003
2003
Bob Coyle: Ambulance and Emergency Care 1988
Gloria Dona: Fashion Design 1981
Vicki Mayer: Behavioral Science 1974
Michael P. Clive: Culinary Management 2001
2002
Sophie Skaith: Computer Programmer 1985
Steve Matthews: Broadcasting - Radio 1981
Robin Rundle Drake: Nursing 1974
Joanna Gaisor: Business Administration Accounting 1999
Patricia Smith: Recreation Leadership 1972
2001
Patricia Baker: Architectural Technician 1984 / Architectural Technologist 1986
Don Donner: Recreation Leadership 1973
Joseph Dunlop-Addley: Cinematography 1972
Robert Gee: Ambulance and Emergency Care 1995
Mark Jordan: Business Marketing 1987
2000
Betty Bedard-Bidwell (Received Premier's Award): Recreation Leadership 1972 / Child Care Worker 1982
Linda Bowden: Business Administration - Accounting 1982
Kenneth Boyle: Ambulance and Emergency Care 1977 / Respiratory Therapy 1983
Kate Young: Broadcast Journalism 1975
1999
Anne Marie DeCicco-Best: Broadcast Journalism 1986
Ron Hunt: Mechanical Technician - Drafting 1968
Gail Malcolm: Social Service Worker 1988
1998
Paul Gowan: Business - Marketing 1981
Alice Lewis: Social Service Worker 1988
Bill Mills: Recreation Leadership 1973
1997
Paul Huras: Recreation Leadership 1973
Dave Klachan: Electrical 1979 / Control Engineering Technology -Systems 1991
1996
Award not presented
1995
Colleen Farrell Evetts: Hotel and Restaurant Management 1982
Lois Harrack: Behavioral Science 1970 / Recreation Leadership 1972
1994
Award not presented
1993
Brenda Hall: Child Care Worker 1969 / Personnel Management 1983 / Business 1984
Michael McCarty: Music Industry Arts 1978
Maria Mendes: Legal Secretary 1973
1992
Rudi Engle: Radio and Television Arts 1973
Ross Fair: Recreation Leadership 1975
Brad Nelson: Civil Engineering Technology 1976