Innovation Monthly Newsletter
February 2020
CityStudio London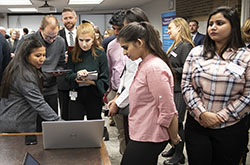 At Fanshawe College, we believe that it takes a village to change the way we think about learning. Fanshawe is proud to be a partner of CityStudio London – a unique collaboration between the City of London, Brescia University, Fanshawe College, Huron University, King's University College, Western University and Pillar Nonprofit Network.
CityStudio is a model that was first developed in Vancouver in 2011 and brings municipalities and educational institutions together to address some of the most pressing issues facing our communities. It's about helping to develop tomorrow's leaders by turning the city into a classroom. The vision is "for a more livable, joyful and sustainable London where students are deeply engaged inside City Hall."
The CityStudio manifesto incudes saying yes more than no, remaining curious and staying open to others' ideas. This involves learning by doing, following an idea, taking risks, working with a team and reflecting on the process together. Fanshawe shares this vision. Together we believe that small projects can add up to big changes in our community, in our city and for the individuals involved. We believe that this unique collaboration of the City of London, Pillar Nonprofit Network and all post-secondary institutions in London is where the magic happens. It creates a tremendous opportunity for students to build their skills while contributing to the local community and its economic prosperity.
In this first year of CityStudio London (2019-2020), 435 students have applied their knowledge and ideas to London-Middlesex strategic priorities relating to housing, energy, equity, climate change, transportation, health, sustainability, accessibility, transportation and homelessness. At Fanshawe College, undergraduate and graduate students across multiple disciplines have worked in teams with City staff to collect and analyze data, present strategies and provide renderings and prototypes.
The students' projects included:
Creating a strategy for the reuse of heritage assets;
Identifying and understanding urban and rural planning problems and issues;
Providing suggestions for neighbourhood revitalization;
Analyzing data for Municipal Benchmarking Network Canada;
Researching open data best practices for improvement of the London city portal.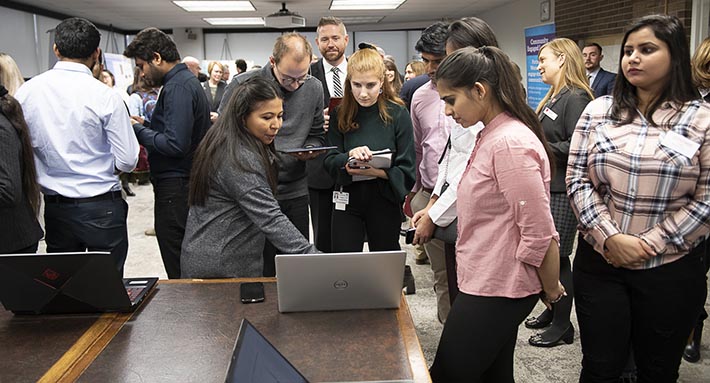 On December 6, 2019, Fanshawe students joined the other members of the CityStudio London initiative at the first Hubbub. Hosted at London City Hall, Hubbub was an opportunity for students to showcase their projects and network with other members of the team.
By applying their course learnings to real issues facing the City of London, students were able to accomplish meaningful results. Full details of the projects and their results are available at https://citystudiolondon.ca/projects.
CityStudio London is an ongoing initiative, and we look forward to seeing how Fanshawe students continue to contribute to this important collaboration. The next Hubbub will be in April 2020.
Launch of CityStudio London - Our First Hubbub (YouTube video)