Innovation Monthly Newsletter
January 2021
A Recipe for Success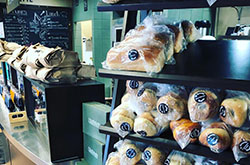 "We wanted to do things our own way, and we wanted to offer products that are rarely offered."
That, in a nutshell, is the mission of one of London's thriving small businesses. La Noisette — named after the French word for "hazelnut" — is a bakery that is owned and operated by Tabitha Bartlett and Dave Coulter.
Having both worked in management at chain restaurants, they soon discovered that they had the drive, creativity and passion to venture out on their own.
Bartlett is a graduate of Fanshawe College's Culinary Management program. The two-year diploma program is designed to give students a multifaceted education that will prepare them to work in many different areas of the culinary industry.
"Fanshawe was a great stepping stone into the restaurant world," says Bartlett. "At the time when I began the course, I didn't know where I was going to go with the training. I didn't know very much about food and I had basic kitchen skills, so initially the program was to allow me to better myself in the kitchen."
Meanwhile, Coulter was studying at Le Cordon Bleu in Ottawa—the only Canadian campus of the internationally renowned culinary institute. He refined his abilities in the kitchen, graduating with a skill set that complemented the culinary management education Bartlett received at Fanshawe.
It was while working together at a chain restaurant that Bartlett approached Coulter with an exciting idea—opening their own bakery and café. Owning and operating their own business would allow them to put their culinary creativity and management experience to good use.
It started with the menu. Their vision was to create a selection of baked goods made from scratch with real ingredients, like butter. "Butter in everything!" says Bartlett.
In building the business, Bartlett used the tools and techniques she learned at Fanshawe. "I like that the Culinary Management program created a dual set of skills," she says. "I can bake and cook but I can also effectively manage the administrative side of running a business. Dave runs the kitchen a little more while I manage the business more, so it is a very nice balance between the two of us. But, we are also able to help each other in both areas when needed."
Like companies of all sizes in London and around the world, the COVID-19 pandemic has changed the way La Noisette does business. Food services are classified as an essential service and are able to remain open, but they have had to adapt their business model to the restrictions in place for public health and safety. They have developed a new ordering and delivery system, posting menus to the company's Facebook and Instagram pages on Mondays with deliveries taking place on Thursdays and Saturdays. This has been very well received—while they initially had to lay off their staff when the province ordered restaurants to close dining rooms and offer only delivery and take-out, rising demand has allowed them to bring 50 per cent of their staff back to work. Bartlett and Coulter hope that they can continue to bring staff back as their customer base continues to grow.
While this has been a time of stress and uncertainty, La Noisette may ultimately benefit from the realities of our current climate. It has brought about a time of reflection, change and innovation. Some of the changes Bartlett and Coulter were forced to make may carry over to a new business model when they are allowed to return to normal operations. They have started to explore new recipes and menu items, such as frozen, ready-to-cook meals.
While we all work together to try and navigate these difficult and uncertain times, the owners of La Noisette are finding much to be thankful for and are taking everything in stride.
"Despite the world completely changing, we are greatly humbled by the community and their immense support," says Bartlett. "We worry every day that COVID-19 may cause us to shut down, but that fear disappears each week when we sell out."
Small businesses are vital to our community, and this experience has brought new perspective to these entrepreneurs. "It has inspired us to help support local businesses as well," she says. "We make sure to support at least one or two businesses each week. We never knew how wonderful the local business community could be until we ourselves opened a small business. I've discovered so many hidden gems in the city and made so many new friends in the process. Supporting local is a big deal and more important than I ever thought."
Photo credit: La Noisette Facebook page.