Innovation Monthly Newsletter
April 2019
Research and Innovation Day 2019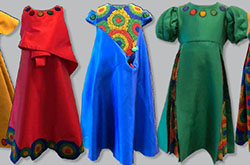 Research and Innovation Day is an annual one-day showcase of the research activities conducted by Fanshawe students, faculty and staff. This year's event took place in the James A. Colvin Atrium on Tuesday, March 20, 2019. Thirty-seven student projects in three competitive categories were on display, along with 24 faculty projects. Below is the story of one student winner.
Kelly Scott - first place winner in the Business and Entrepreneurship categories with her research project 'Designing inclusive children's wear'
Kelly Scott was a Chartered Professional Accountant when she decided to take Fanshawe's Fashion Design program. She wanted some time for herself while learning more about the technical side of sewing. A mature learner, she enjoyed her classmates and loved the challenges of the program.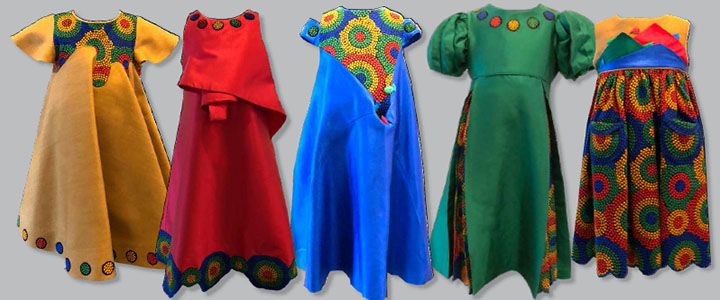 Kelly Scott's inclusive children's dresses feature iridescent jewel tones and allow for easy access to medical devices such as IV lines.
Third-year Fashion Design students are required to create a high-end fashion collection that is typically women's wear but that was about to change. Just before the start of Kelly's third year, a family with a medically fragile granddaughter came to Fanshawe with a project proposal. The toddler has an IV permanently attached to her chest, wears an ostomy bag and is fed through a feeding tube. The medical equipment posed tremendous challenges for clothing and her grandmother was sewing everything for her. The family received questions from people at the hospital because children's apparel that met the needs of the medical equipment was not easy to find. They wanted to know if a Fanshawe student could design and make an accessible clothing line that would provide caregivers easy access to the medical devices. The Fashion Design faculty accepted the challenge and worked on fitting it into the third year curriculum. Doing this meant the student would have to research the different medical needs for children and adapt and design clothing that was special and unique just like the children.
Faculty asked Kelly if she would be interested in taking on this research project and she gladly accepted. It was important for her to design clothing that fit the medical needs, was comfortable, easy to wear and stylish. Kelly developed a line of dresses, putting thoughtfulness into incorporating the child's medical needs in ways that were not obvious to everyone else.
Kelly spoke very highly of her professors in the Fashion Design program saying, "The faculty were terrific and very clear in providing direction and guidance. They were also very supportive of my research project."
Recently, Kelly was excited to find out she has been accepted into the incubator program at Leap Junction, believing this program will help her learn to market her products online and through social media. She plans on investing her winnings from Research and Innovation Day back into her business and possibly purchasing some pattern-making software that will give her the ability to easily create and grade (size) patterns so she will not have to start from scratch each time.
She was also very impressed with the quality of all of the research projects entered into Research and Innovation Day and feels very honoured to win in the Business and Entrepreneurship categories.
Complete list of Research and Innovation Day 2019 winners
Research and Innovation Day 2019 was a celebration of the innovative spirit at Fanshawe College and in the London community. Next year's event will be announced at a later date.