A Message from President Peter Devlin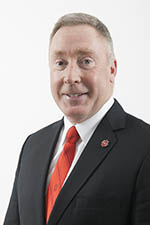 Responding to emerging trends and industry needs, Fanshawe College is ready for tomorrow. As one of Ontario's largest colleges, our goal is to prepare students for 21st-century jobs and careers, by unlocking potential, delivering dynamic programs and instilling confidence to respond to future opportunities.
As a comprehensive college serving the greater London region, we have active campuses in London, Simcoe, St. Thomas and Woodstock, and offer 200+ programs across many disciplines, including arts, media, design, technology and skilled trades, business, information technology, culinary, health and human services.
Ranging from one-year preparatory certificates and apprenticeships to diplomas and four-year honours degrees, we focus on putting knowledge into practice, connecting in intimate learning environments and supporting academic progress through research, innovation and professional development. Above all, we emphasize quality of experience to more than 43,000 students each year.
Fanshawe has much to offer, including award-winning faculty, excellent facilities and helpful support services to ensure our students achieve their personal, educational and professional goals. Appreciating the value of strong minds and strong bodies, Fanshawe created a beautiful, state-of-the-art Wellness Centre, which truly provides something for everyone. And, our Fanshawe Falcon Athletics continue to make us proud, with some of the most successful college teams in the country.
According to recently-released Key Performance Indicators (KPI) survey results, Fanshawe students surpass provincial averages in satisfaction, graduation and success finding jobs. Our graduate employment rate of 87.6 per cent ranks second among large colleges in Ontario and exceeds the provincial average by two per cent. Further, we are vastly encouraged by the College's amazing network of 189,000 alumni, who contribute in countless ways to our global community.
As a proactive leader in the provision of articulation agreements and curriculum-delivery partnerships with colleges and universities worldwide, Fanshawe supports 500+ pathways involving 60 institutions across 10 countries. This significant and ever-expanding activity exemplifies our fine reputation within the international community.
Here at home, we also provide flexible learning arrangements and experiential educational opportunities developed in tandem with industry stakeholders. Most recently, we collaborated with several key partners to open a new downtown London campus location and launched Fanshawe's Centre for Advanced Research and Innovation in Biotechnology.
With certainty, Fanshawe offers a world of possibility, and we hope you will join us. To this end, we warmly invite you to learn more about the Fanshawe experience by browsing our website, touring our campuses and meeting our vibrant students, staff and faculty waiting to welcome you. Whatever your dream, we are excited to support you on your path to success!