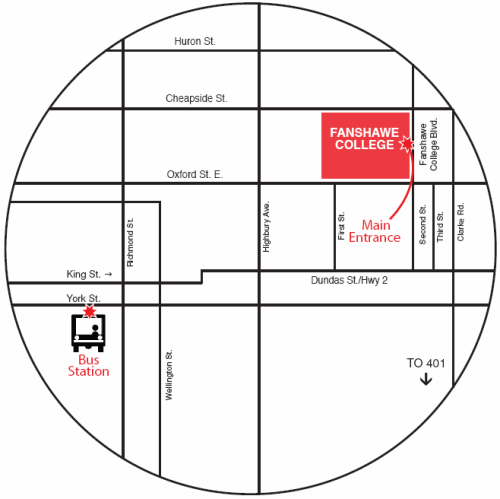 Cab Fares:
The Greyhound Bus Station is located on York Street, only a short distance from Fanshawe College (Phone: 519-434-3250).
The cab fare between the two locations is approximately $12.00 to $15.00 (depending upon traffic congestion).
Bus Transfers:
90 minute transfers are available providing travel in any direction, including return trips, subject to the following:
Transfers must be requested and obtained at time of first boarding.
Transfers will, upon request only, be issued by the Operator receiving a cash or ticket fare only.
Transfers will not be issued to passengers boarding with a prepaid pass or with a previously issued transfer.
Transfers are valid on the day of issue only and will not be accepted beyond the time cut on the transfer.
Transfers can be used to board any London Transit bus, in service at any London Transit regular bus stop.
Transfers are provided for individual use only and are not to be assigned. The passing of a transfer to others, for payment or otherwise, it is a chargeable offence and is strictly prohibited.
If the use of the transfer is questioned, customers are to pay the fare, retain the transfer, and follow the instructions printed on the reverse side of the transfer.