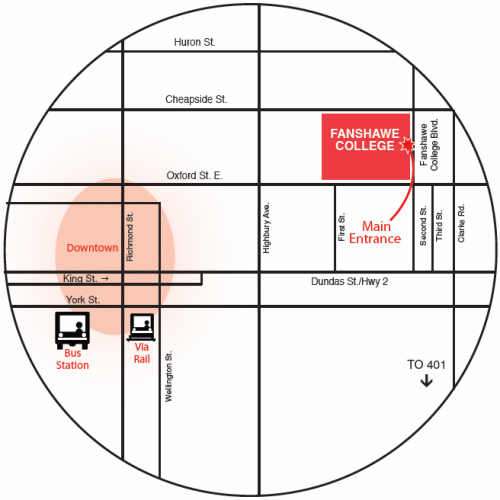 Cab Fares:
The Via Rail Station and the Greyhound Bus Station are located on York Street, only a short distance from Fanshawe College.
The cab fare between the two locations is approximately $12.00 to $15.00 (depending upon traffic congestion).
London Transit (LTC) buses (519-451-1340):
Full-time students - your full bus pass is included with your tuition.
The basic cash fare for London Transit buses is $2.50 for adults. A strip of five tickets may be purchased for $7.15 ($1.43 per ride). London Transit also offers 90-minute transfers to riders who pay with cash or a ticket. Transfers allow riders 90 minutes of travel time in any direction including return trips. Transfers must be requested at time of boarding the bus.
The college may be reached from the train or bus station in downtown London. (Route 4 Oxford East, northbound, may be boarded at York and Richmond Streets.) This bus goes directly to the Oxford Street entrance of the college in approximately 20 minutes. Current London transit schedules are available at http://www.london.ca, follow the links for transportation.