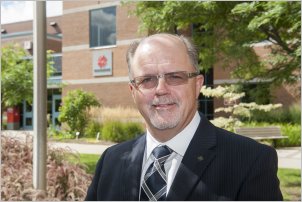 Brad Duncan served with the London Police Service for over 35 years, retiring in 2015 as Chief of Police. Prior to his appointment, Chief Duncan held portfolios both as the Operational, and Administrative Deputy Chief. Chief Duncan continues to be committed to creating an inclusive community and developing a community that reflects London's rich diversity. He has been a member of many community boards and committees, including a previous term with the Fanshawe Board of Governors and Chair for the 2014 London Middlesex United Way campaign.
Chief Duncan has an Honours Bachelor of Arts Degree from Wilfrid Laurier University, is a graduate of the Royal Canadian Mounted Police College, Executive Development Course, has a diploma in Police Management Studies from the University of Western Ontario and the Ontario Police College, and is a graduate of the FBI National Academy, Quantico, Virginia. He is a recipient of the RCMP Commissioner's Commendation for his work in major case management. On May 22, 2008 he was invested as a Member of the Order of Merit of the Police Services by her Excellency Michaelle Jean, Governor General of Canada, and on September 9, 2014 he was elevated to Officer of the Order of Merit by Governor General David Johnston. He is also the recipient of the 2012 Queen's Diamond Jubilee Medal. Chief Duncan continues to be engaged in a variety of volunteer activities. Chief Duncan and his wife Leslie have three adult children.
Brad joined the Fanshawe College Board of Governors on September 1, 2016.