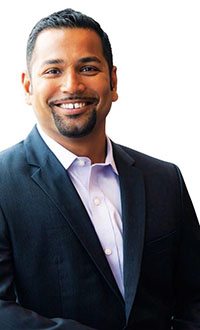 An economist by training, Kapil Lakhotia is the President and Chief Executive Officer (CEO) at the London Economic Development Corporation (LEDC). Under his direction, the LEDC has implemented a bold new strategic plan with a strong focus on workforce development, entrepreneurship, and partnerships at the local, national, and international levels that drive London, Ontario forward.
Lakhotia provides leadership on infrastructure improvements and workforce development initiatives, while working closely with clients to facilitate new investments and expansions. His efforts have resulted in significant new investments and job creation in London through the attraction of national and international businesses, including Maple Leaf Foods, Dr. Oetker, Arvin Sango, the Original Cakerie, and Natra.
With an Honours degree in Economics from Western University and a Masters of Economics from the University of Waterloo, Lakhotia has over two decades of educational, professional, and voluntary experience, and has taught economics at King's University College. He led the LEDC's investment attraction portfolio for over 10 years prior to his appointment of President in 2014.
Deeply involved in the London community, Lakhotia is on the King's University College Board of Directors, and the Canadian Centre for Product Validation Board. He is also active in a number of regional economic development initiatives, in partnership with the Consider Canada City Alliance, Ontario Automotive Communities Alliance, and the Ontario Food Cluster.
Kapil Lakhotia joined the Fanshawe College Board of Governors on September 1, 2015.