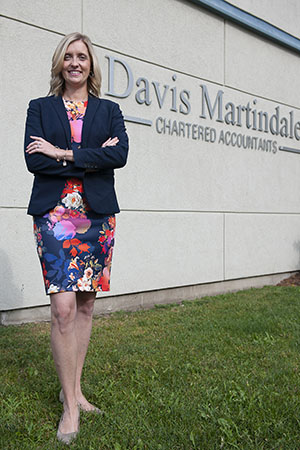 Louise Poole is a Chartered Professional Accountant, Chartered Accountant, Chartered Business Valuator, and is certified in Financial Forensics. Louise graduated from the Ivey Business School at Western University with an Honours Business Administration degree.
Louise joined Davis Martindale LLP in 2017 and is a Partner in the Valuation and Litigation practice. She specializes in business valuations for matrimonial and litigation support, tax and estate planning, mergers and acquisitions, financial reporting and economic loss quantifications. Louise has presented several seminars on business valuation topics to lawyers, bankers and business professionals. Prior to joining Davis Martindale, Louise worked in the accounting and business valuation field for 12 years, including eight years of experience at Ernst & Young LLP.
Louise is also involved in the Canadian Institute of Chartered Business Valuators as a member of the Young Professionals in Valuations committee, which focuses on creating networking and educational opportunities for young CBVs.
Louise has been involved with the community as a Board Member of WIL Employment Connections and as a committee member for The Big Bash in support of Big Brothers Big Sisters of London and Area.
Louise joined the Fanshawe College Board of Governors on September 1, 2019.