Centre for Advanced Research and Innovation in Biotechnology (CARIB)
Fanshawe Downtown Campus Phase II
As part of its phase two downtown development plans, Fanshawe is transforming the former Kingsmill's building, located directly across from the College's Centre for Digital and Performance Arts (CDPA), into a dynamic six-storey learning centre for tourism, hospitality and IT programs. The new facility will feature modern labs, bright and open classrooms and collaborative learning spaces for 1,600 students. When complete, the new downtown campus, including CDPA, will bring a total of 2,000 students into the heart of the city.
Project size: 115,000 square feet
Project budget: $66.2 million (with $9 million from the City of London and $1 million from MainStreet London and London Downtown Business Association Board)
Operational: September 2018
Consultant: Diamond Schmitt Architects Inc. in partnership with Philip Agar Architect Inc.
Construction Manager: EllisDon Construction Ltd.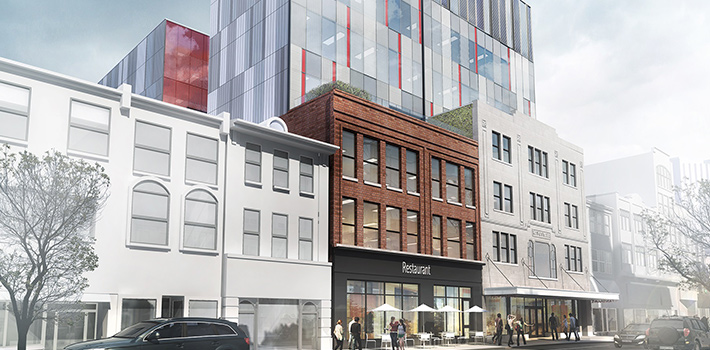 Fitness/Wellness Centre
The existing Community Fitness Centre was built in 1993 and Fanshawe's student population has increased by 68 per cent since then. The proposed three floor facility will significantly increase the space available for the delivery of health services, designated wellness programming and flexible fitness space for cardio and strength training and group exercise rooms. It will also house space for massage therapy and other wellness services, the Fowler Kennedy Sports Medicine Clinic, pharmacy and juice bar.
Addition: 55,000 square feet
Renovation: 7,700 square feet
Project budget: $25.1 million
Operational: May 2017
Consultant: WalterFedy
Construction Manager: D. Grant Construction Ltd.