There are endless ways you can make a difference, and improve sustainability not just at the College, but within London and even farther than that! Everything we can do, no matter how small, will have an impact. Don't be afraid to take those small steps toward a more sustainable lifestyle! Below are some ways you can start making a difference today.
Get involved on campus
Enviro Fanshawe Student Club
EnviroFanshawe is a Fanshawe Student Union (FSU) sanctioned club started in January 2019. It is made up of students who care about the environment and much of the work they do is for the betterment of the campus as a whole.
If you have questions about Enviro Fanshawe, please email envirofanshawe@gmail.com. You can also find them on Facebook (EnviroFanshawe) and Instagram (@EnviroFanshawe)
Fanshawe Eco-Advisor Committee
The Fanshawe Eco-Advisor Committee is a committee for students that want to get involved on a deeper level to create positive environmental change throughout the Fanshawe community.
Become a sustainability volunteer at Fanshawe
Visit the volunteering page on the Fanshawe Student Union website.
Calculate your ecological footprint
Ecological Footprint measures the ecological assets that a given population requires to produce the natural resources it consumes (including plant-based food and fiber products, livestock and fish products, timber and other forest products, space for urban infrastructure) and to absorb its waste, especially carbon emissions.
Knowing your personal ecological footprint is a great way to start making a difference. Once you understand how your lifestyle impacts the planet, you can target specific changes in your life. Everyone should strive to reduce their footprint by 5% every year!
The Ecological Footprint tracks the use of six categories of productive surface areas:
cropland
grazing land
fishing grounds
built-up land
forest area
carbon demand on land

Fanshawe has many water bottle fill stations across campus, almost one in every building. Look for the symbol on all college maps.
Map of water fill stations at the London Campus (PDF)
There are many benefits to using a reusable bottle at our stations:
You will save money!
It costs a lot of money to buy bottled water, so why not fill up for free?

No waste is produced!
Billions of plastic, single-use water bottles litter land and water all over the world. The only way we can truly make a difference is to not make the waste in the first place. "But I recycle", you say? Unfortunately, just because you put something in the recycle bin does not guarantee it is actually used to make another product. Sometimes, when there are too many bottles and not enough companies willing to buy them, they still end up going to landfill.
It's safe!
Tap water in London Ontario is incredibly safe. Inputs are checked multiple times a day for many different possible contaminates. If there is something wrong, it is dealt with before it can be a problem. On the other hand, bottled water facilities are not audited regularly.
You will save water!
Believe it or not, it takes up to 1.5 times the amount of water being bottled to actually bottle that water. This takes into account everything that goes into making the plastic and running the factories.

The environment will thank you!
Bottled water facilities more often than not are taking water out of the municipal system (tap water!) or straight from a natural water source such as a river. Because there is so little regulation on their activities, these facilities are able to continue to draw millions of litres of water a day, even during a drought, when there might be a restriction on home owners such as no watering grass or washing cars.
Your Turn - City Pilot Project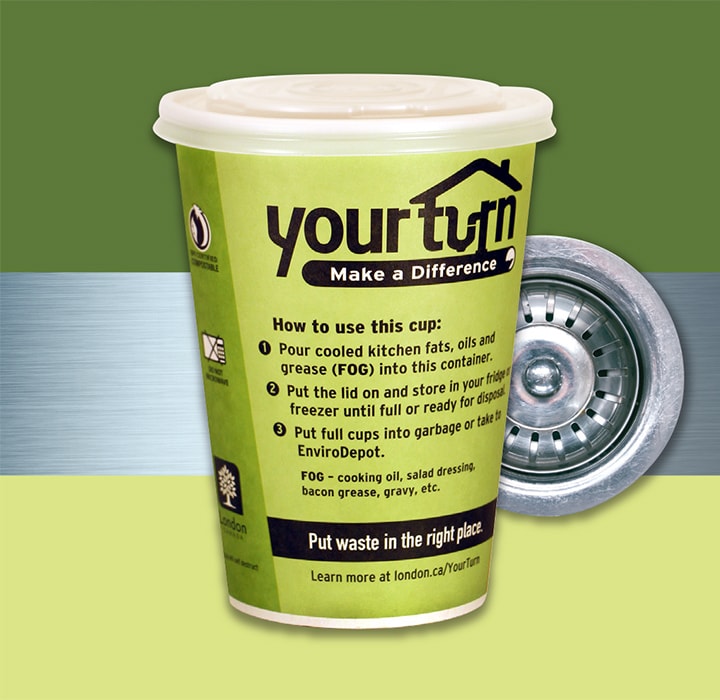 Fats, oil and grease (FOG) cause London's sewer system major grief when they're poured down your sink or into your toilet.  Sewers can become blocked when this FOG hardens, and you could end up flooding your basement or even your neighbour's.
The Your Turn project remains a pilot project and during this period the cups can be delivered to the EnviroDepots or the Depot at the W12A Landfill Site and placed in a dedicated cart. Replacement cups are available at the EnviroDepots and London Public Library locations currently free of charge. You can also grab your cups at Fanshawe's Bookstore.
Toilets are not garbage cans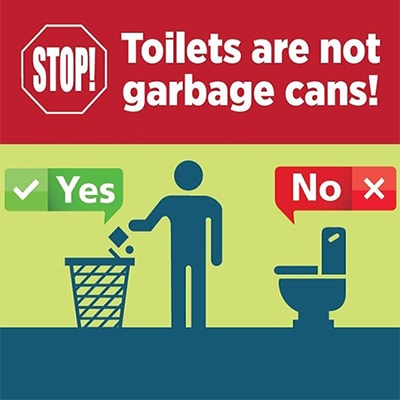 Fanshawe has also had problem with FOG and other strange things being flushed down the toilet. It is important to remember that toilets are not garbage cans, and the only things that should be flushed are pee, poo, and toilet paper. Everything else will clog up the sewage system, resulting in bathrooms being out of service and roads needing to be dug up to access blockages.
Sustainable transportation

Upon registration, full-time students attending Fanshawe College in London are given an LTC bus pass as part of their registration fees. LTC service is frequent and there are a number of buses that stop on campus.

Why should I bike to campus? Cycling during the winter months may be difficult, but at other times during the year, it becomes a much more convenient and beneficial travel option.  Other than the initial investment into a bike, cycling costs nothing on a day to day basis, and has no negative impacts on the environment.  The health benefits of biking have also been widely documented and include weight loss, improved cardiovascular health and reduced stress
Fanshawe College has many bike racks located around campus. There are a total of 210 spaces available on campus to lock up. There is also an indoor lock-up room in the residences for students. Lockers and showers are also available for use in the J Building team rooms.
There is also an enclosed, controlled access compound located between D and B-buildings that provides security for those who bike to campus. The Secure Bicycle Facility is monitored by College security cameras and is accessed by key. There are 50 "parking" spaces available to rent. Rental fees are $5 per semester or $15 for the year. A security deposit of $20 is needed for an access key. For more information, and to rent your spot today, please visit the Parking Office in D1018 or email parking@fanshawec.ca. 

Community CarShare is a non-profit co-operative which provides its members access to vehicles on a self-serve, pay-per-use basis.
Community CarShare's mission is to deliver a carsharing service which empowers people to make affordable and sustainable transportation choices.

Fanshawe is a member of London's Regional Rideshare Program, a regional rideshare registry for the city. Connect with drivers and riders from all over Southwestern Ontario.  Share rides to work, school and events with neighbours, co-workers, old and new friends.  Save money, time and fuel and minimize your carbon footprint!
Information For
Fanshawe's commitment to academic quality and student success is stronger than ever.

In 2018, Ayden Miller (keyboard/synthesizer), Stefan Boulineau (lead vocals) and Cole Wilson (lead guitar) formed their band New Friends while working together in the studio of Fanshawe Music Industry Arts program.