2016 Fanshawe College Waste Audit Summary
Every year, Fanshawe College completes a waste audit that shows us how we did with of waste production and diversion from landfill. In 2016, Fanshawe sent 658.3 tonnes of waste to landfills and reused or recycled 459.5 tonnes, making the 2016 diversion rate 41.1%, which is 5.6% higher than 2015.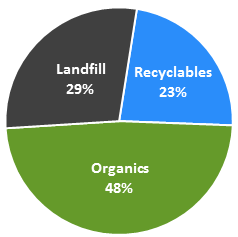 Part of the audit includes a detailed analysis of landfill waste, which shows us what items are being put in landfill bins that should have been recycled. This helps us create targeted initiatives to improve proper use existing programs.
On March 8, approximately 315kg of waste collected over a 24-hour period was sorted from buildings A, B, D, T, and CDPA. Results showed that 29% was landfill waste and 71% could have been diverted through available programs.
Organics continue to make up most of the waste sent to landfill. It is increasingly important to make sure we are not sending compostable materials to landfill because when they break down, methane gas is released, which is a very harmful greenhouse gas. If half of the organics we currently send to landfill could be diverted, the college could save up to 30 tonnes of greenhouse gas emissions annually. That's like powering your home for 7 months!
What can you do to improve our diversion rate?
Current programming exists for containers, paper, and organics recycling. Specialty collections include coffee pods, electronics, used writing utensils, and cigarette butts. For a comprehensive list of what you can recycle on campus, visit www.fanshawec.c/sustainability and our Ways to take action page. You can also email sustainability@fanshawec.ca with any questions or to request the detailed audit report.
Happy recycling!
Information For
Fanshawe College will defer all in-person classes scheduled for the summer semester and intends to offer a blended delivery of programs in the fall.

In 2018, Ayden Miller (keyboard/synthesizer), Stefan Boulineau (lead vocals) and Cole Wilson (lead guitar) formed their band New Friends while working together in the studio of Fanshawe Music Industry Arts program.