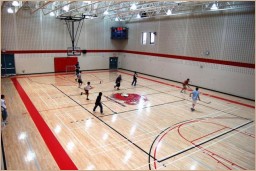 Located within a minute's walk of the residence, Fanshawe's Fitness Centre features a fully equipped, professionally operated health and fitness club that has the opportunity to purchase day passes.
The Gymnasium on campus offers several setups from sporting events to receptions and large conventions.
Fanshawe Conference Services' one-stop-shop approach can coordinate all aspects of your event including athletics, so please let us know if you are interested in booking any space or have any questions regarding fitness and athletics on campus.
Information For
Fanshawe College will defer all in-person classes scheduled for the summer semester and intends to offer a blended delivery of programs in the fall.

In 2018, Ayden Miller (keyboard/synthesizer), Stefan Boulineau (lead vocals) and Cole Wilson (lead guitar) formed their band New Friends while working together in the studio of Fanshawe Music Industry Arts program.