AASHE
Fanshawe College is a member of the Association for the Advancement of Sustainability in Higher Education (AASHE).
AASHE is the leading association for the advancement of sustainability in higher education. It serves a full range of higher education faculty, administrators, staff and students who are change agents and drivers of sustainability innovation. Established in 2005, AASHE is comprised of over 900 members across 9 Canadian provinces and 20 countries.
STARS
The Sustainability Tracking, Assessment and Rating System (STARS) is the most recognized measurement and reporting framework in the world for benchmarking sustainability performance in higher education. With more than 650 participants on six continents, AASHE's STARS program is the most widely recognized reporting framework in the world for benchmarking a college or university's sustainability performance.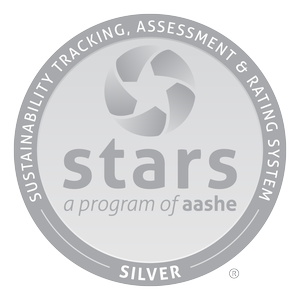 Participants report achievements in four overall areas:
operations
academics
engagement
planning and administration
The rating system awards Bronze, Silver, Gold or Platinum for points earned in each category. Minimum points for each level are 25, 45, 65, and 85 respectively. Energy efficiency and waste diversion are operational aspects taken into account; this system also awards points for sustainability efforts in categories such as curriculum, human resources, and innovative programs.
In 2014, Fanshawe submitted its first STARS report, which surpassed the 45-point threshold for silver with a total score of 50.82 points. Fanshawe currently pursues and achieves more than half of the sustainability initiatives and criteria identified within the STARS program. The college's first STARS achievement has helped educate the college of our current achievements while identifying opportunities to elevate our status as leaders in institutional sustainability. Fanshawe is committed to becoming a more sustainable college and has already made significant progress with plenty of room to grow. Going forward, we hope to continue to unite students and employees in our current sustainability initiatives and goals.
View the full STARS report for Fanshawe College on STARS website here.
OCUSP
Fanshawe College is a member of OCUSP: Ontario College and University Sustainability Professionals. The purpose of this group is to connect Colleges and Universities in Ontario for sharing of ideas and best practices and to monitor the environmental performance of institutions.
OCUSP consist of University and College professionals representing the majority of academic institutions in Ontario. All members have job duties that are directly or indirectly relevant to sustainability on a post-secondary campus.
The Pan Canadian Protocol for Sustainability
Fanshawe College is a proud signatory of the Association of Canadian Community Colleges' Pan Canadian Protocol for Sustainability
In 2009, the college signed the Pan-Canadian Protocol for Sustainability, agreeing to provide leadership and maximize our contribution to a sustainable future. This allowed us to formalize our commitment to sustainability and begin establishing a sustainable culture at the College. Since then, we have worked hard to make changes in many areas of the College to implement best practices in both our operations and academic areas.
View The Pan Canadian Protocol for Sustainability on Colleges and Institutes Canada website
Energy Conservation and Demand Management Plan
Energy conservation has been a focus of Fanshawe College for some time. During the period of 2005-2012, the College's investment in energy conservation and demand management initiatives have resulted in approximately $3.9 million in energy cost avoidance, and reduction in GHG emissions by 5,500 tonnes of carbon dioxide, which is equivalent to what approximately 1,000 cars or light trucks generate in one year. Energy Usage Intensity (EUI) during this timeframe was reduced by 32% and Energy Cost Intensity (ECI) by around 16%.
The College has recently completed a comprehensive energy audit of all College-owned facilities which assessed just over 2 million square feet, at 24 buildings located in London, St. Thomas, Simcoe and Woodstock. The results of this comprehensive energy audit have formed the basis and details of the College's Energy Conservation and Demand Management Plan.
View the 2014-2019 Energy Conservation and Demand Management Plan here (PDF).
Energy Consumption and Greenhouse Gas Emissions Reports