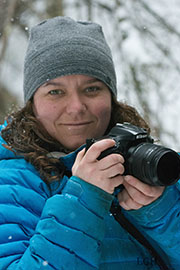 In 2013 I enrolled myself in the Adventure Expedition and Interpretive Leadership program offered by Fanshawe College. Being a part of this unique and intensive program, that combines both the love of travel and the outdoors, quickly became a very special time in my life. It allowed me to push myself in directions I never thought possible before. At Fanshawe College I was instructed on the many ways in which I could utilize my passion and enthusiasms for the world to not only build my career, but a lifestyle. I cannot begin to express how excited I am to find myself still involved in this amazing learning experience, only this time as an instructor.
Leanne Gauthier-Helmer
The Adventure Expeditions and Interpretive Leadership Diploma course is more than I ever expected it to be. The knowledge, skills and experience I have gained from this course has given me the confidence to pursue a career I could only dream of before. The networking and partnerships made during this program with fellow students, professors, local businesses and likeminded outdoor adventurers is priceless. I feel that you could not get this type of education anywhere else!
Tara Carpenter
The classes were engaging, thought-provoking and very much at times moved me outside established comfort zones I had put upon myself years ago. Engagement is the key in my opinion to any program, especially when it is a new course, instructors were great within their own proficiencies and assisted me outside their (taught) courses to see me succeed.
After graduation I was immediately picked up by my co-op placement employer, Muskoka Sports and Recreation in Muskoka, Ontario, assisting in the contract obligations my client possessed for the JW Marriott Hotel, managing their waterfront activities as a supervisor in the summer and doing guided snowmobiling in the winter at the same location.
After two and a half years away from home I decided in June 2016 to return home and work locally. Spring 2017 will be a big year as I will finally commence operations on my own tour boat in Long Point Bay on Lake Erie, delivering the same programs and service built up north in Muskoka.
The future looks bright. Thank you for contacting me about the AEL Program at Fanshawe College, it has changed my life.
Graham J. Ferguson, Owner of Long Point Island & Hugger Tours
"Fanshawe graduate Graham Ferguson completed the AEIL course and has since started his own business, Long Point Island Hugger Tours. He has since partnered with us at Long Point Eco Adventures becoming a core activity in our repertoire. He was the 2019 recipient of the Norfolk County Sustainable Tourism Award and we are proud to be working with him."
Long Point Eco Adventures
"With a passion for the environment, a love of bees and a generally amazing personality, Vanessa Stewart is a welcomed partner at Long Point Eco Adventures. After graduating from the Fanshawe AEIL program she opened her own business, Vanessa's Bees, and now spreads her knowledge and love for pollinators with many of our guests."
Long Point Eco Adventures