A welcomed break in the weather greeted Lawrence Kinlin School of Business professor Clyde Walton and 28 Agri-Business Management students as they visited three state-of-the-art farm operations on Tuesday, January 9, 2018, in a long-awaited field trip.
"I am pleased we were finally able to complete this authentic learning experience, which had been rescheduled twice due to weather and circumstances in the fall," explained Walton. "It was worth the wait, as the students viewed leading edge agri-business practices firsthand."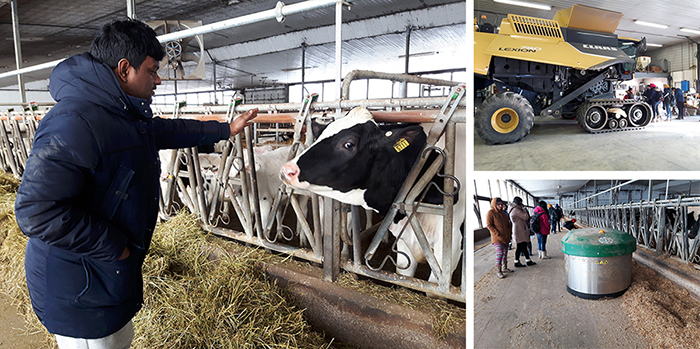 Included were a 4,000-acre cash crop set-up; a 90,000-bird turkey farm which occupies 11 per cent of the Canadian market; and a 2,000-cow milking operation that produces its own electricity for the Ontario grid. The students experienced authentic learning about the use of drones and GPS for precision agriculture, viewed robots managing specialized feed mixes and witnessed the birthing of a calf. The trip capped off an in-depth study of a wide variety of agri-business issues that form part of this new Fanshawe College graduate certificate program.
For further information, please contact Corporate Communications.