Transforming the community one family at a time.
Believing everyone deserves a safe and decent home, Habitat for Humanity strives daily to expand affordable housing options across the greater London region. Spreading its message of hope, and collaborating with a collective of community partners, Habitat is building a series of starter homes for hard-working, low-income families, and breaking the cycle of poverty for future generations.  
Since launching in London in 1993, Habitat has built 69 homes in London and surrounding area, and successfully expanded its operations into Habitat Heartland Ontario. Most recently, the charity is focusing efforts on a new Habitat development on Forbes Street in Old South, with the help of several cross-sector partners, including Fanshawe College and Scotiabank.
In particular, at 16 Forbes Street, talented apprentices from Fanshawe's Donald J. Smith School of Building Technology are collaborating with dedicated staff from the Scotiabank Women's Network to create a home for the Solomon family.
According to Fanshawe Carpenter Apprenticeship Coordinator Jim Leslie, he and his colleague Steve Laing first became involved with Habitat in 2010, when their carpenter apprentices answered an urgent call for help. Since then, approximately 250 apprentices have participated in 12 builds.
Typically, the Fanshawe team completes the structure for Habitat by framing walls, floors and the roof, as well as window, door, trim and siding installations. Depending on the build, advanced apprentices may complete foundations and build interior stairs. Meantime, sheet metal and plumbing apprentices are also playing a part installing HVAC systems and plumbing.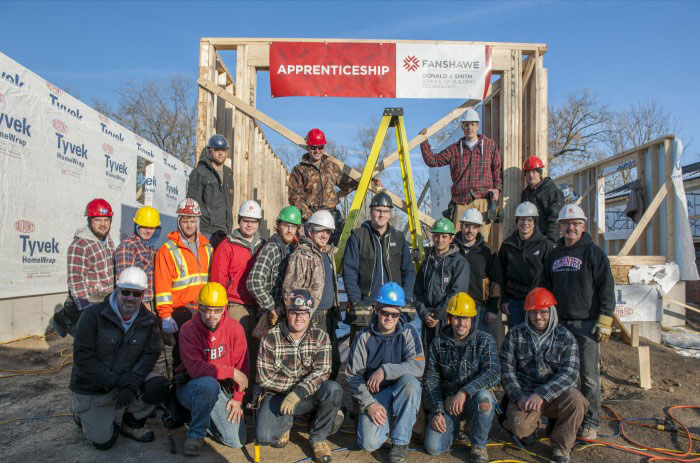 Fanshawe Coordinator Jim Leslie (far right, middle row) and his carpenter apprentices work hard for Habitat 
There's a role for everyone, and Leslie says the cross-sector collaboration is a quadruple-win for all parties. "Habitat can schedule work knowing the structure is being completed with quality workmanship; our apprentices receive real building experience while helping a good cause; corporate and community volunteers gain a sturdy frame on which to work, and the family gets a well-built house."
As with each sponsored build, private sector partner Scotiabank is granting Habitat a donation of $50,000 towards the cost. In addition, 40 staff members are volunteering and each generating $250, which adds another $10,000 to the build.
As a London Scotiabank branch manager and advocate of the bank's Women in Leadership program, Abi Bhat is proud of this overwhelming commitment by her colleagues. "We believe in giving back to our communities. With bank employees from 24 different branches contributing, it was absolutely inspiring to witness the teamwork, productivity and woman power in motion on build days."  
Bhat also recounts unanticipated outcomes from the Habitat experience, and says meeting the family changed everything. "We went onsite ready to give of ourselves as good corporate citizens, yet our team members came away with so much more - feeling better connected to families in our community, with increased compassion and heightened morale when we returned to work."
Leslie concurs that Habitat provides far more than work experience for his students, "Our Fanshawe apprentices see firsthand how their contributions positively impact a family in need, and make the community a better place."
As a pivotal aspect of the home ownership program, Habitat CEO Brian Elliot confirms each recipient family contributes 500 hours of "sweat equity" and says offering a hand up - rather than a hand out - works on several levels. "We empower families to become successful homeowners, which in turn provides them with increased financial stability, better health supports, and more opportunity for education." 
Elliot adds Habitat's funding cycle also continues long after the family unlocks the door to their new home. "By reinvesting all donations and mortgage payments back into the program - through our revolving Fund for Humanity - more homes can be built. For more information about Habitat, visit habitat4home.ca.
For further information about Fanshawe College, please contact Corporate Communications.