Fanshawe College second-year culinary students Tina Marar and Alex Martin won the King Cole Great Amazing Duck Race on Saturday, April 1.
It was Fanshawe's first win in this five-year-old competition, with a First Prize of $500 awarded to the pair. They also received the People's Choice award.
King Cole Ducks Ltd., a vertically-integrated farm and processing facility, hosted the day-long farm-to-fork recipe competition.
Teams of two culinary student teammates each lived the life of a farmer for a day, competing from 6 a.m. to 6 p.m. They began the race at the crack of dawn at the King Cole Duck Farms in Newmarket, Ontario, donning bio suits and collecting duck eggs in a simulated barn, to replicate daily operations at King Cole.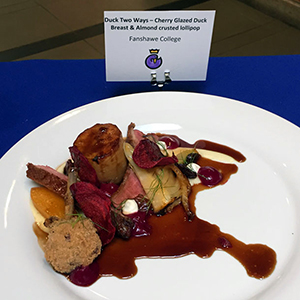 They then raced to the main farm processing plant for a CYOD (Cut Your Own Duck) competition, where they judged on their butchery skills while cutting the meat to specification (the meat products were also used later in their recipes). After running out the door with duck meat in coolers, they headed by subway to a secret location in downtown Toronto to do some shopping with 'Duck Bucks' provided by King Cole. Students were evaluated on their spending and ingredient choices.
The chefs-in-training ended up in the kitchen labs at George Brown College to chang into their uniforms, gather their cooking tools and begin the final cook off. Each team prepared an appetizer and an entrée. Their dishes were judged based on creativity, practicality, appearance and flavour. Tina and Alex won the competition with a dish titled "Duck Two Ways," a glazed cherry duck breast and almond-crusted lollipop. The Canadian Food & Wine Institute (Niagara, Ontario) captured second place while Fleming College (Peterborough, Ontario) finished third.
Congratulations to Tina and Alex!

Tina and Alex celebrating their first place and People's Choice awards, Fanshawe's first-ever win at the King Cole duck race.