Fanshawe and LEDC capitalize on mutual objectives and collaborative strengths
With a goal to develop new opportunities for innovative thinkers, Fanshawe College and London Economic Development Corporation (LEDC) are collaborating to create enhanced employment outcomes for London.
Recently, the college and LEDC penned a partnership agreement designed to further drive London's economy. Enthusiastically signed by business colleagues Gary Lima, Fanshawe's Senior Vice President Academic and Kapil Lakhotia, LEDC's President and Chief Executive Officer, this new strategic alliance targets growing and emerging sectors, and fast-tracks educational programs to ensure a sustainable supply of skilled employees.
"Through this new alliance, we're building a stronger regional economy by improving connectivity between industry and academia," says Lakhotia. "We are excited about the future potential of this collaboration, as it leverages the strengths of both organizations and translates into economic success for the community."
According to Lima, liaising directly with LEDC provides a unique lens for the college to track employment trends and keep Fanshawe nimble in its planning. "Growing new programs and revitalizing existing ones is our top academic priority, because connecting with communities and anticipating and supporting the needs of industry partners is a big part of the Fanshawe DNA," says Lima. "With entrepreneurial spirit, colleges allow people to pursue and live their dreams, and an exceptional college is where students can actually touch and connect with the jobs they are planning to pursue."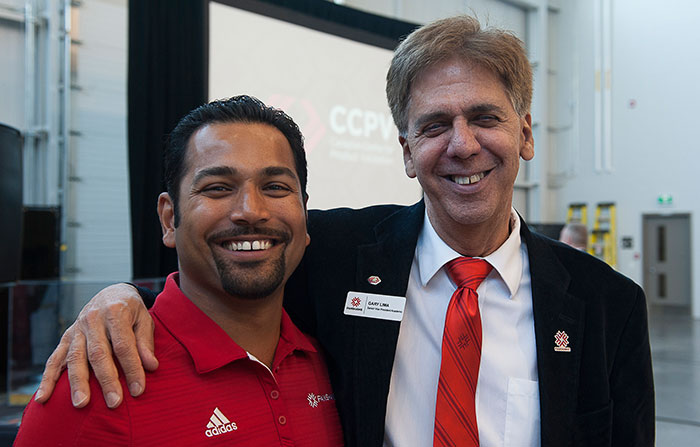 LEDC CEO Kapil Lakhotia (L) with Fanshawe Academic Services VP Gary Lima
Demonstrating the value of this collaborative approach, the partners are currently embracing the flourishing growth of digital technology in London. Thanks to continual labour market analysis, LEDC identifies digital creative among its "top five" economic areas of focus, and game design is one of the fastest-growing domains within the creative sector. In response, Fanshawe has launched an exciting new program in Game Design and Development, and has a 3D Visualization program currently underway to meet this specialized job market.
LEDC is also focused on life sciences, agri-food, manufacturing and venture initiatives as the other "top five" employment sectors in the London region, and shares its research with Fanshawe.
On the manufacturing front, both LEDC and the college are proud of Fanshawe's new testing facility called the Canadian Centre for Product Validation (CCPV), which bridges the gap between innovation and commercialization. So far in 2016, LEDC has introduced dozens of companies to the college for R&D collaborations and encouraged more than 220 business executives to attend the Excellence in Manufacturing Consortium (EMC) regional meeting hosted at CCPV in June.
Overall, the new alliance addresses six key strategies: 1) research and development; 2) business engagement; 3) entrepreneurship services; 4) international student and business attraction; 5) talent retention; and 6) visibility through marketing and promotion of Fanshawe and London.
"While LEDC has always worked closely with Fanshawe, this partnership takes the collaboration to a new level," says Lakhotia. "In fact, it may be a first-of-its-kind agreement between a college and an economic driver in Ontario, as Mohawk College recently reached out to gain insights into our productive relationship with Fanshawe."
Early outcomes of the partnership include Fanshawe's corporate training division helping LEDC in the delivery of "best practice" workshops for small and medium-sized businesses, and LEDC helping Fanshawe make connections with Brazilian colleges interested in Canadian opportunities. Other projects involve both entities collaborating on
the Student-2-Business Conference aimed at keeping London's best and brightest in the community.
Indeed, this innovative agreement is a tangible example of collaboration and leadership between two great London organizations, which other community stakeholders may wish to emulate. For more information on the London Economic Development Corporation, visit www.ledc.com.
For further information about Fanshawe College, please contact Corporate Communications.