Students and staff from across Fanshawe's four campuses have contributed to a meaningful art project designed to raise awareness of the more than 1,200 Missing and Murdered Indigenous Women and Girls in Canada over the past 30 years.
Fanshawe's Faceless Dolls exhibit, modelled after a movement initiated by the Native Women's Association of Canada and artist Gloria Larocque, features 600 unique faceless felt dolls crafted during a series of workshops held over a six-month period.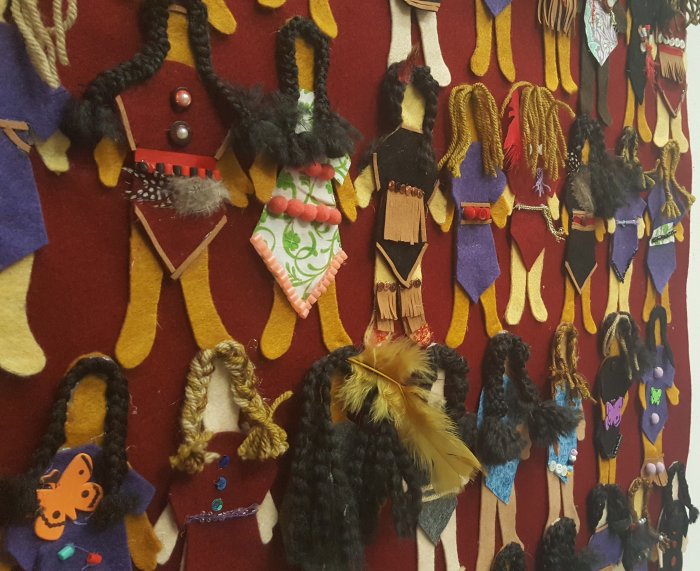 Some of the 600 felt dolls created to raise awareness of Missing and Murdered Indigenous Women and Girls in Canada.
"This project is about humanizing the dialogue around these issues," says Leah Marshall, Fanshawe's sexual violence prevention advisor, who led the project in conjunction with the College's First Nations Centre. "The inherent value of each woman as a unique person can sometimes get lost in discussions of the broader issue. These dolls help visualize that each one of these women is an individual, not a faceless victim of crime."
The exhibit will be on display in Fanshawe's Siskind Gallery from February 13 to 17, 2017, before touring through regional campuses in St. Thomas, Woodstock and Simcoe.
The event will include a traditional opening from Elder and Healer, Liz Akiwenzie (Ojibway and Oneida).
Date: Wednesday, February 15, 2017
Time: 2 to 4 p.m.
Location: Siskind Gallery (H1015) at 1001 Fanshawe College Blvd, London, ON
For further information, please contact Corporate Communications.