An exciting addition to Fanshawe's Norton Wolf School of Aviation Technology's growing fleet of aircraft was announced today with the donation of a Dassault Falcon 10 jet – a $1 million contribution from local developer Joe Carapella, president of the Tricar Group. With this donation, Mr. Carapella and his wife Lyn said they want to empower others to make a difference in the growth of the city they proudly call home.
"Over the years London has provided us with tremendous opportunity. Our hope is that this aircraft helps provide the students of Fanshawe College that same opportunity to succeed. This is about giving back," said the couple.
Recently, the Norton Wolf School of Aviation Technology attracted regional and national attention when it landed a working 727 aircraft from KF Aerospace and a Dash 7 from Trans Capital Air – two occasions that caught Mr. Carapella's attention.
Mr. Carapella decided he could also contribute to boosting the School's aviation programs by donating the Falcon 10 – where the life of this veteran aircraft would be extended by becoming a hands-on learning tool for students. He commented, "It's a great feeling to be involved in community support of this kind because the employment opportunities for qualified aircraft technicians are increasing exponentially – locally and around the globe." 
For Mr. Carapella, building an award-winning construction company has instilled in him the importance of hiring employees who have received exceptional skills training.
"The value of this type of training is essential to the growth and success of our employees and a reason perhaps that so many Tricar staff are Fanshawe grads," he said.
In thanking Mr. Carapella for his generous contribution, Vertha Coligan, dean of Fanshawe's School of Technology said, "We are very grateful to own an aircraft that will play an important role in equipping our students to be job-ready. We hope Mr. Carapella is as pleased as we are that the Falcon 10 will continue to support Fanshawe College for many years in such a meaningful and significant way. On behalf of the faculty and students in the Norton Wolf School of Aviation Technology, we thank Joe Carapella for this amazing donation."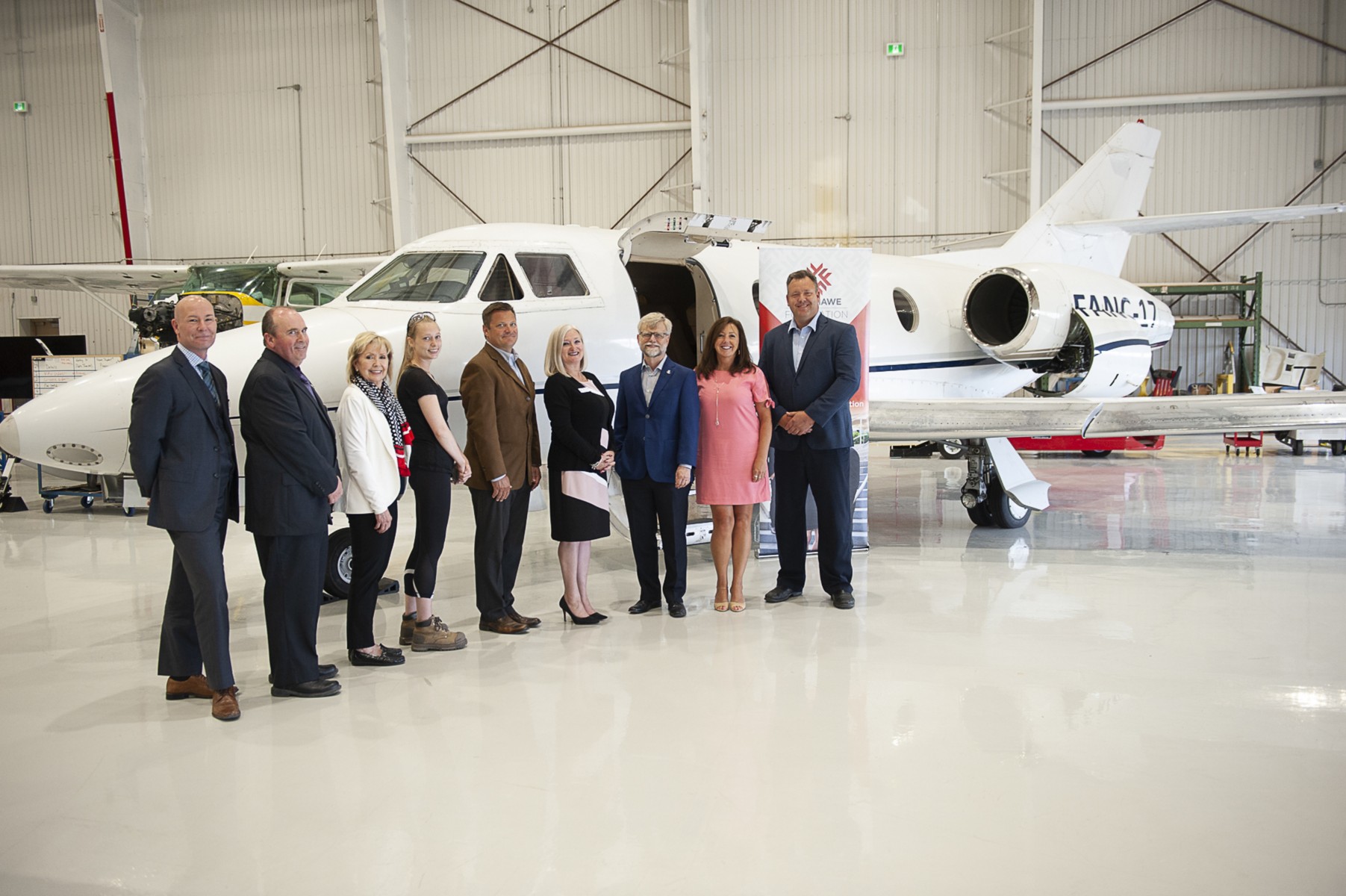 (l-r) Stephen Patterson, dean, Faculty of Arts, Media and Design; Kelly Moffat, professor, Norton Wolf School of Aviation Technology; Mary Flannigan-Hockin, Fanshawe Foundation; Deanna Tidgwell, student, Aviation Technician – Avionics Maintenance program; Nick Erb, president, Flighexec; Vertha Coligan, dean, Faculty of Technology; Tim Wharton, Fanshawe Foundation; Linda Pepe, Manager, Coroporate Administration, The Tricar Group; Michael Bohdanowicz, Senior Accountant, The Tricar Group.