Fanshawe College students and staff have installed a rainbow crosswalk at the London Campus in advance of the annual Pride London festival.
The rainbow, a symbol of the lesbian, gay, bisexual and transgender (LGBT) community, was painted Thursday, July 6, 2017, outside the new Wellness Centre on a crosswalk between parking lot 6 and J building. Under the direction of a contractor, Fanshawe Student Union executives and staff volunteers dipped their rollers and painted alternating sections of the crosswalk to kick off Pride celebrations early this year.
The rainbow crosswalk will be a year-round signal of the inclusive and supportive environment Fanshawe offers to all our students, staff and visitors.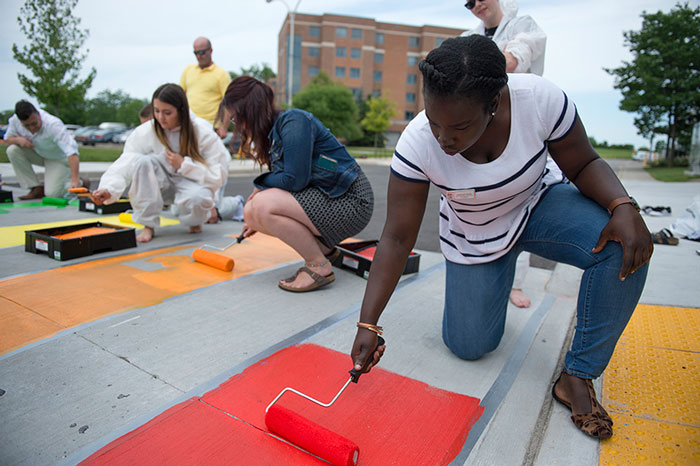 Fanshawe College is planning several Pride celebrations throughout July
When the Pride London Festival officially begins on July 20, 2017, students and staff will join Vice President, Student Services, Michele Beaudoin as she raises the Pride flag on Thursday, July 20, at 10 a.m. in front of the London Campus flag poles, outside F building.
Fanshawe will conclude Pride festivities by joining Pride London's Outdoor Festival in Victoria Park and the 23rd Annual London Pride Parade.
Fanshawe booth at Outdoor Festival in Victoria Park
Friday, July 28 (6 to 11 p.m.); Saturday, July 29 (11 a.m. to 11 p.m.); and Sunday, July 30, 2017, (11 a.m. to 6 p.m.)

Fanshawe volunteers in 23rd Annual London Pride Parade
Sunday, July 30, 2017, beginning at 12:30 p.m.
Location: Queens Avenue, beginning on Ontario Street proceeding to Victoria Park
Employees, students, alumni, family and friends are invited to sign up to participate at the Outdoor Festival in Victoria Park (July 28, 29, 30, 2017) and the Pride Parade (July 30, 2017). Registration is not necessary to join the celebration but registrants will be provided a Fanshawe Pride T-shirt. We hope to see you at Pride!
For further information about Fanshawe College, please contact Corporate Communications.