At a ribbon-cutting ceremony on November 18, 2016, Chippewa of the Thames First Nation (COTT) and Fanshawe College celebrated the forging of a new and growing relationship bringing post-secondary education to the people of Chippewa of the Thames First Nation.
"Partnerships with Canada's educational institutions like the one we have with Fanshawe helps to write a new history of education for First Nations living in their communities," says Chief Leslee White-eye. "The program is designed to meet community job shortages, while providing quality programming close to home in a supportive learning environment created for the people of Chippewa of the Thames First Nation."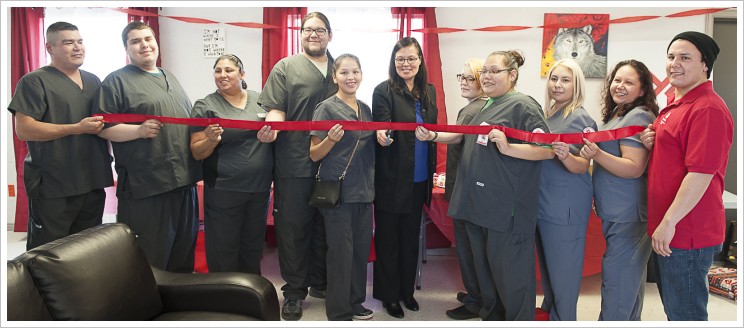 Chief Leslee White-eye cuts the ribbon flanked by Fanshawe/COTT Personal Support Worker students.
After community consultations identified post-secondary education as a priority within the First Nation community, COTT and Fanshawe collaborated to begin offering the Personal Support Worker (PSW) program on-reserve. Currently ten students are enrolled in the program that began on October 3, 2016.
"We know these students really well and the challenges they face. We are here to support them in every aspect, whether it's for a car ride, lunch, babysitting or counselling," notes Angela Fisher, employment and training director. "So far full enrolment remains and every student is passing the program. I believe offering the program within the community is contributing to their success."
The College will begin offering entrepreneurial and small business programs in January 2017 and is developing a college preparatory program to assist future students in the transition to college.
"The process of building relationships is one that requires long-term commitment and frequent interactions," says Guy Williams, manager of Fanshawe's First Nations Centre. "It is important to us that Indigenous individuals, communities and organizations remain engaged. To achieve that, participants need to see that our discussions result in meaningful action."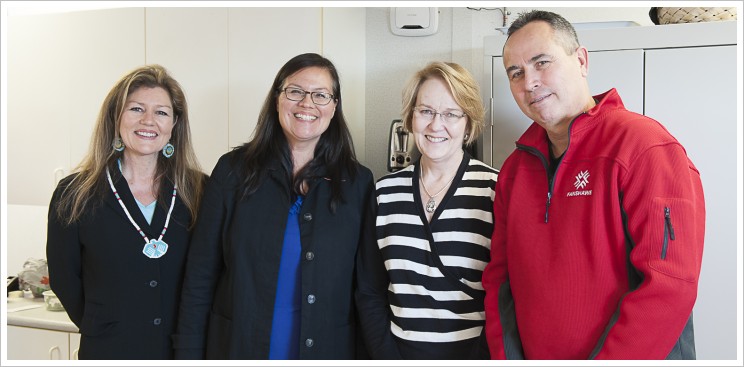 Left to right: Angela Fisher; Chief Leslee White-eye; Pam McLaughlin, Dean, Health Sciences and Human Services, Fanshawe College; Guy Williams. More photos.
Fanshawe currently has over 500 Indigenous students on campus. Although many of the students are from southwestern Ontario, the College currently has Indigenous students from across Canada, as well as from our northern territories. Chippewa of the Thames is located 30 kilometres south of London and has a registered population of 2,862.
Backgrounder
Fanshawe College signed the Indigenous Education Protocol for Colleges and Institutes in January of 2015. A key component of the Protocol is to "build relationships and be accountable to Indigenous communities in support of self-determination through education, training and applied research." Relationships with Indigenous communities and organizations are critical to every aspect of Fanshawe College's progress on Indigenous initiatives. Those relationships begin with the First Nations in southwestern Ontario upon whose traditional territories the College's campuses stand.
In May of 2016, senior leadership and management of Fanshawe College met with Chief, Council, and senior administration of the Chippewa of the Thames First Nation. The meeting was an opportunity for Fanshawe College to listen and learn about the history, culture and educational experiences of the community. It was also an opportunity to understand the unique community development needs and to undertake meaningful discussions on how Fanshawe College could assist the community in addressing those needs.
Photos from ribbon-cutting ceremony
For further information, please contact Corporate Communications.