Media release:
Fanshawe's strong presence in downtown London was celebrated on Friday, September 14, 2018, with invited guests at the grand opening of 130 Dundas Street, home to the College's Schools of Information Technology and Tourism, Hospitality and Culinary Arts.
Fanshawe's impressive 114,000 square-foot facility is located at the site of the former Kingsmill's department store in the heart of downtown London. The new building will inspire learning by giving students incredible hands-on experiences in modern information technology classrooms and culinary labs. It houses more than 25 programs, such as Game Development, Computer Programmer Analyst, Culinary Management, and Baking and Pastry Arts Management.
"It's rewarding to see this project come to life and to feel the energy of an additional 1,600 students in downtown London," says Fanshawe College President Peter Devlin. "As the single largest capital investment the College has undertaken to date, this facility is a very exciting new chapter in Fanshawe's history."
Designed by Diamond Schmitt Architects and Philip Agar Architect and built by EllisDon, the building features include:
7 storeys
25 student-focused spaces, classrooms, labs and study areas
More than $1 million in kitchen equipment in the Spriet Family Culinary Centre
A living wall more than 20 feet high, containing more than 200 plants of several different species
250 wireless access points
Nods to the Kingsmill's department store are found throughout the building. Yellow brick, manufactured in London, and wood beams from the 1930s provide architectural accents. The Chef's Table restaurant and the Downtown Campus Store, Fanshawe's retail space, features restored tin ceilings.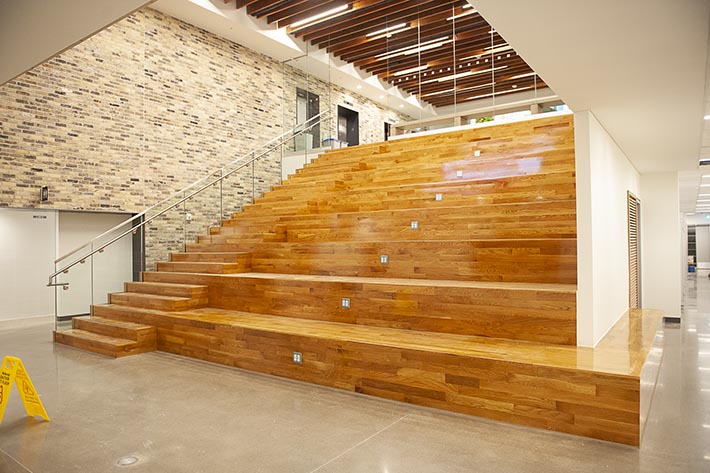 A number of memorable Kingsmill's artifacts have been incorporated: the Kingsmill's safe remains in the basement; a former elevator cab has been transformed into a fitting room in the Downtown Campus Store; and tucked underneath the second floor staircase is the refurbished pneumatic tube system, which was used to exchange sales bills, cash and receipts between the main office and the sales floor.
At today's official opening, the Fanshawe College community was also joined by federal, provincial and municipal government partners, and donors who have made significant contributions toward the building. The City of London invested $9 million and the Downtown London Business Association and MainStreet London provided $1 million in support of the project.
For further information, please contact Corporate Communications.