Fanshawe College has risen to rank 32 on RE$EARCH Infosource Incorporated's list of Canada's top 50 research colleges, moving up from 49th place in 2015. This year's result also saw an impressive 200 per cent growth in research income.
 
Research project and partnership growth continues to be a highlight for the College, with Fanshawe ranking 11th overall in the number of research partnerships amongst large colleges.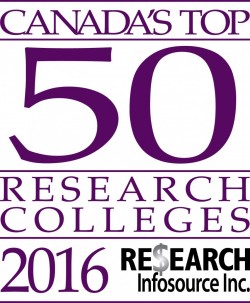 This is the third consecutive year that Fanshawe has been named a top 50 research college. Fanshawe's score can be credited to numerous research and innovation activities happening across the College, including the opening of the Canadian Centre for Product Validation, a leading-edge facility that offers validation technologies, equipment, proto-typing and testing in one central location. 
 
"On behalf of our entire team, we would like to thank all of the students, staff and faculty for their dedication to research and innovation at Fanshawe," said Dan Douglas, Dean of Fanshawe's Centre for Research and Innovation.
 
RE$EARCH Infosource Inc. is a nationally recognized authority on Research & Development activities occurring at Canada's universities, corporations, hospitals and colleges. RE$EARCH Infosource Inc. publishes its findings annually in Canada's Innovation Leaders.
 
For the full listing, please visit: http://www.researchinfosource.com/top50_col.php.
 
To learn more about research and innovation at Fanshawe please visit our Research page.