Fanshawe Electromechanical Engineering students to benefit from Armo Tool donation
On Saturday, October 20, Armo Tool announced the establishment of the Ross and Vivian Whitney Family Scholarship, named in honour of Armo Tool founders Ross and Vivian Whitney. This new scholarship was created to celebrate of Armo Tool's 50th anniversary and will directly benefit high school students entering their first year of the College's Electromechanical Engineering Technician program in the School of Applied Science and Technology.
"The Whitney family is making this donation to strengthen the community that has fostered our success. Armo's growth has been made possible by great people with a strong education," says Ben Whitney, President, Armo Tool. "This gift 'pays it forward' to future generations by helping young people grow a passion for making things into a terrific career."
This annual entrance scholarship will pay the first year tuition for a high school student entering the Electromechanical Engineering Technician who has a passion for hands-on, manufacturing-based learning.
"The Ross and Vivian Whitney Family Scholarship is a thoughtful expression of the vital role Fanshawe has in training students to graduate with the skills to succeed in a modern economy that relies on manufacturing professionals," says Lindsay Engel, Chair of the School of Applied Science and Technology. "We thank Armo Tool for their investment in Fanshawe and our students."
About Armo Tool
For 50 years, Armo Tool has been a family owned and operated business. Now in our third generation, we have earned a reputation built on providing complete "one-stop" precision tooling solutions, from the design stage to the beginning of production. Armo Tool was founded in 1969 by Ross and George Whitney. By pursuing opportunities to bring talented, dedicated people into our company, and by building an extensive base of loyal customers, Armo Tool has grown to over 200 employees serving several related industries.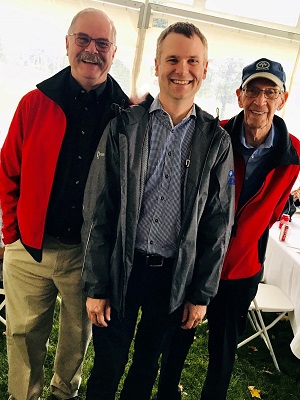 (l-r) Mr. George Whitney, Past President 1992-2008; Mr. Ben Whitney, President 2008 – present and Mr. Ross Whitney, Founder Armo Tool.