Media release:
The Fanshawe College Foundation is proud to announce it is the first post-secondary foundation in Ontario to receive accreditation under Imagine Canada's national Standards Program.
With this achievement, the College joins a growing community of more than 230 organizations dedicated to operational excellence.
The Standards Program is a Canada-wide set of shared standards for charities and non-profits designed to strengthen practices in five fundamental areas: board governance, financial accountability and transparency, fundraising, staff management and volunteer involvement.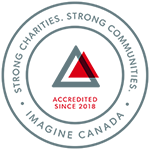 The Standards Program Trustmark is a mark of Imagine Canada used under licence by the Fanshawe College Foundation.
Fanshawe's policies and procedures in the five areas of compliance were evaluated by a group of volunteers from the sector and found to be compliant with the Standards Program. Compliance during the accreditation period is monitored through an annual process that requires organizations to submit evidence demonstrating selected standards are being met. Accredited organizations are required to complete full reaccreditation every five years.
"It's no small feat for an organization to earn Standards Program accreditation. It's a rigorous, peer-reviewed process that is meant to build Canadians' trust and confidence in the charitable sector," says Bruce MacDonald, president and CEO of Imagine Canada. "The organizations accredited to date reflect a broad spectrum in size, scope and geography. Each one takes governance, accountability, and transparency very seriously. We're proud to have them on board."
"The integrity and importance of the work that the Fanshawe College Foundation has so admirably carried out for the past decade is further attested to in this accreditation," says Wendy Curtis, acting executive director, Fanshawe College Foundation. "Our community and corporate donors and volunteers can be confident that the trust they place in us is well deserved. We are proud to be part of Imagine Canada."
For further information, please contact Corporate Communications.