Media release:
Fanshawe College is pleased to announce it is in the process of making lease arrangements to create a new campus at 1060 Wellington Road, London, ON.
Continuing efforts to respond to labour market needs and limited space means the College requires new space. After careful review and multiple site searches across London, Fanshawe found an ideal building to lease in south London.
This building and location is ideal for Fanshawe's needs, including ample parking on site. It offers easy access to public transit, affordable housing and many options for shopping and food.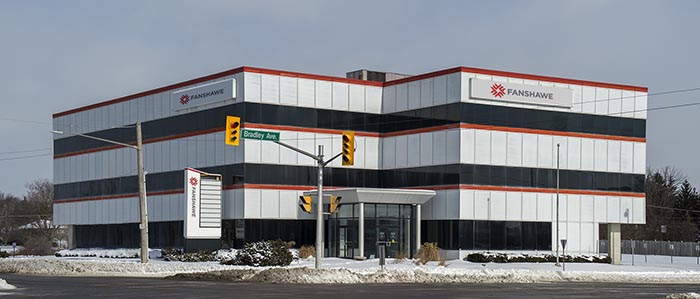 "Fanshawe's exceptional educational offerings and graduate employment rates continue to attract new students from across Ontario and around the globe," said Fanshawe President Peter Devlin. "We're pleased to be expanding our presence in this new south London campus."
Fanshawe will welcome 250 students this fall. Additional programming will be introduced for up to 850 Fanshawe students when renovations are complete.
The first group of students at this campus will be studying in the four graduate certificate programs: Agri-Business Management, Business Management, Business and Information Systems Architecture and Retirement Residence Management. All programs will provide students with experiential learning and the skills required to meet regional employers' needs.
Fanshawe's new London South Campus will provide the same exceptional student experience that students receive at all of its campuses and locations. This will include the hiring of new faculty positions and student services staff, including a housing coordinator and on-site career services counsellor.
Fanshawe is one of Ontario's largest colleges. Its campuses, located in London, Simcoe, St. Thomas and Woodstock, serve close to half a million people with a promise to educate, engage, empower and excite. For over 50 years, Fanshawe has been helping people to unlock their potential and achieve success. The College attracts students from 97 countries every year and opens up a world of possibilities through more than 200 degree, diploma and certificate programs, along with apprenticeship training.
For further information, please contact Corporate Communications.