On Monday, October 5, Fanshawe College hosted its second annual Queen's Park Day in Toronto.
The day included a variety of strategic meetings, led by President Devlin and his team. During the event, we shared information about the Canadian Centre for Product Validation (CCPV) with representatives of the Ministry of Economic Development, Employment and Infrastructure as a means of looking for provincial programs that might be leveraged to support CCPV and its service to industry and business.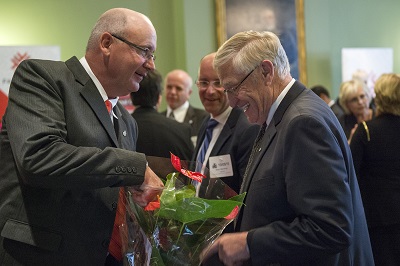 President Devlin also provided an update on the School of Public Safety to the Ministry of Community Safety and Correctional Services and the new leadership programs now being offered, as well as an update on Fanshawe's future growth plans with NDP Leader Andrea Horwath and PC Leader Patrick Brown.
In photo above: Faculty member Mike Pascoe presents a plant to MPP Ernie Hardeman during the luncheon open house.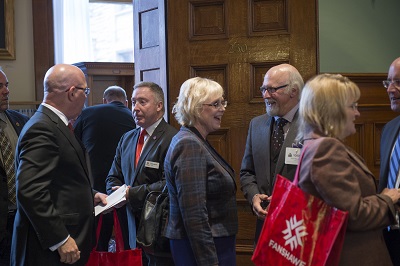 Fanshawe also hosted a drop-in luncheon event during which all MPPs and their staff were invited to learn about the College and all it has to offer. Fourteen displays showcased Fanshawe and approximately 160 people dropped in, an increase of 30 people from year one. 
This year, we were also joined by the Board of Governors Chair, Susan Rabkin; London Mayor, Matt Brown; Kapil Lakhotia, CEO of the London Economic Development Corporation and Gerry Macartney, CEO of the London Chamber of Commerce. Deputy Premier Deb Matthews and the Mayor both offered remarks and support for the College during the luncheon event.
In photo above: President Devlin and London Chamber of Commerce CEO, Gerry McCartney welcome guests at the luncheon open house.