Fanshawe College has joined the Canadian Bureau for International Education's (CBIE) Learning Beyond Borders initiative to encourage more Canadian students to take advantage of international learning experiences.
Students who have gone abroad during their post-secondary studies report significant contributions to their academic and career achievements, and recognize the value an international experience has in enhancing their communication skills, self-awareness and adaptability. Despite these positive results, reports indicate that only 2.5% of full-time college students in Canada participate in an education abroad experience.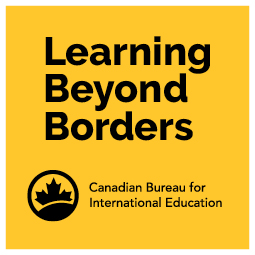 "Providing a global outlook to meet student and employer needs is part of Fanshawe's mission," says Gary Lima, Vice President, Academic at Fanshawe College. "Employers put a premium on graduates who can maximize international opportunities, participate in and benefit from Canada's trade agreements, and take advantage of future career paths in the global sphere."
As a partner in both the Learning Abroad Innovation Zone and the Learning Abroad Promotion Zone, Fanshawe commits to identifying and addressing internal barriers to learning abroad and to participating in peer discussions with institutions across the country tackling similar issues and challenges. The College will also contribute to a national campaign to promote the value of learning abroad to Canadian students and other stakeholders by creating and sharing content on the impact and outcomes of learning abroad.
"We hope to empower our students to become more culturally competent by encouraging more outbound exchanges and study abroad opportunities," Lima says. "Taking advantage of these kinds of experiences will help prepare Fanshawe students to lead, connect and engage in meaningful ways at the national and international levels."
"Canada is faced with the challenge of getting more of our students to take advantage of learning experiences in other countries," said Karen McBride, President and CEO of CBIE. "It is time to leverage the leadership role of education institutions in a concerted and coordinated effort to give our generation of young leaders the knowledge, skills and global outlook they will need to thrive in our interconnected world."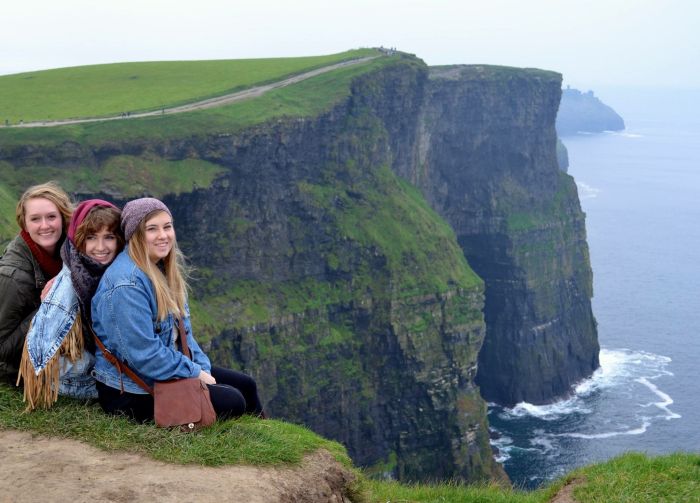 Left to right: International exchange students Devin Banach and Kate Bochnewetch, both from the United States, with Fanshawe College exchange student Katie Hartman at the Cliffes of Moher, Waterford, Ireland.
Katie Hartman is a Fanshawe College Travel and Tourism student who studied on exchange at the Waterford Institute of Technology in Waterford, Ireland during the fall 2016 term. Katie is currently back in Canada, completing her final term of the two-year diploma program, offered through Fanshawe's School of Tourism and Hospitality in London, Ontario. "Going on a semester exchange to Ireland was an amazing opportunity. While attending WIT (Waterford Institute of Technology) I got to adapt to different methods of assessment and learning. I made friends from all over the world, and learned about their cultures. After going to Ireland and doing some traveling of Europe and the UK, I gained an appreciation of my own country, but also what other countries have to offer. Moving forward after graduation, I can definitely see myself returning to Ireland and other parts of Europe to work in the tourism industry."
Along with short-term field studies, cultural exchange, and international co-op opportunities, Fanshawe has exchange agreements with 29 partner institutions in 15 countries in South America, Europe and Japan. In the past 5 years, Fanshawe has welcomed 296 incoming exchange students and has sent 130 Fanshawe students to study abroad on exchange.
About Fanshawe
Fanshawe College celebrates its 50th anniversary in 2017. Fanshawe is one of Ontario's largest colleges, serving close to half a million students with a promise to educate, engage, empower and excite. For 50 years, Fanshawe has been helping people to unlock their potential and achieve success. The College attracts students from 70 countries every year and opens up a world of possibilities through more than 200 degree, diploma and certificate programs, along with apprenticeship training.
About CBIE
Established in 1966, the Canadian Bureau for International Education (CBIE) is a national, not-for-profit, organization dedicated exclusively to international education. Working closely with a membership of over 150 education providers nationwide, from K to 12 to postgraduate, public and private sectors and with a network of strategic partners throughout Canada and around the globe, CBIE is ideally positioned to promote global learning by mobilizing expertise, knowledge, opportunity and leadership.
For further information, please contact Corporate Communications.