On September 16, 2016, Fanshawe celebrated the grand opening of the Canadian Centre for Product Validation (CCPV), one of Canada's only facilities to house prototyping and testing facilities.
Designed by architects Tillmann Ruth Robinson and built by D. Grant Construction Ltd., the 25,000-square-foot centre, housing leading-edge validation technologies and equipment, is located at the Advanced Manufacturing Park where a 10-acre parcel of land was generously donated by the City of London to Fanshawe College.
In addition to product validation activities, CCPV will offer services not typically offered by existing test labs, such as marketing and benchmarking studies; the creation of proprietary test protocols based on actual field usage and analysis of critical interfaces within a product; as well as commercialization activities.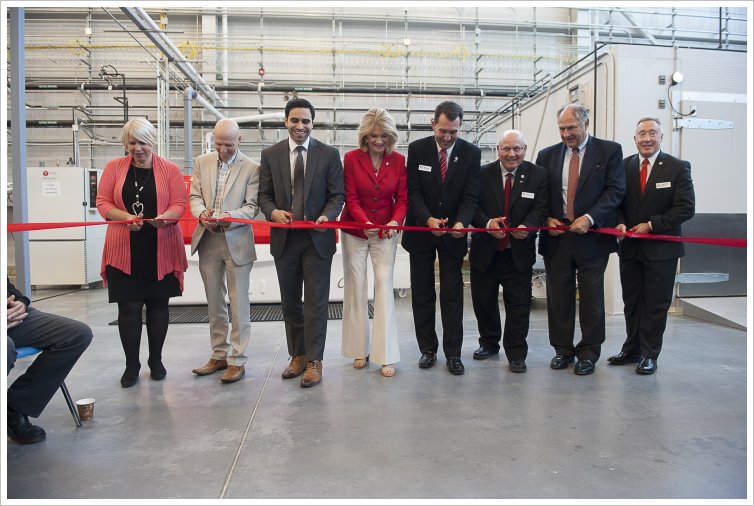 Left to right: Deputy Premier Deb Matthews; City of London Councillor Michael van Holst; Peter Fragiskatos, MP for London North Centre; Kate Young, MP for London West; Ben Cecil, chief business officer for CCPV; John Makaran, director for CCPV; John Leitch, Fanshawe College Board of Governors chair; Peter Devlin, President of Fanshawe College.
"The CCPV will support active collaboration between colleges and industry in pursuit of research and development projects that will answer company needs, helping firms become more innovative and productive," says Fanshawe President Peter Devlin. "By helping companies ramp up their productivity, the Centre will support government efforts to stimulate the economy and bring much-needed prosperity to our region and country."
At the grand opening, the Fanshawe College community was also joined by federal, provincial municipal government partners. In 2015, the Federal Economic Development Agency for Southern Ontario (FedDev Ontario) announced up to $8.11 million towards CCPV. The total project is valued at $16.2 million.
For more information, please visit www.ccpv.ca or contact Corporate Communications.