Fanshawe paramedic students Dayna Hilliard and Kaitlynn James, both second-year students in the Paramedic program, have recently had an article published in Canadian Paramedicine, the leading voice of Canadian paramedics, which is read by paramedics worldwide.
Hilliard and James co-authored an article with Alan Batt, paramedic programs faculty member, on the topic of reflective practice. The article was based on their learning from the past semester.
Dayna Hilliard (in photo at right) states, "I am very grateful to have learned the concept of reflection early on and I believe all paramedics and health care students should be encouraged to participate."
Reflective practice is an essential aspect of professional practice, and is taught to Fanshawe's primary care paramedic students in their Professional Issues class in second year.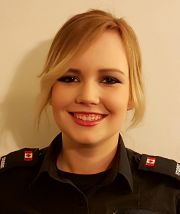 "Encouraging scholarly activity by paramedic students is essential to the development of the profession as a whole," Batt states.
"Dayna and Kaitlynn [right] join an ever-increasing number of Fanshawe paramedic students who have published and presented their work both nationally and internationally. It is a fantastic achievement, and I am proud to have collaborated with them on it."
For further information, please contact Corporate Communications.