Media advisory:
Fanshawe President Peter Devlin received an honorary degree from the Royal Military College of Canada (RMC) at a convocation ceremony held on Wednesday, June 26, 2019, in Toronto.
President Devlin received a doctorate of military science – honoris causa for his outstanding leadership, dedicated commitment to service and education, as well as the countless contributions he made to the women and men of the Canadian Armed Forces.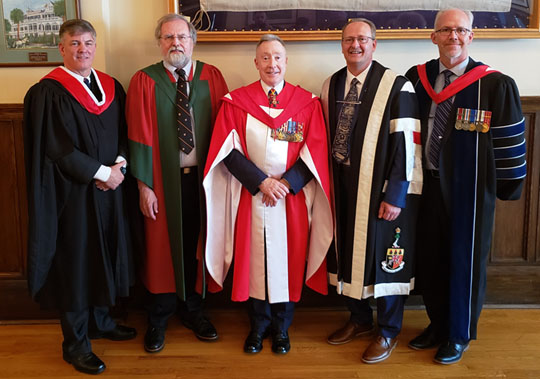 Left to right: Karl Michaud, Registrar of RMC; Gord Simons, Dean, Faculty of Science of RMC; Peter Devlin, President of Fanshawe College; Harry Kowal, Principal of RMC; Pat Heffernan, Vice-Principal, Research and Dean of Graduate Studies of RMC.
President Peter Devlin inspires students, staff and our community to unlock their potential. Prior to joining Fanshawe, President Devlin served 35 years in the Canadian Armed Forces and retired commanding the Canadian Army at the rank of Lieutenant General. He completed several UN, NATO and Coalition tours and his awards include Orders of Military Merit from the United States, Brazil and Colombia, as well as the Canadian Meritorious Service Cross, France's National Order of the Legion of Honour and Commander of the Canadian Order of Military Merit.
"I am deeply honoured to receive this degree from the RMC," says President Devlin. "I was very proud to spend 35 years as a soldier in the Canadian military and wear our country's flag. It is now my privilege to serve Fanshawe and our community."