Fanshawe College is proud to announce that professor Liz Lorusso has been named Practitioner of the Year by the Ontario Association of Medical Radiation Sciences (OAMRS).
The award, OAMRS' most prestigious honour, was presented to Ms. Lorusso in Toronto on March 24, 2017,  in recognition of her outstanding service, leadership and significant contribution to the field of medical radiation.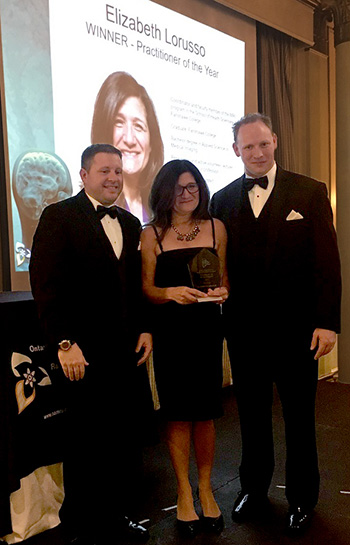 "I am absolutely delighted to learn of this award for Liz. The recognition of her research is well deserved and the potential is considerable for the ground-breaking work she is doing to greatly impact the radiological disciplines," said Christine Griffith, chair of the School of Health Sciences. "Liz's commitment to research and the dissemination of new knowledge is outstanding. Her passion to improve patient care is compelling."
In November 2016, Ms. Lorusso was acknowledged internationally for her research on reducing radiation dose levels in x-rays using the ALARA principle – an acronym for keeping radiation "as low as reasonably achievable" for needed results. Her research proved that today's advanced digital imaging detectors no longer require the same quantity of radiation as film-based x-ray images.
Professor Lorusso is the coordinator of the Magnetic Resonance Imaging program in Fanshawe's School of Health Sciences and is a graduate of Fanshawe's Radiography program. Among the many awards she has won, Ms. Lorusso has been recognized most recently for her contributions to her field of study as the recipient of the 2016 London Health Sciences Centre Scholarly Award and the 2015 Chair's Award of Inspiration at Western's Schulich School of Medicine.
In photo, left to right: Greg Toffer, president and CEO, Ontario Association of Medical Radiation Sciences; Liz Lorusso; Rob Mahon, chairman of the board, Ontario Association of Medical Radiation Sciences.
For further information about Fanshawe College, please contact Corporate Communications.