The Centre for Research and Innovation (CRI) is proud to announce that Fanshawe College has been awarded the top place ranking for Formal Completed Research Projects Growth in 2015 by RE$EARCH Infosource Inc. This year's score saw an impressive 200% increase in growth from 2014, placing Fanshawe at the top of the list for large colleges.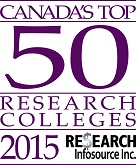 Research project and partnership growth was a positive trend, seeing Fanshawe figure prominently as a Top 20 Finalist in:
•             Formal Research Partnership Growth – Rank 2
•             Number of Formal Research Projects Completed – Rank 10
•             Number of Formal Research Partnerships – Rank 11
This is the second consecutive year that Fanshawe has been named a Top 50 Research College. Fanshawe's ranking can be credited to numerous research and innovation activities happening across the College.
The CRI would like to thank all of the students, staff and faculty participating in research and innovation across the College for continuing to contribute towards a culture of research at Fanshawe.
To learn more about research and innovation at Fanshawe you can visit our Research page.
RE$EARCH Infosource Inc. is a nationally recognized authority on Research & Development activities occurring at Canada's universities, corporations, hospitals and colleges. RE$EARCH Infosource Inc. publishes its findings annually in Canada's Innovation Leaders.
For the full list you can visit: http://www.researchinfosource.com/top50_col.php