On Friday, May 10, Fanshawe President Peter Devlin and President Omar Lengerke Perez signed a collaborative agreement between the College and UTS, a Colombian institute.
The newly signed College-wide agreement builds on an existing partnership initiated last year. During the length of the agreement, the two institutions will exchange information about effective practices and collaborative work on applied research topics while exploring the option for student and faculty exchange opportunities. They will also explore the viability of implementing dual credentials for academic programs between Fanshawe and UTS. Additionally, Fanshawe will provide technical and pedagogical training to teachers of the Technological Units of Santander.
"As Fanshawe continues to grow its global presence so do the opportunities for our students, faculty and staff to study, teach and consult abroad," said President Devlin. "We are very excited by the prospects of this agreement with UTS Santander."
During a visit to the London Campus on Friday, a group of leaders from UTS Santander toured Fanshawe to learn about the College's best practices on applied research, counselling and tutoring and entrepreneurial activity (Leap Junction). They also toured the new downtown campuses, enjoyed lunch at The Chef's Table and visited our Centre for Advanced Research in Innovation and Biotechnology. 
.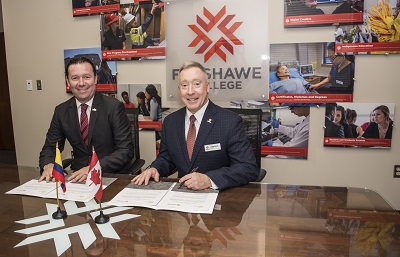 (l-r) Omar Lengerke Perez, President, UTS and Peter Devlin, President, Fanshawe College sign a collaborative agreement between the two institutions