This fall Fanshawe College was proud to unveil donor signage in recognition of two of the College's foremost supporters and community leaders. The new signs were placed in front of B building and T building.
Larry Kinlin is credited with being the first donor to name a school in the Ontario college system. In 2008 he made a $1 million donation to Fanshawe – the largest personal donation in the College's history – to name the Lawrence Kinlin School of Business. A self-made business person, Larry has throughout his career been a passionate and hard-working volunteer for many organizations including Fanshawe. Former chair of the Fanshawe College Foundation Board, Larry is currently serving as campaign chair of Fanshawe's $100 million Remarkable Campaign.
Larry's spirit and commitment are reflected in his own words. "Over the past decade, I have come to appreciate the enormous value of the college system and the extraordinary culture and achievements of Fanshawe. This is a college that truly reaches out to its community, supporting economic growth." We are very proud that Larry Kinlin is associated with Fanshawe and that we now have an impressive new sign in front of B building to recognize Larry's philanthropic legacy and add luster to Fanshawe College's reputation.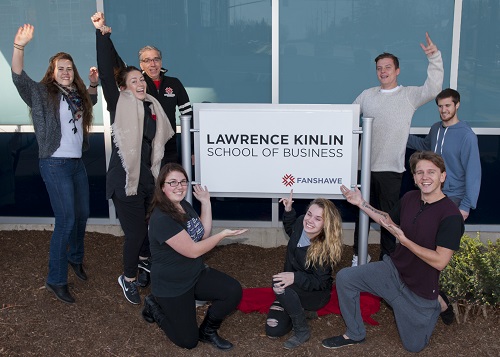 In the photo above, students in the Lawrence Kinlin School of Business celebrate the unveiling of the new signate for their School.
The family of the late Don Smith pledged their support of Fanshawe College with a generous donation of $1 million, giving the School of Building Technology a new name – the Donald J. Smith School of Building Technology.
As a founding partner of EllisDon, Don Smith established an amazing company and legacy. His ties with Fanshawe ran deep. Don served as chair of Fanshawe's first capital campaign and was the first recipient of a Fanshawe College honorary diploma in 1992. He also hired graduates from the building technology programs and encouraged volunteer involvement with the College. Don Smith's commitment to Fanshawe continued when he and his wife Joan served as honorary co-chairs of Fanshawe's second capital campaign in 2008. Their generous and thoughtful support of Fanshawe College has been reflected in their leadership since the earliest days of the College.
Our gratitude for Don's vital support and his family's continued involvement are proudly demonstrated with the new sign in front of T building that heralds the Donald J. Smith School of Building Technology.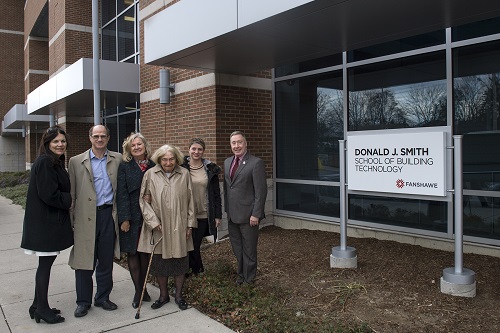 Above photo left to right. Catherine Finlayson, David Smith and Lynne Cram (the late Don Smith and Joan Smith's children), Joan Smith (centre) and granddaughter Sarah stand in front of the Donald J. Smith School of Building Technology with President Devlin.