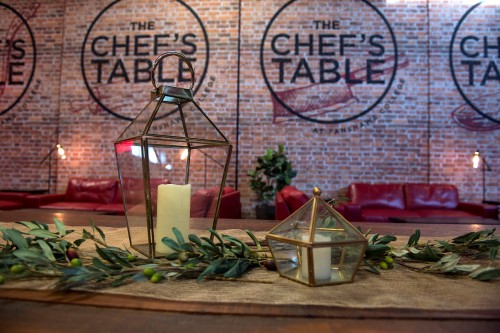 The School of Tourism, Hospitality and Culinary Arts hosted an Engagement Stage for hands-on demonstrations by our incredible chefs and faculty at the London Wine and Food Show from January 18 to 20.
As part of the show, the School unveiled the name of its new restaurant, called The Chef's Table at Fanshawe College, located at our newest downtown building at 130 Dundas Street, opening in fall 2018.
The Chef's Table was inspired by the philosophy of great hospitality and conversation that happens around the table filled with delicious and sustainable locally produced foods that brings people together from our community.
The menu will feature local suppliers, farmers and seasonal harvest vegetables, with our chefs creating many of their own items, including cured meats.
Our students will play an integral role in the operations of the restaurant and café, with all classes from the School also participating in feature nights and events related to their curriculum. There is even a course within the culinary program called the chef's table, where students learn and experience the whole process of creating and executing, as well as serving, a full meal at the restaurant.
The restaurant's ambiance will be relaxed and accessible with an open kitchen, light wood, exposed brick, marble countertops and reclaimed wood.
Student chefs will be easily identifiable, wearing dark red chef coats and front of the house staff will be dressed in red or white t-shirts with black bistro aprons.
We look forward to sharing more details about the restaurant in the coming months and hosting you downtown at The Chef's Table.