On Thursday, June 8, 2017 twelve Fanshawe College representatives participated in the annual Day of Caring event supporting United Way London & Middlesex. Their mission: to make outdoor education safer for YMCA summer campers.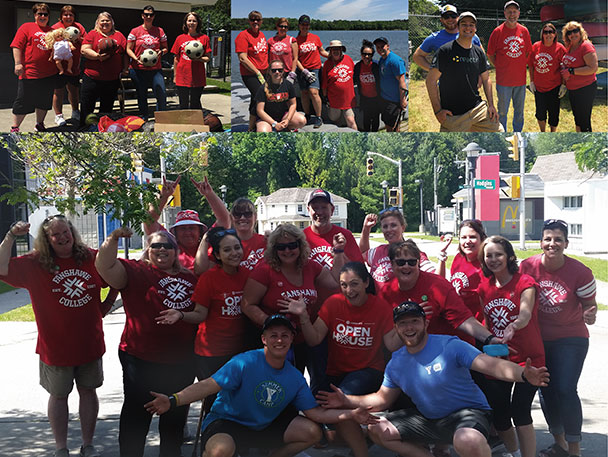 The event kicked off with a lunch rally in the Metroland Agriplex at the Western Fair District. Teams from workplaces across London celebrated the United Way and each other's volunteerism before heading out to their assigned local non-profit agencies. Fanshawe volunteers headed to the Children's Safety Village in the Fanshawe Conservation Area, 1424 Clarke Road in London.
Working together, Team Fanshawe helped to unpack, clean, sort and take inventory of camp supplies, canoes and kayaks. Other duties included lawn maintenance and basic gardening for the Safety Village and building the temporary docks for the summer.
"I was proud to participate in the Day of Caring this year with all our Fanshawe volunteers," said Candace Miller, chair of the United Way campaign at Fanshawe. "It was an amazing day and we were excited to help show our community how much we care!"
Presented by Libro Credit Union, United Way's Day of Caring® brings together dedicated teams of workplace volunteers to complete meaningful, hands-on projects at United Way funded agencies and programs. These projects are selected to match the workplace's timeframe, skill set and corporate philosophy. Employees enjoy valuable team-building while they develop a deeper understanding and appreciation of the needs in our community and the work funded agencies do to provide impactful services to residents in London & Middlesex County.
For further information about Fanshawe College, please contact Corporate Communications.