In February 2015, the Chief and Band Council for Saugeen First Nation approached the Huron/Bruce Regional Site staff about offering the part-time certificate program in the evenings at a Saugeen First Nation facility. Fanshawe hosted student information sessions and recruited qualified local instructors. Funding was provided jointly by the band and Bruce Power, along with support from PMI's Bruce branch and local social entrepreneur and strategic advisor Victoria Serda.
The first class began in September 2015, and seven students completed their studies this past April 2017. A small convocation ceremony was held for the first Project Management Specialist graduates on Tuesday, May 23 at Saugeen First Nation, located on the shores of Lake Huron at the base of the Bruce Peninsula.
"Fanshawe College is very proud of these students, and we look forward to our next graduation ceremony," says John Momborquette, manager for Fanshawe's Huron/Bruce Regional Sites.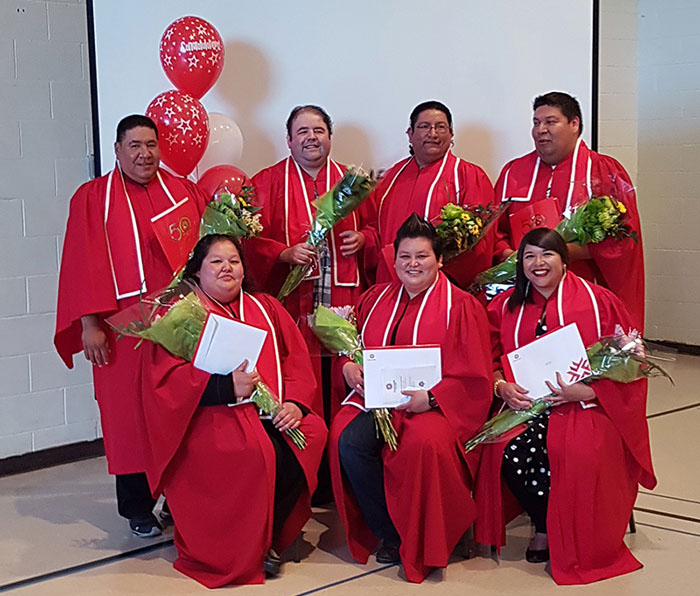 A unique feature of the program is that all knowledge gained by the students returns to directly benefit the Saugeen First Nation community. For example, five of the students are band employees and the lessons they learned have been used in support of critical infrastructure projects such as the completion of Saugeen's fibre optic network.
At the community's request, the Huron/Bruce Regional Sites have also newly launched at part-time modularized Personal Support Worker program for eight students: four from Saugeen and four from the Chippewas of Nawash Unceeded First Nation at Cape Croker on the Bruce Peninsula. The program, funded through the Canada/Ontario Jobs Grant, started in February 2017 and will conclude this coming November.
Because of the success of these partnerships and other similar offerings, the First Nations Centre has begun a process of community consultations to identify future program offerings among First Nations communities within areas served by our campuses and sites.
For further information about Fanshawe College, please contact Corporate Communications.