From May 28 to 31, members of the Ontario Native Education Counselling Association (ONECA) gathered in Toronto. Members of this association work with Indigenous students across the province from elementary schools to post-secondary institutions and in Native communities. Each year during the ONECA annual conference, a counselor is honored by hundreds of peers for exceptional work. This year, Daniel Kennedy, Indigenous Recruitment and Community Relations Advisor from Fanshawe College's First Nations Centre, was chosen.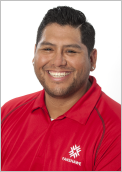 Dan was recognized for excellence in his work and in his volunteer efforts. Dan excels in his role at Fanshawe by organizing innovative, well attended, large events to bring Indigenous youth to the College, guiding students through the transition from high school to post-secondary, delivering awareness and cultural presentations to various programs across the college and secondary schools and working directly as a liaison between First Nations communities and the College.
Dan also volunteers his time as a defensive coach for the Junior Mustangs and a coach for Beal's secondary school football team. He is a mentor in the Aboriginal Youth Entrepreneurship Program. During this conference, Dan was also chosen to be ONECA's London District Representative. Dan is a trusted community figure and builds positive mentor relationships with Indigenous youth wherever he goes.
Congratulations to Dan Kennedy, ONECA's Counsellor of the Year 2017!
For further information about Fanshawe College, please contact Corporate Communications.